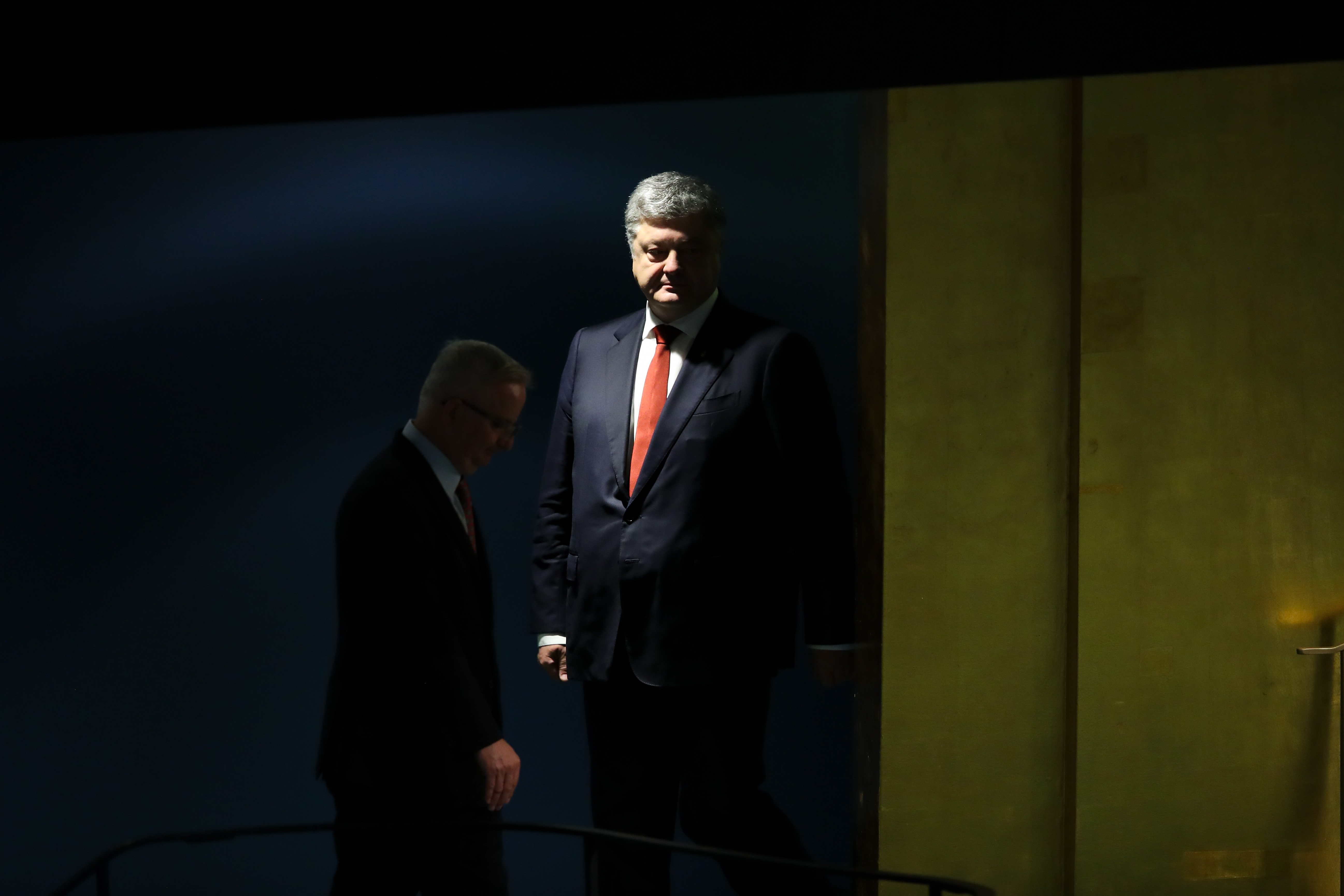 Young Ukrainians who joined the paramilitary volunteer battalions in 2014 ready to give their lives for their homeland feel they are losing their ground. After almost four years, there's little enthusiasm left in Ukraine for war. The goals are less clear, and the costs are simply too high.
Recent assassinations of prominent former paramilitary volunteers and frictions between Ukrainian President Petro Poroshenko and Interior Minister Arsen Avakav are leading some volunteers to believe their lives are in danger. Avakav has a reputation of being a semi-official patron within the government of volunteer battalions. Last week, his son was arrested by the Ukrainian Anti-Corruption Bureau and is now potentially facing prison time.
On September 8, a black Toyota Camry was blown up in the center of Kiev. The person behind the wheel, Timur Makhauri (also known as Ali Dabuyev), was killed instantaneously. He was a former scout of the Sheikh Mansur "wild" volunteer battalion, which is composed of Chechen fighters waging jihad against pro-Russian separatists.
"Wild" Muslim battalions are not officially recognized by the Ukrainian military. Their chain of command is unclear, but Avakov had his way of keeping them under his personal control.
On October 13, a founder of the Azov volunteer battalion, 37-year-old Vitaly Kniazhesky, was found in a grave near Kharkov. He died of a shotgun wound in his chest.
Police claimed it was a suicide, but his companions in arms blame the Ukrainian National Security Service.
Kniazhesky was not the first founder of Azov that died in unclear circumstances. In 2015, for example, the body of another founder of
this battalion, Yaroslav Babitch, was found. Police said that he hung himself.
Ukrainian MP Igor Mosiychuk, former deputy commander of the Azov battalion and current member of the Radical Party in Parliament, did not believe this official explanation.
On October 25 in Kiev, a motorbike was blown up right when Mosiychuk was passing it. The MP was injured, but his bodyguard and a stranger were killed.
The injured MP said, "I believe that those who ordered [this] are in Moscow. The executioners are from Kiev. It is possible that the [Moscow] agents are within the patriotic circles."
Amina Okueva, a former sniper and press officer of the Johar Dudaev Chechen battalion fighting against pro-Russian separatists, was shot in her car on October 31. Her husband, a Chechen from the volunteer battalion fighting on Kiev's side, was wounded.
This was the second assassination attempt on the couple's lives this year.
Anton Gerashchenko, adviser to Minister of Internal Affairs Avakov, wrote on his Facebook page,"The heart of the Ukrainian patriot Amina Okueva just stopped. Her car was fired upon from the bushes at the railway crossing near the village of Glevach of the Kyiv region. As a result of her injuries, Amina was killed."
The perpetrator behind all these murders is unclear.
Blame is usually pointed at Russian President Vladimir Putin or his strongman in Chechnya, Ramzan Kadyrov, but this time it's different.
When the Maidan revolution broke out in 2013, 26-year-old Maria Berlinsky was a student at the Ukrainian National Kyiv-Mohyla Academy. She left her Jewish studies program at the university to join the volunteer paramilitary battalion, becoming director of its Aero-Intelligence Support Department. Later, she acquired national recognition for voicing support for the paramilitary volunteers on innumerable Ukrainian talk shows.
The day after Amina Okueva was killed, Berlinsky published an article on Censor.net, a major media site for Ukrainian patriots, titled "When They Come For Us."
Ukrainian security services do nothing to protect patriots, public figures, activists, and soldiers, she wrote, because security services are busy doing business between themselves and suppressing their political opposition. They have no time to protect patriots like Berlinsky because the State security officers are taking former Ukrainian Defense Minister Valery Geletey's children to school, carefully planning their birthday parties, and ensuring the wedding of the Prosecutor General's son went smoothly as well. Ukrainian patriots must understand, Berlinsky wrote, "the crystal clear thing" that "our security services have turned into a private security structure, which serves nothing but business interests of the authorities."
She writes, "If a couple hundred of our bravest are shot dead in the center of Kiev, who cares?"
"Anyone of us, at any moment, can be kidnapped, tortured, killed or taken out of the country," she continued. "Russian special services work
constantly. They work much tougher and much more professionally [than Ukrainian ones]. Sometimes [they work] from within our special services. If you are an activist, volunteer, someone who publicly speaks about Russian agents, corruption, political manipulation, or if you are in their way, you are most likely in the group of those marked for death. And it is not important from which side they come for you—strangers [sent by Russia] or our own.'"
Maria Berlinsky writes, "There will be nobody to protect you," "Nobody cares about our lives," and "The only way to protect oneself is by taking it in one's own hands."
Berlinsky demanded that firearms be legalized for former paramilitary volunteers and activists or "we all will be shot dead."
"You all [in the Ukrainian Government] have firearms [in your possession]. You give them to your relatives, cronies, drivers, prosecutors and judges," Berlinsky appealed to Ukrainian officials. "[Defense Minister] Poltorak even gave [a pistol] to the minister's wife."
(During the years of Ukrainian independence, law enforcement agencies give out 40,000 firearms as "awards," which went mostly to government officials and oligarchs.)
The Ukrainian activist then gave a troubling example from her own experience.
About a month ago, in the center of Kiev, she was recognized by a "number of separatists," she wrote. They told her, "When Putin comes here, people like you will be hung along Khreshchatyk." (Khreshchatyk is a main avenue in Kiev.)
The recent assassinations made Berlinsky—like a lot of other volunteers in Kiev—worried for her safety: "I understand that anything can happen," she wrote. "I live on the ground floor, use public transportation, and don't have bodyguards, of course. I don't even have a automatic gun. I am unarmed."
The undefined enemies are everywhere, and although the media usually blames the Kremlin, some volunteers believe that the Ukrainian security services and the army are behind the assassinations.
The recent feud between Ukrainian President Petro Poroshenko and Minister for Interior Avakov, volunteers' man in the government, adds to the apocalyptic feeling.
If Avakov fails in his current conflict with the president, the patriots are afraid they will be targeted by the Ukrainian army. Berlinsky had the following public message: "If something happens to me, the public must know who set me up—you personally."
Her message was directed to Ukrainian Defense Minister Stepan Poltorak.
Not everyone in Ukraine believes that the legalization of firearms for volunteers and activists is the solution.
After all, Amina Okueva, who was murdered on October 31, had two guns on her.
Mikhail Klikushin attended Novosibirsk State University and received a graduate degree in Russian history before emigrating to the United States.