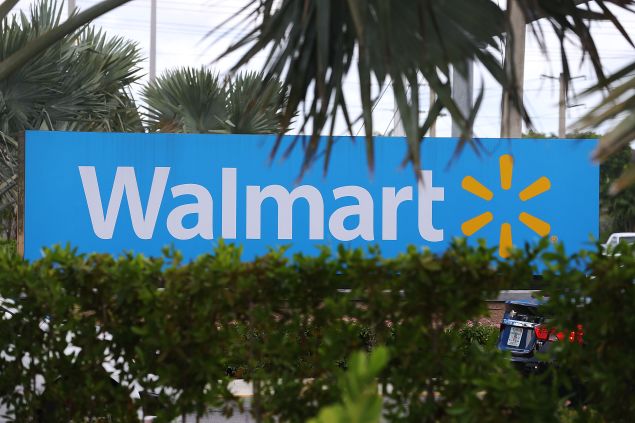 Walmart has been betting big on e-commerce to compete with Amazon. And while it's still the new kid in that retail space, it's making impressive gains.
Today Walmart released its third quarter earnings, which showed the retailer's e-commerce sales jumped 50 percent in the last three months. The retailer has more than tripled the amount of items it sells online in the last year—from 20 million to 70 million.
This growth was also due to Walmart's investments in online brands like Jet, ModCloth and Bonobos. Most recently, this week the company announced a web partnership with Lord & Taylor, a first step toward building a premium fashion website.
Walmart also recently introduced a mobile payment app and partnered with Google on voice-based shopping in an attempt to chip away at Amazon Echo's influence. And 50 Walmart stores now feature shelf-scanning robots that check for gaps in inventory.
"We have momentum, and it's encouraging to see customers responding to our store and e-commerce initiatives," CEO Doug McMillon said in a statement.
But the company still has a long way to go before matching Amazon's reach. According to analysts, Jeff Bezos' behemoth is expected to earn 43.5 percent of online sales this year. Walmart will account for just 3.6 percent.
Walmart posted overall third quarter revenue of $123.18 billion, four percent more than last quarter and roughly $2 billion more than analysts expected.
In-store sales rose 2.7 percent, beating estimates of 1.8 percent. That's the 13th straight quarter of increases by that metric and the biggest quarterly gain since 2009.
Walmart's grocery business also had its strongest quarter in six years, mostly thanks to more customers taking advantage of curbside pickup.
Walmart reported earnings per share of $1.00, compared with a forecast profit of 97 cents. The company is projecting year-end earnings per share of $4.38 to $4.46.
Like Home Depot, Walmart saw profits rise in part because customers in the South bought hurricane survival supplies there. Those two stores are the only major retailers that reported profit gains in recent months. Target, Sears and Macy's saw earnings tumble this quarter.
Walmart stock was up almost nine percent after the positive earnings news. Shares have climbed 35 percent since the beginning of the year.
As Black Friday and the holiday shopping season approach, Walmart plans to keep its momentum going. It's already posted some end-of-year deals and will unveil the full slate at 12:01 AM EST on Thanksgiving. Stores will also be open on the holiday itself, and Walmart is even giving customers the option of holding holiday parties in stores.
That's one benefit even Amazon can't compete with.