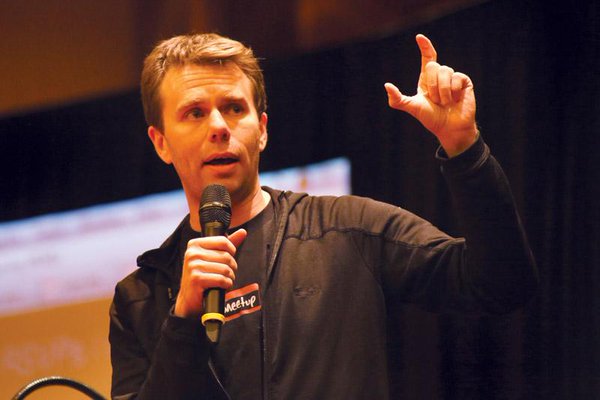 Is meeting people face to face still a bankable business model in the age of Facebook groups? WeWork thinks so.
The co-working space company announced today that it had acquired Meetup, a social networking site which helps users plan in-person group meetings based on common interests. The financial terms of the deal were not disclosed.
Meetup boasts more than 35 million members who are part of over 300,000 groups which host 500,000 events every month around the world. And its partnership with WeWork makes a lot of sense: over 100,000 people have attended Meetup events in in one of WeWork's 170 worldwide locations so far this year.
Founder and CEO Scott Heiferman will remain in charge of Meetup, and the company will continue to operate independently while doubling its engineering staff.
"I'm so proud to see how people use meetup to build IRL community and break down the barriers that keep people apart," Heiferman told Observer in an email. "The world needs community today more than ever, and the moment is right to accelerate the Meetup mission. WeWork shares our vision, and together we will make it easier for millions more people to connect and spark communities that change people's lives."
That might sound like boilerplate sentiment, but Heiferman knows the power of community from experience. He founded Meetup, one of the web's first social networks, in 2002 as a direct result of the 9/11 attacks. He hoped to use the internet to get people to connect offline—and he got investors like Pierre Omidyar and Esther Dyson to help him in that endeavor.
Meetup's focus on community advocacy has continued over the last 15 years. Howard Dean supporters self-organized through Meetup to help his campaign grow during the 2004 election, making him the first presidential candidate to mobilize through a major internet presence.
More recently, Meetup launched the protest tool #Resist, which features over 1,000 groups focused on "democracy, human rights, social justice, equality and sustainability." The tool was inspired by the passionate online reactions to President Donald Trump's travel ban.
The partnership with WeWork also gives Meetup more leverage in its fight to differentiate from social media sites like Facebook. Meetup recently debuted a more millennial-friendly redesign, and Heiferman reportedly wants the site to have a billion members in the near future. Working with WeWork gets him closer to meeting that goal.
WeWork, which is valued at $20 billion, has been on a shopping spree of late. In just the last six months, the company has acquired Fieldlens, a communication system for the construction industry; Singaporean co-working startup Spacemob; Israeli marketing platform Unomy; and coding boot camp Flatiron School.
Real estate is also part of WeWork's portfolio. Last month, the firm purchased the iconic Lord & Taylor building on Fifth Avenue, which will become WeWork's headquarters by 2019. So it looks like those Meetups will take place in some swanky surroundings.