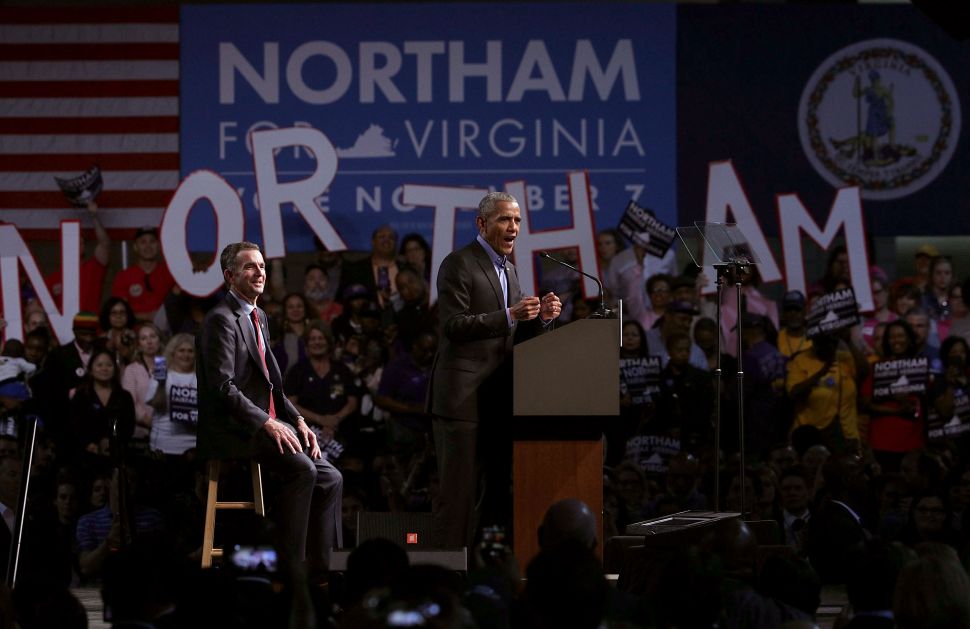 After months of media hype, voters finally hit the polls on Tuesday to decide whether to elect Democrat Ralph Northam or Republican Ed Gillespie to Virginia's Governor's mansion. The jockeying to replace Democratic Governor Terry McAuliffe has transformed Virginia's gubernatorial horserace into a mini-blockbuster rife with presidential endorsements, financial war-chests, and assaults on reporters by law enforcement. The governor's race is a microcosm for the cultural and political upheavals occurring throughout the United States; tribal politics, populist nationalism, and millions of dollars in outside funds are all converging through local, backwoods style campaigns. The election also comes following the 2016 presidential election and the Charlottesville, Va. tragedy.
Gillespie is a former lobbyist, George W. Bush advisor, and Republican National Committee chairman rebranded as a firebrand. Northam is an Army veteran who served as Virginia's lieutenant governor under McAuliffe. Although Virginia should be an easy win for Democrats (the state's current governor is a Democrat, the state's two senators Tim Caine and Mark Warner are Democrats, and only an estimated 41% of state voters approve of President Donald Trump), Gillespie has closed the gap in recent weeks. A string of multimillion dollar ad campaigns, many financed by the Koch-affiliated Americans for Prosperity, have depicted Northam as weak on immigration and tied to a scandal involving a Chinese developer; a snippet of a Gillespie-sponsored ad depicting Northam as an MS-13 sympathizer even appeared on Fox News' Tucker Carlson Tonight. These ads capitalize off Trumpian rhetoric about the dangers of immigration, which Northam's campaign has castigated as a right-wing scare tactic while attempting to mobilize 42,000 ex felons to vote Democrat.
Though Gillespie is in many ways a Trump-style candidate, the contender has been reluctant to court too much of the president's presence throughout the campaign trail. Navigating the same state where white supremacists killed three counter-protesters during August's Unite the Right rally, Gillespie's more controversial views supporting Confederate monuments have been criticized. Hillary Clinton's former press secretary Brian Fallon tweeted a photo of neo-Nazis captioned "Live look at Ed Gillespie campaign strategy meeting." As Gillespie campaigned alongside Vice President Mike Pence, the president—who was widely criticized for condemning "both sides" for August's attacks—remained in Washington D.C. Trump has since tweeted support for Gillespie, but former President Barack Obama endorsed Northam onstage.
The results of today's election will indicate where voter turnout stands amid a new string of blockbuster elections in the Trump era. A Gillespie win will further embolden right-wing candidates, cementing Trumpism as the dominant political movement among today's unstable majorities. A Northam win provides the DNC with much-needed life support following demoralizing defeats during special elections and infighting that has erupted between the progressive and establishment wings of the party. In either case, the tribalism of partisan politics rumbles on.
Follow Davis Richardson on Twitter