MB Steak's Thanksgiving feast includes a truffle-braised leg and thigh.

Jeff Ragazzo
Las Vegas is about doing whatever you want, whenever you want, so Thanksgiving here means all kinds of dining experiences at many of our favorite restaurants in the city. Here are six different ways to enjoy the holiday.
Michael and David Morton's MB Steak at the Hard Rock is offering a $45 turkey dinner, featuring an herb-roasted turkey breast as well as a truffle-braised thigh and leg. But the meatery is also serving its regular menu of steaks, sides and desserts in addition to a special $16 bourbon pumpkin toffee cake with ginger ice cream and honey florentine.
Bazaar Meat by José Andrés at SLS Las Vegas is doing "Thanksgiving Jose's Way," which means an $85 extravaganza that includes eight shareable dishes like Delmonico potatoes, stuffed olives, croquetas, a shrimp-and-crab cocktail and cornbread stuffing with Butifarra sausage. You also get your choice of heritage turkey or turbot roasted in a Josper oven. Dessert is pecan pie, roasted apple puff pastries and pumpkin tarts.
At Sparrow + Wolf, Brian Howard's creative and excellent modern American restaurant off-Strip on Spring Mountain Road, Thanksgiving means a $55 family-style feast with pheasant soup, duck confit/sweet potato dumplings, chicken-fried heritage turkey, brussels sprouts robatayaki and other fun versions of holiday food.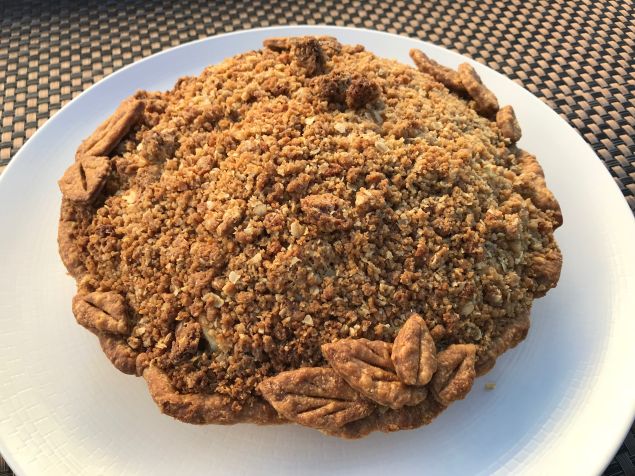 Another good off-Strip option is Wolfgang Puck Bar & Grill in Downtown Summerlin. Their a la carte Thanksgiving menu is an easy way to enjoy holiday food without committing to a multi-course meal. (Again, Vegas is about doing whatever you want.) The headliner of the menu is a $27 free-range turkey plate with apple and sage stuffing, potato puree, sautéed brussels sprouts and candied yams. You'll probably also want an $8 slice of apple pie with vanilla ice cream and whipped cream for dessert.
If you're looking for something a lot less traditional, Phoenix at the Asian-themed Lucky Dragon casino is serving three-course ($25) and four-course ($30) Thanksgiving brunches with options like turkey potstickers and Peking turkey with bao, gravy and garlic stir-fried green beans. You can also select a Thanksgiving meal with typical dim sum favorites like har gow and egg custard tarts.
But if you're more inclined to use Thanksgiving as an excuse to watch football and drink a lot, Beer Park at the Paris Las Vegas resort will open at 8:30 a.m. and show games on dozens of TVs that are visible from every seat in the rooftop bar and grill. When you get hungry, you can order Thanksgiving specials like a $10.95 open-faced sandwich with oven-roasted turkey pastrami, chestnut stuffing, cranberry Dijon-mayonnaise sauce and creamy giblet gravy on fresh cranberry challah bread.
Andy Wang, the former real estate and travel editor at The New York Post, has covered West Coast food and drink for more than a decade.