An identity crisis is sweeping through Riverdale this season. At the end of the fourth episode, Jughead announced that "Riverdale would no longer be the town with pep, from now on it would be the town that dreaded sundown." Why? Because a killer is living among them—for the second consecutive season—and it's tearing the community in two. But the danger lurking at every shadowy corner doesn't seem to have changed the characters' sartorial impulses—they dress up even to stay in.
A mix of high and fast fashion was a striking aspect of Rebekka Sorensen-Kjelstrup's costume design on the first season of the hit CW show. Her retro stylized aspects played up Betty's girl-next-door vibe as well as Veronica's Manhattan prep leanings. Season two sees a continuation of these themes, even as these characters get enveloped into a mystery that tops the darkness of the first year.
Betty loosened her iconic ponytail while investigating the Black Hood—Riverdale's very own Zodiac inspired killer—a couple of weeks ago, but has yet to dig out the black bobbed wig and bralette she wore last year when she went full Dark Betty. Instead, the girlish Club Monaco and Rag & Bone pastel sweaters are firmly in place. Her look continues to be rather minimalist, with a dash of Ted Baker bejeweled collar or Kate Spade floral embellishment. A plain bomber jacket from Wilfred is high school-ready (try this one from Uniqlo), whereas the Club Monaco trench is the perfect coat for an aspiring investigative journalist that pursuing a story. For the drag race in last night's episode, "Death Proof," a $10 Topshop strappy vest and pair of high-waisted pants made Betty look the part. These staple items can be dressed up or down.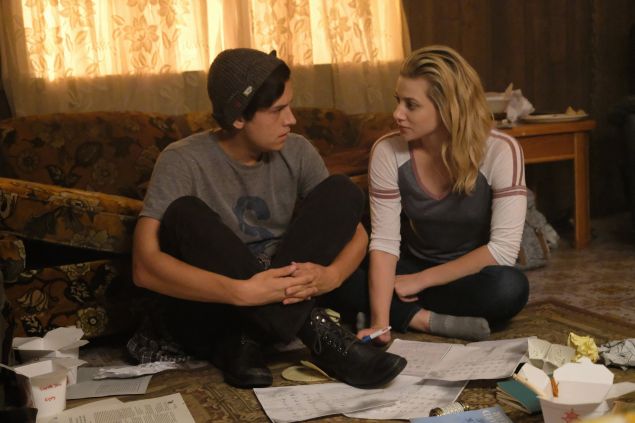 A floral chambray Herschel backpack and Forever 21 long-sleeved shirt are part of Betty's everyday attire, crafting a regular teen look for days at school. But not all the teens dress so suitably for the hallways. Veronica's day-to-day costuming is dripping in elegance. Whereas Betty's look mixes contemporary with 1950s retro, Veronica is more jewel-toned 1940s noir. The pearls are ever-present, complimenting her Ted Baker, Sandro and Self Portrait attire.
Veronica may come from wealth, but as with her best friend, Betty, the mix of high and low fashion is something she practices right down to her jewelry. In the third episode of this season, "The Watcher in the Woods," she paired a lace tuxedo jumpsuit from Zara with Arte Design pearl earrings, proving you can get the Veronica Lodge look for less than you might expect. Among the Jason Wu polo shirts and Just Cavalli items are plaid skirts from Urban Outfitters and Forever 21.
Veronica wore the latter with a Red Circle T-shirt while supporting boyfriend Archie and the vigilante group he had set up to stop the Black Hood. She'll often wear some designer (or in this case, custom-made) items with pieces you can pick up for under $50. And while both these plaid skirts are no longer available, similar items can be found at H&M and ASOS.
For a dollop of high-end, high drama, Cheryl Blossom's mostly red and black wardrobe has you covered. Cheryl is the captain of the River Vixens cheerleading squad and she lives up to the Vixen name with her signature crimson red lipstick and a wardrobe of ruffles and lace. This is super sexy femme fatale styling and her closet includes items by Christopher Kane, Self Portrait and Rag & Bone. Cheryl's never met a high neck or choker tee she didn't like. She even had the perfect leather jacket for last night's drag race; a star-covered Sandro number.
Leopard is a classic print that's making its mark once again this season. Josie mixes this pattern at high and low price points in her go-to band uniform. From the stunning Christopher Kane metallic pleat skirt she wore in last week's episode, "When a Stranger Calls," to the H&M crop top—which is now even more of a steal—in "Nighthawks," Josie proves she knows how to pull off an animal print. But she's also able to mix it up should the situation call for some promotional gear. For the Pussycats performance at Pop's, Josie changed into a diner T-shirt that you can pick up at Hot Topic.
As each character is plunged further into the darkness this season it will be interesting to see if and how their personal style changes. But one things for sure, whether you're a Betty or Veronica, Cheryl or Josie, there are plenty of splurge-worthy and easily available options for getting that Riverdale look. Even if that means a little less pep and a little more noir this season.
Riverdale airs Wednesday nights on The CW.
Emma Fraser is the creator of TV Ate My Wardrobe and spends most of her time writing about TV, fashion and costuming; like Abbi and Ilana's Broad City style, the wigs on The Americans and Fleabag's lipstick. Emma has a MA in Film and Television, and she holds Angela Chase responsible for this path. You can find her on Twitter @frazbelina