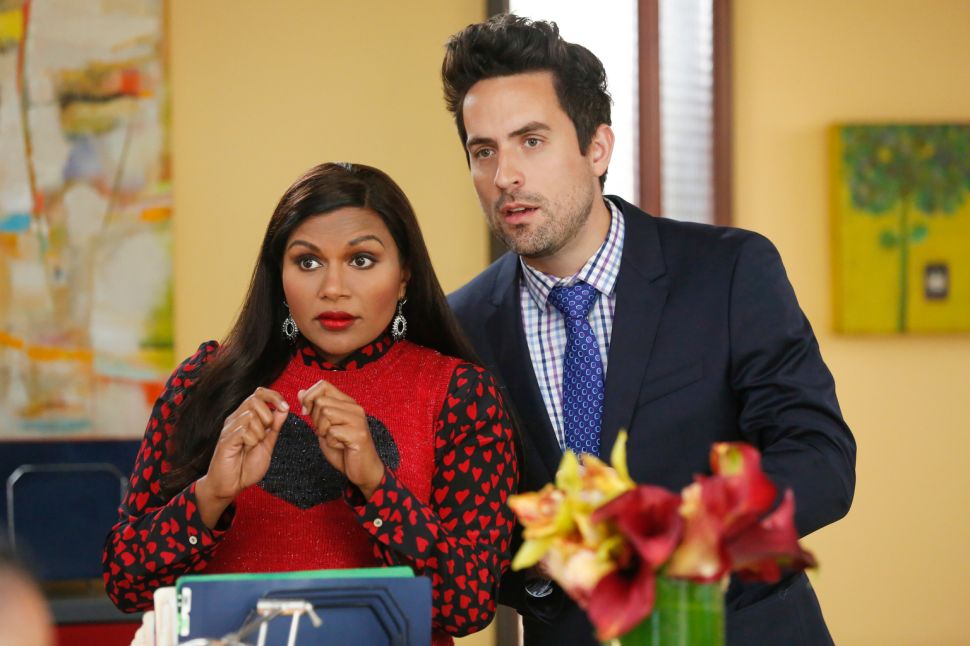 For six seasons Mindy Project protagonist Mindy Lahiri has weathered the trials and tribulations of dating. Through hook-ups, breakups, engagements, pregnancy, marriage and divorce, the path to true love was bumpy and long. And going into the final episode, it isn't clear if Mindy will get her rom-com happy-ever-after. But one relationship that has never let Mindy down is the one she has with her clothes. This stylish woman has yet to meet a pattern she doesn't want to wear—or mix.
Emmy-nominated costume designer Salavdor Perez worked closely with creator and star Mindy Kaling to establish a look that was both fun and distinctive. Even when her heart has been broken, Mindy still comes across as self-assured, and the clothes she wears are crucial to crafting this perception.
Sitcom costuming often incorporates a kaleidoscope of color palettes, but The Mindy Project takes it to the next level. Mindy's closet is one of the most vibrant on television (well, streaming, since the show was canceled by Fox and picked up by Hulu at the end of season 4) and her love of fashion shines through in every episode. This isn't the most affordable TV character you could emulate, but her wardrobe is certainly aspirational (Mindy has more Chanel cross-body bags than probably any other character on TV).
But if you want to incorporate some more color or pattern into your wardrobe let Mindy be your guide. Recent sartorial highs from the final season include wearing actual hearts on her sleeve in RED Valentino, putting a bird on it with the help of Mary Katrantzou and breaking the faux pax of leopard on leopard print courtesy of Equipment and Dolce & Gabbana.
Once, while receiving a backhanded compliment for her bright her coat by brief love interest Charlie Lang (Tim Daly), Mindy defended her sartorial choices by defiantly exclaiming, "This is canary yellow, my friend." This was back in season two—in the episode "An Officer and a Gynecologist"—showing that Mindy's style has always been less about trying to impress a man and more about wearing what she likes. True to form, she's worn yellow coats, cardigans and even several lemon print dresses over the course of the show's run. That specific yellow coat was custom made by Perez, and Kaling teased it on Instagram a whole two months before the episode even aired.
This was not a one-off sneak peek. Both Kaling and Perez have used Instagram to share numerous costumes way ahead of the episode air date. Engaging with the audience in this way is like letting them in on the secret; sharing brand information or an insiders glimpse at custom details has made The Mindy Project prime fodder for style inspiration among fans. Sometimes custom and off-the-rack meet; in the case of this fabulous Diane Von Furstenberg gingham frock, Perez revealed that he made a clutch out of the offcuts from the alteration.
There have been a number of custom costumes in this final season including the matching red checked skirt and coat in last week's episode, "Doctors Without Boundaries" and an ensemble that seemed to incorporate every shade on the pink and purple spectrum in this week's penultimate episode.
But if couture is a little out of your budget, crafty types can make a Mindy-inspired knitted vest with patterns available at Knitsy Knits. They come with very Mindy-esque names like "Quit Breaking Up With Me" and "What Do You Do For Money Honey." Pairing it one of these hand-made items with a block color blouse or floral Dolce & Gabbana is one way to expand work wear options, but if you really want to go all in on the Mindy look, then you're going to have to take it up a notch.
Whether it is for the office or a date, Mindy has a fondness for pattern clashing and sometimes this so-called incompatibility mirrors the guy she is dating. With just one episode left it looks like The Mindy Project is heading toward a reconciliation with original will they/won't they suitor, Danny Castellano (Chris Messina). Danny and Mindy are the ultimate example of opposites attracting, but Mindy's ability to mix plaid with polka dots or houndstooth with hearts is a good visual metaphor for the chalk and cheese nature of their union, and maybe spells hope for the couple being able to make it work.
It isn't just Mindy's outerwear, office attire and date outfits that have us clamoring for more; she also has some of the best pajamas on TV. Mindy's all match. Again color and pattern dominate with everything from watermelons, ball gown visions, paisley and underwater scenes adorning her sleepwear. 
Mindy Lahiri is the opposite of subtle, and the talented team behind her costume have crafted a look that has reflected this over six hilarious and heartfelt seasons. The confidence that Mindy has in her body and the clothes she wears is inspiring. And if true love doesn't find Mindy in the end then you know she will still be wearing a heart across her chest.  
The Mindy Project series finale will be available to stream Tuesday, November 14 on Hulu.
Emma Fraser is the creator of TV Ate My Wardrobe and spends most of her time writing about TV, fashion and costuming; like Abbi and Ilana's Broad City style, the wigs on The Americans and Fleabag's lipstick. Emma has a MA in Film and Television, and she holds Angela Chase responsible for this path. You can find her on Twitter @frazbelina