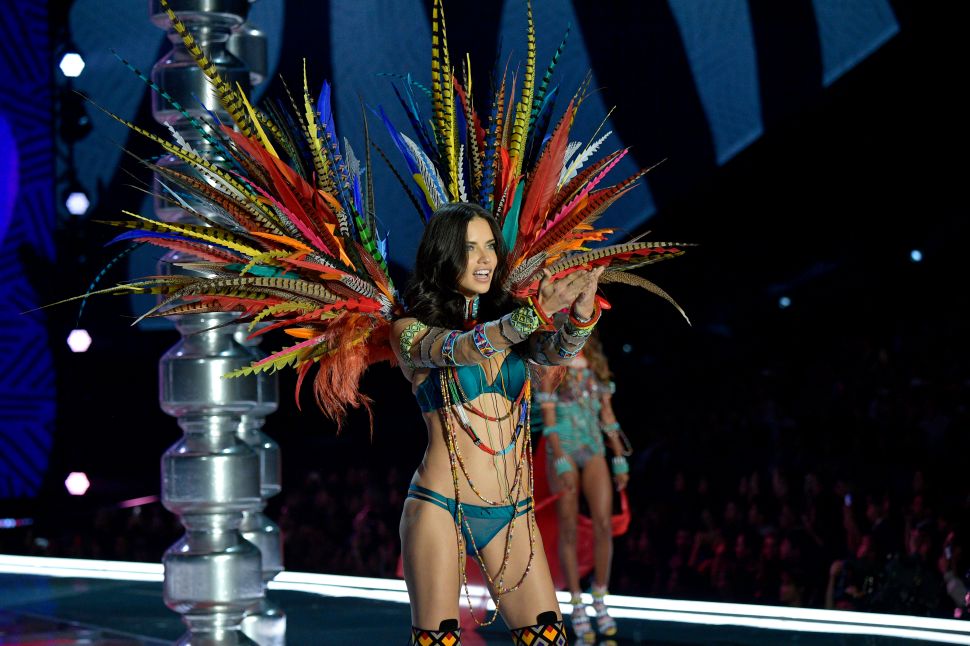 Before I left for Shanghai, I casually mentioned at a dinner about my upcoming trip to attend the Victoria's Secret Fashion Show (VSFS) in China. I thought there would be lots of envy and excitement from my American friends, as I knew I'd receive from my Chinese ones. Instead I got yawns.
In China, VSFS is a big thing. It's a cultural Phenomenon with a capital P. Accesses to the show is invitation-only, yet scalpers were seen selling tickets in the upwards of RMB 100,000 yuan (roughly US$15,000) well in advance of the event. By many accounts, eager spenders parted with 350,000 yuan ($53,000) for the privilege of witnessing the super-fit, scanitly-clad models trotting down the runway.
But spectating wasn't really the point for many, so much as it was to be seen at the event. Attending the VSFS is a status symbol, allowing one to rub shoulders with the China's rich and famous.
Among those I spotted in the VIP area were Taiwan's richest man Terry Gou (Chairman of Foxconn), investment guru Xiong Xiaoge, Hong Kong hearthrob actor and singer Wallace Chung, Chinese TV stars Li Xiaolu and Guan Xiaotong and film director Zhang Yimou. Wang Sicong, the flamboyant loose cannon and son of the one-time richest man in China (owner of the AMC Theatre Chain), was rumored to be standing throughout the show. The Internet was buzzing with speculations that even a tycoon's son could not get a seat at this hottest ticket in town. This was simply not true: he sat in front of me.
After the show, China's social media was dominated by the stumble of China's supermodel Ming Xi, who, during her fifth time walking in the VSFS, tripped over the extensive white sheer train enveloping her. A social firestorm ensued. While Xi's fans championed her uplifting recovery and applauded her for finishing her walk in grace, others chastised her "silly smile" and sub-par performance. The GIFs of Xi's fall replayed ad nauseam. Some commentators blamed frequent appearances in television variety shows and movies for her compromised professionalism. But in the end, Xi won more than 1 million thumb-ups for her apology about her performance, posted on China's Weibo microblog.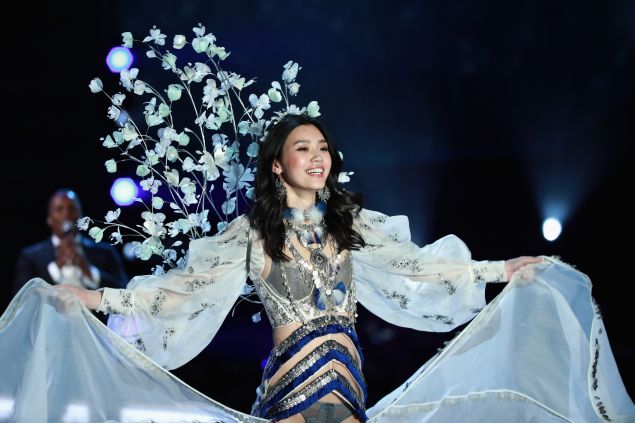 I don't know if there was any causal relationship between Xi's wide-ranging activities and her unfortunate fall, but I was somewhat surprised by the harsh criticism showered on her, and the controversies that followed. Soon after, a prominent WeChat public account Her Life used Xi as a negative example to admonish women against an unfocused approach to life.
Many thought that Xi's career with VSFS would come to an abrupt end and her modeling career would be permanently blemished. Some commentators even hoped that the broadcast version would edit out this episode (I hope not).
By contrast, most of the Western press was enamored with Xi's graceful handling. E! Online praised her for "recovering like a pro," while People Magazine congratulated Xi for handling the embarrassing mishap with "complete grace."
So why such a discrepancy in perception?
Xi was part of the "home team" of Chinese models that walked the show this year: Liu Wen, Sui He, Ming Xi, Xiao Wen Ju, Xin Xie and Estelle Chen. These six women were joined by the seventh model, One Wang, after Wang defeated 29 other competitors in a 10-episode reality show modeled after America's Next Top Model.
Since VSFS included the first Asian model Liu Wen in 2009, the number of Chinese models has steadily increased. In China, government-sponsored mainstream media generally would not attempt to swing positive or negative opinions about the show itself, tacitly accepting it as part of the evolving society. But the pride over the Chinese models is built into the appeal of the show for Chinese audiences. Conversely, a perceived failing on the part of one was felt to reflect poorly on the "face" (mianzi) of the country.
Rather than motivated by collective voyeurism, as I used to think, the show's fascination in China is rooted in the pride it holds for its representatives. And this edition, the first to be held in Shanghai, gave the country another reason to cheer, as it solidified China's place on the world fashion map.
After the 2008 Beijing Olympic and 2010 Shanghai World Expo, this was another "all eyes on China" event. Shanghai, which is called Magic City, is often seen as the Chinese hub for Western-influenced fusion aesthetics.
But it can't be denied that while VSFS has amassed phenomenal following in China, its impact has been waning in the West. Last year, the show's CBS broadcast generated a rating of 2.1 in the advertiser-coveted 18 to 49 demographic, down from 2.3 in 2015, even though it drew slightly more total viewers: 6.65 million, compared to 6.6 million in 2015. The 2015 ratings had already dropped 32 percent from 2014.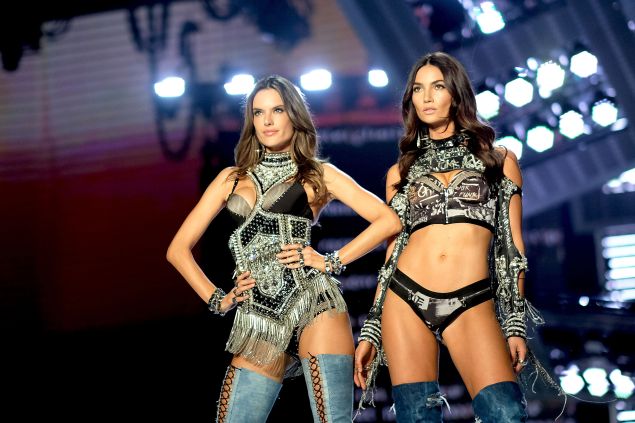 Every year before the VSFS, American feminists launch critiques of the show for objectifying women, because of very small, very idealized image of women's bodies it presents to the world. In China, such criticisms are almost negligible. The 22-year-old fashion show has been dubbed "Lingerie's Spring Festival Gala." On QQ Video channel, the 2016 VSFS generated 160 million hits.
VSFS is also known as the annual eye feast for Otakus (a Japanese term for homebody guys). According to LINKIP, a big data research platform, 56 percent of the 2016 show's webcast viewers were male, while 44 percent were women.
Interestingly, though millennials in the U.S. do not seem to chase after the aesthetic of the VSFS, they account for the majority of the audience in China, concentrating on those born in the 1990s (43 percent) and those born in the 1980s (40 percent). Twelve percent of the Chinese viewers were born in the 1970s, and only a small portion came from other age groups.
Unsurprisingly, the VSFS's Chinese audience was mainly based in Guangdong, Shanghai, Beijing and other economically developed areas, reflecting their residents' relatively open reception to Western brands and ideas.
This year, VSFS invited Chinese pianist Li Yundi and pop singer Jane Zhang, to join in the musical acts, which included Harry Styles, Miguel, and Hamilton's Leslie Odom Jr. Zhang's rock 'n' roll number was impressive, although her change of hair style into tight curls made some mistake her for Rihanna.
In my mind, VSFS's first foray to China underpins the inevitable negotiations between different cultures, aesthetics and values. Many Chinese netizens observed that with years, the bias toward Western idea about sexiness has attenuated in China. The Western stereotypes of Chinese beauties have also given way to more international sense of aesthetics, closer to the current taste in the country.
But not everything about the show was met with adoration from Chinese audiences. When Gigi Hadid announced she would be a part of the show earlier this year, China erupted, calling up a video from her Instagram account showing her squinting her eyes in an effort to imitate a Buddha-shaped cookie. Suffice it to say that the Chinese generally dislike the stereotype of having small, squinty eyes, and they dislike even more when the Westerners associate this attribute with the standard Asian beauty. Some suspect it was this backlash that led to Hadid's eventual elimination from the lineup.
Chinese audiences were overall relieved that the cultural-themed elements in this year's show were limited to a Blue-and-While Porcelain Angels segment. Last year, several of the lingerie-clad models sporting Chinese elements on their elaborate outfits (including Elsa Hosk's dragon costume, Liu Wen's Mongolian-inspired wrap and Adriana Lima's embroidered stiletto boots) were met with frustration.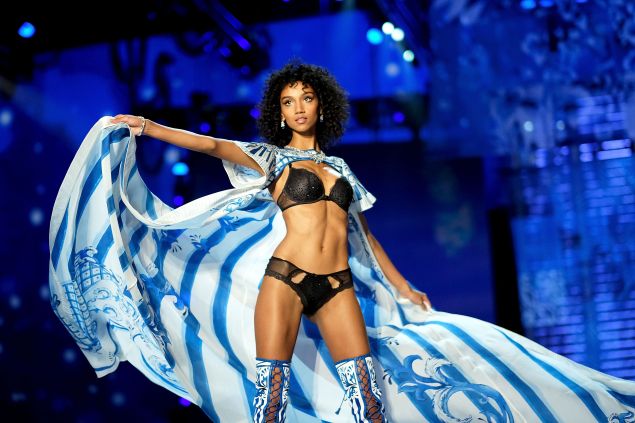 Victoria's Secret's strategy in China has never been a secret, but for many years it was limited to selling brand accessories in the concept store. It entered the Chinese market in a high-profile fashion earlier this year and opened two flagship stores in Shanghai and Chengdu. There are currently 33 outlets in the core shopping districts of major cities.
During the company's November 2 investor conference call, Martin Waters, CEO of International Operations of L Brands (parent company of Victoria's Secret), stated that the brand will have 18 full assortment stores (three flagships and 15 mall stores) and 40 Victoria's Secret Beauty and Accessories stores for a total of 58 stores in 13 major cities across China by the end of 2018.
According to the Mintel Group, China's high-end underwear market is highly lucrative and has doubled in the last five years to $18 billion. Euromonitor predicts that this year, China's total retail sales of women's underwear market will reach $25 billion this year and will grow to $33 billion by 2020, doubling that in the U.S.
At present, China's lingerie market is highly fragmented, with no leading company holding more than a 3 percent share. As Chinese domestic brands also aim to conquer the high spending consumer groups by improving the quality of their offerings, foreign brands such as Victoria's Secret must provide innovation and international awareness in addition to quality.
I am eager to see how VSFS, by interacting with China's market evolution, will involve more Chinese talents in the fashion and stage designs, not just models. I am also curious to see, however difficult and challenging it may be, whether a growth in the market for Chinese consumers will generate more exchanges within the brand about the beauty and aesthetics they cater to.
Ultimately, the question raised by the VSFS is what, culturally, do we define as "sexy?" Who has the final say? To this question, Chinese viewers will come up with their own answers. Certainly China's powerful consumers will decide whether Victoria's Secret's offerings speak to their body types and cultural makeup.
The full runway show airs on Tuesday, November 28 on CBS at 10 p.m. ET.
Chiu-Ti Jansen is the founder of China Happenings, a multimedia platform focusing on China's lifestyle and cultural industries, and a columnist for Financial Times Chinese Edition and Sotheby's.