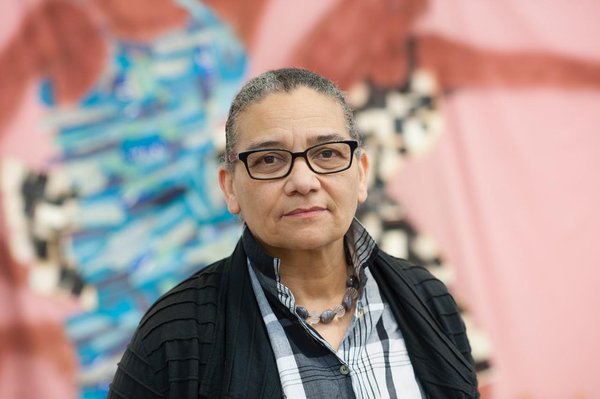 Lubaina Himid was awarded the 2017 Turner Prize—Britain's most prestigious art award—on Tuesday, December 5, at a ceremony held in Hull, England. The painter is not only the first woman of color to win, she is also the oldest awardee at 63. She's known for her darkly witty yet challenging works that explore themes of racism, the legacy of colonialism, and institutional biases.
Though prolific, Himid's work has been under the radar for decades; she was only recently been picked up by a gallery, London's Hollybush Gardens. But her 2017 exhibitions in Bristol, Oxford and Nottingham, as well as a site-specific commission for this year's Folkestone Triennial, raised her profile substantially. "Together they offered a great summation of her practice over the last few decades and also revealed how vital her work is at the present moment," Alex Farquharson, director of Tate Britain and chair of the judging panel, said at the award ceremony, praising the artist for her ability to address "difficult, painful issues."
Born in 1954 in Zanzibar, Tanzania, and raised in Blackpool, England, Himid has a background in theater design and holds a Masters of Art in cultural history from the Royal College of Art. She is currently a professor of contemporary art at the University of Central Lancashire. Her paintings, prints, drawings, and installations celebrate Black creativity and highlight the cultural contributions of people of the African diaspora.
In her acceptance speech, Himid thanked those who "gave her sustenance during the wilderness years." Winning the prize is significant to her, not only for £25,000 sum, but for what it represents for other artists working in the same vein. "I won it for all the times where we put our heads above the parapet," she said. "For all the black women who never did win it even though they had been shortlisted…it feels good for that reason." Himid was given her prize by the event's DJ, producer and artist Goldie.
One of the best-known awards for contemporary artists in the world, the Turner Prize was founded to "promote public debate around new developments in contemporary British art." Not only does it provide a cash bonus, the award also tends to significantly boost the public profile of its winners. Previous recipients include Rachel Whiteread, Grayson Perry, Damien Hirst and, last year, Helen Marten. The Tate announced earlier this year that the rules had been adjusted to allow artists of any age to be considered; since 1991, only artists under 50 were qualified for the prize as a way of preventing it from becoming a lifetime achievement award.
Himid was chosen from a shortlist of four that also included the Birmingham-born painter Hurvin Anderson, who was favorited to win prior to the announcement last night. Other nominees included Rosalind Nashashibi, originally from Croydon, for her recent film works set in Gaza and Guatemala; and German-born, London-based Andrea Büttner, whose diverse practice includes printmaking, sculpture and archival works. The runners-up each receive £5,000. An accompanying exhibition featuring the work of this year's shortlisted artists is on view at Ferens Art Gallery in Hull through January 7, 2018.
Margaret Carrigan is a freelance writer and editor. She planned to go to law school but she did terribly on the LSAT, so she got a master's in art history instead. She lives in Brooklyn with her cat, who is named after Alyssa Milano's character from the early aughts CW smash hit series Charmed.