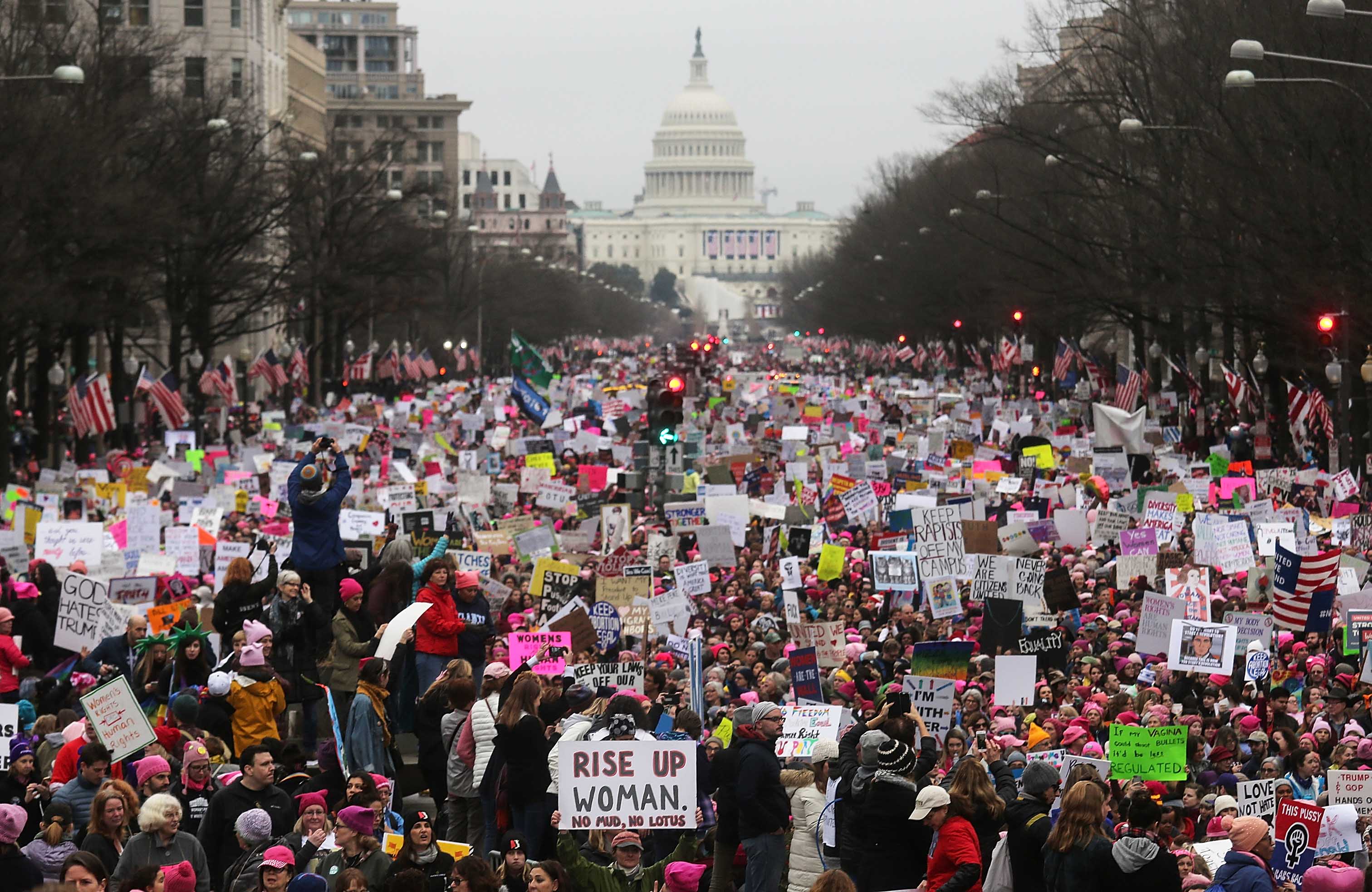 In a Twitter-driven, never ending breaking news cycle, it's hard not to feel like the world is coming to an end. And depending on the latest news from the 38th parallel, maybe it is. But all the chaos, anger and dismay we've seen and felt over the past 12 months revealed how strong our system is and that we can things for the better.
In fact, 2017 may be just what our country needed.
A year ago, most of the country was in shock, coming to grips with an election outcome most didn't think was possible. We asked ourselves over and over: "How did this happen? How did we get here?" In simplest terms, the answer is because we, as a country, became complacent.
It shouldn't have been so hard to see this coming. The U.S. has abysmal voter turnout, two major parties that much of the country no longer identifies with, and the majority of Americans share a general malaise about politics and feel that voting for one candidate or another will do little to improve their lives. People feel like government gave up on them, and in return, they gave up on it.
But this year was different. It began with the Women's March—the largest protest in American history—and was followed by more people voting in off-cycle elections and signing up to run for office than ever before. Phone calls from angry constituents flooded congressional offices during the health care debate for weeks on end and wonky political podcasts are knocking crime thrillers off the charts. We even saw testimony in opposition to an obscure local ordinance at a L.A. City Council hearing (about house parties in the Hollywood Hills) go viral. People are finally paying attention.
This year was the opposite of complacency. We have made progress, but there is more to be achieved.
Running for something. In order for a representative government to be truly representative, it has to represent its constituents' concerns and interests. As our country grows more diverse, so should our governing bodies. This year we witnessed more people than ever before decide to act and run for elected office. For example, 369 women are planning to run for Congress in 2018, which would be the most female candidates for the House ever.
Protesting. The energy and anger of "The Resistance" was palpable, and politicians felt it. Constituents made their voices heard loud and clear, calling their representatives and taking to the streets. Thousands of grassroots organizations popped up across the country, introducing millions of Americans to activism, many for the first time. As painful as the #MeToo movement has been, it will result in real and lasting normative change. That never would have happened without the Women's March laying the groundwork.
Mobile voting. More people than expected showed up to vote in off-year elections, and radically expanding participation in elections is the only way to keep the momentum going. Politicians are rational. They respond to the inputs and incentives needed to keep their jobs. So if 12 percent of people vote in a primary, that politician's policies will be designed to make that 12 percent happy. If we made it dramatically easier to vote by making it mobile, we would have 60-80 percent participation, and elected officials would change their policies in response to an expanded constituency. This year saw both the advancement of mobile voting blockchain startups and growing interest in the idea by election officials across the country.
Keeping up with the news. Whether you like it or not, you can't escape what's happening Washington. The news is everywhere, on every platform, all the time. And despite what you hear about the state of mainstream media, the industry has seen a significant increase in interest in the news. The New Yorker and The Washington Post's subscription revenues have seen record growth, and The New York Times' digital-only subscriptions jumped 44 percent this year. More people are engaged with politics and Washington's goings-on than ever before.
So before you write off 2017 as a terrible, horrible, no good, very bad year, look at the silver lining. After all, if we want a government that can efficiently govern, participating in elections and actively engaging in the democratic process is the only way to do it.
This year, we finally started doing it again.
Bradley Tusk is the founder and CEO of Tusk Holdings, the parent company of Tusk Strategies, Tusk Ventures, Kronos Archives, the Ivory Gaming Group and Tusk Montgomery Philanthropies. In 2009, he served as Mike Bloomberg's campaign manager, guiding Mayor Bloomberg to a third term.
Michaela Balderston is a Vice President at Tusk Ventures where she handles communications and media for the firm's portfolio companies. She previously led strategic communications at The ONE Campaign, Bono's anti-poverty advocacy organization. Her work has taken her around the world, campaigning in Africa, Europe and North America. She also sits on the Community Advisory Board of WNYC and is an Innovation Council member at Eleanor Legacy, which recruits, trains and funds progressive female candidates across New York State.