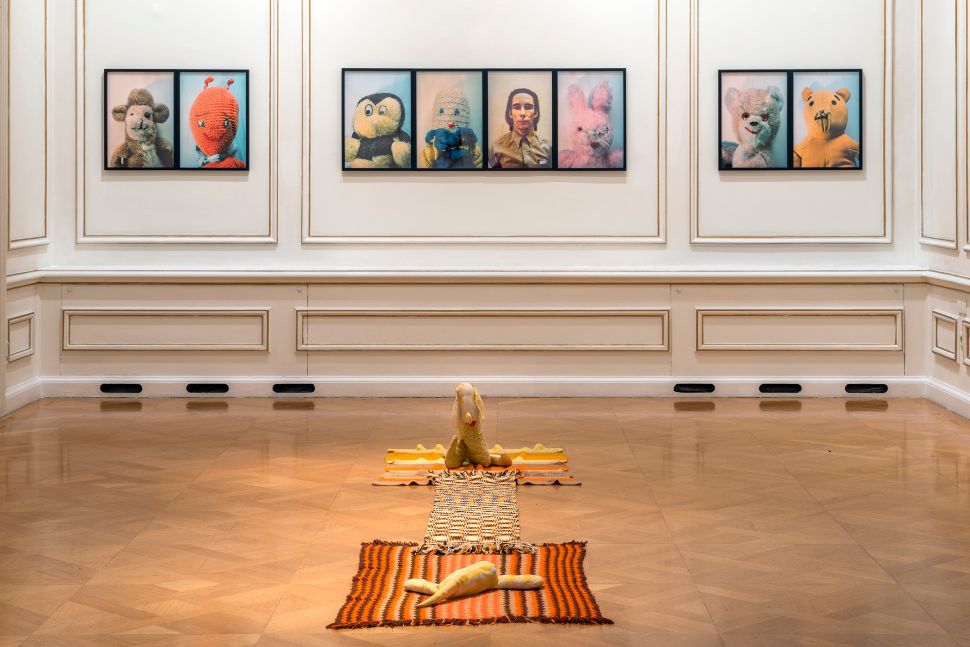 Artist Mike Kelley had a fascination with home. Or, perhaps more specifically the myriad ways in which one can't go home. Growing up outside of Detroit in the 1960s and '70s, amidst the social and economic upheaval that led to the area's decline, it perhaps comes as no surprise that "home" became an enigmatic concept as residents fled the fraught city in search of better jobs and better living conditions. For the artist, however, displacement was as much a psychological issue as it was physical.
Now, five years after the artist's suicide in 2012, three separate but concurrent exhibitions across the globe are exploring Kelley's fascination with "home." At Hauser & Wirth gallery in Los Angeles, the city in which Kelley lived and worked for much of his adult life, an exhibition of his Kandors series looks at the artist's fascination with the Superman, a hero who was unable to access his Krypton hometown of Kandor. "Michigan Stories: Mike Kelley and Jim Shaw" at the Eli and Edythe Broad Art Museum at Michigan State University compares how two Michigan-born artists reference their shared Midwestern roots, while ultimately returning Kelley—or at least his work—to his home state.
But it's "Fortress of Solitude" that perhaps best explores the malaise of displacement. Organized by independent curator Douglas Fogle for the Museum of Cycladic Art in Athens in association with the non-profit cultural organization Neon, the exhibition title is also a reference to Kelley's favorite superhero, Superman. Featuring 17 works spanning the artist's career, along with videos and biographical material from his foundation, the show is Kelley's first monographic exhibition in Greece, a country as familiar with tales of mythic heros (think Hercules or, perhaps more appropriately in this circumstance, Odysseus) as it is displacement, given its contemporary economic climate and refugee crisis.
Kelley's oeuvre, as revealed in "Fortress of Solitude," is indeed marked by a restrained sense of crisis. From his mismatched stuffed animal amalgamations to his entombed doll works, there is a sense of lost innocence and ever-present childlike helplessness—even in adulthood. "He was interested in how are formative experiences, even if forgotten, are lodged in us, driving us unconsciously in our day-to-day life," Fogle told Observer. "I think he grasps at a sense of trauma that can come from something as simple as just growing up and having to leave your home behind."
The loss of home is a feeling many can relate to—of leaving the place you know in search of something new, different, better, simpler. Perhaps even safer. Maybe you find it, maybe you don't. Sometimes it's impossible to return, as is often the case of those who seek refuge from war-torn or economically devastated areas. But should you return to your origin point, rarely is it the same. The buildings look smaller; the streets, shorter. Nothing quite fits like should. The place that shaped you has reshaped itself in your absence; and you, in turn, have been reshaped as well.
It's precisely this sense of misfit in the wake of displacement that Kelley took up in his Kandors series, comprised of nearly human-scale glass sculptures, along with videos and large-scale installations, that realize in 3D Superman's hometown. Shrunken and bottled by the villain Braniac, for almost 25 years the small city and its miniaturized citizens survived under Superman's care, sustained by tanks pumping in a Kryptonic atmosphere.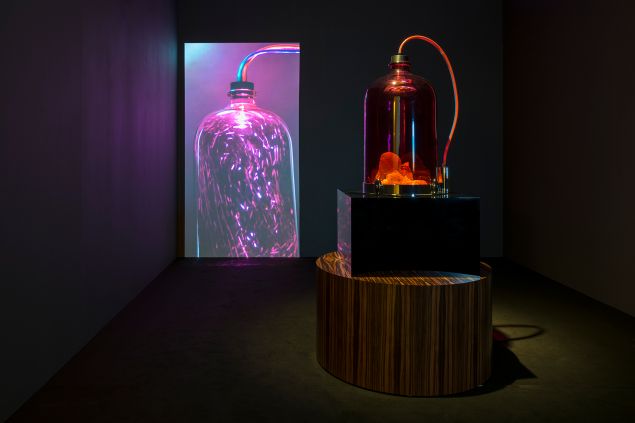 Superman was unable to get home, not just because the entirety of his planet had been destroyed, but also because he was simply just too big for what little remained—perhaps partially a metaphor for outgrowing a place or the people in it. But while Kelley's large glass sculptures emphasize the physical impossibility of returning home, his drawings of Kandor reveal a much more psychological quandary. Rendered in perfectly continuous penciled lines, these minimalist sketches reveal a city trapped under a bell jar, which became a symbol of loneliness for him, according to Fogle.
"The association with Sylvia Plath's The Bell Jar is important," Fogle said. "For her, as for Kelley, it's representative of depression. And now, of course, we can draw a line between depression and their respective suicides." For Kelley, being without a home could simply be the inability to find solace, and "Fortress of Solitude" explores through a selection of works spanning the artist's career and the quest for just that.
"Fortress of Solitude" boasts one of the Kandor works from 2007, as well as a series of photographic prints from early in Kelley's career, numerous iterations of his stuffed animal installations, and a selection of drawings and paintings. While many of the works border on sentimental, what comes to the fore is a certain dysfunction, seen especially in the Kelley's frankenstein creations made out of found stuffed animals.
Transplant, for instance, features two creatures, sitting facing each other on their own small blankets, connected by a river of knit scarf. One has the other's head and arms stitched onto it, since it had been missing those key elements when the artist found it. They become like totemic figures, emblematic of ambiguous dualities like male/female or good/bad that gesture toward a sense of wholeness. "In essence they're like Cycladic figurines—just effigies of the human body," Fogle said. "This is one of the reasons I think this museum [in Athens] is such a fitting venue for the show because it's a museum devoted to this type of early representation of man."
Of course, in Transplant, the result is that the latter creature is now without a head and arms even if the former has been made whole, revealing the inevitability of loss even when seeking completion. And once lost to oneself, then it's truly impossible to find solace, i.e. "go home," as evidenced in Kelley's early photographic series The Sublime from 1984, which anachronistically rounds out "Fortress of Solitude." Fogle explained that he thought it would be interesting to end the show by looking at work from the beginning of the artist's career because it shows how he wasn't the only one looking for meaning and connection in life, "this is something all of mankind is searching for and we just can't seem to grasp it."
Featuring a selection of found images ranging from kitschy ocean sunsets and deforested landscapes to an American flag and a kid's kewpie doll, these photos are all meant to invoke the sense of awe and wonder of man's existence endemic to the 19th century Romantic notion of the sublime, while all falling short of doing so. One such photo, a snapshot of a Los Angeles newspaper review proclaiming a restaurant's green peppers as "sublime," underscores how little the word has come to mean in this, an age of debauchery, disconnection and dislocation.
The series ends with an image of a children's adhesive name tag bearing the words "Hi, my name is… If I'm LOST please take me to the clock tower." The blank space in between the two lines of text invites anyone to insert their name suggesting, perhaps, we're all a bit lost with no way to get home.
Margaret Carrigan is a freelance writer and editor. She planned to go to law school but she did terribly on the LSAT, so she got a master's in art history instead. She lives in Brooklyn with her cat, who is named after Alyssa Milano's character from the early aughts CW smash hit series Charmed.