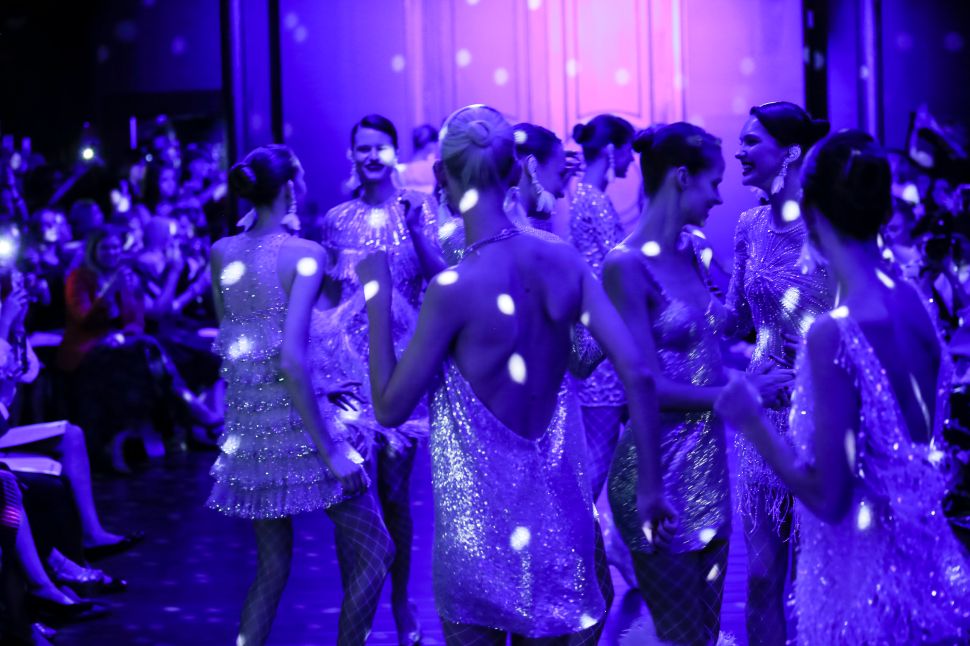 A holiday wedding comes with a special brand of delight and good cheer. It's not just the aesthetic of candles, silver garlands and evergreen boughs that lends itself to celebrating a union—although there's no denying a winter landscape has "bridal" written all over it. For couples beginning a new chapter together, the season's focus on family and friendship is the perfect emotional backdrop. From frothy feathers to glittery minis, here are five festive ways to dress for a holiday wedding.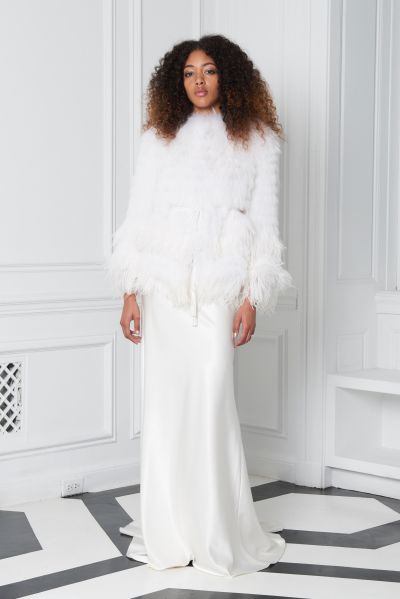 This is how a contemporary snow queen makes an entrance. The fur and ostrich feather jacket cinched with a jeweled belt covers a slim gown in ivory crepe-back satin. With its slip-dress silhouette and dramatically low back, it's ideal for lounging fireside at the after-party.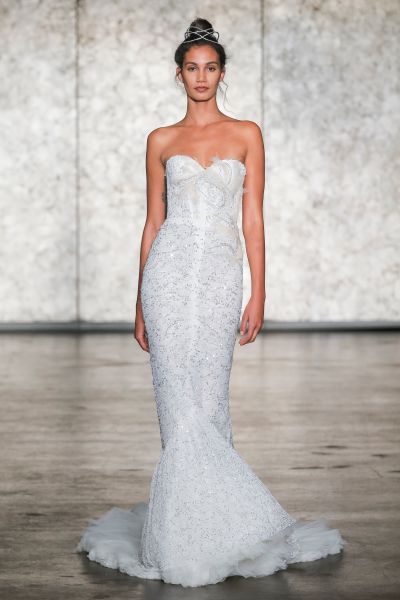 Just because it's the holidays doesn't mean a bride needs to go under cover. Exchange vows in flagrantly flirtatious fashion in a red-carpet gown from Inbal Dror, who uses plenty of sparkle and tulle feather accents to make it New Year's Eve-worthy. The strapless, sweetheart neckline and extreme mermaid shape give the whole concept of making it legal a sexy overhaul.
Reem Acra uses the most elaborate jeweling of the season to create a fantasy worthy of a czarina. The jacket's illusion neckline and collar, encrusted with multiple strands of pearls, floral medallions, and sparkled scallops, leads to a sheer bodice and full, layered skirt and tulle train embroidered with sequins.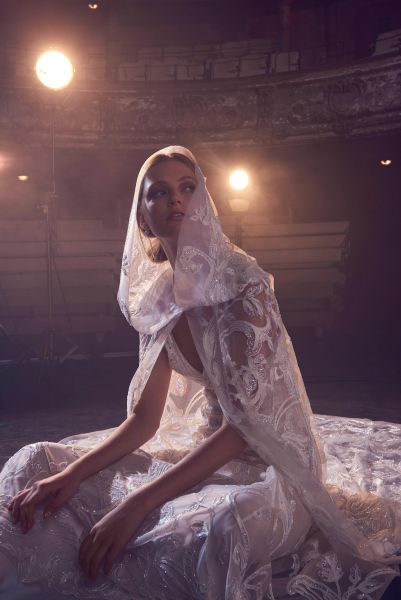 Epic heroines always seem to have a hooded cape in their wardrobe. In an enchanting twist, Elie Saab crafts a storybook ensemble of a simple V-neck gown and lavish cloak from organza embroidered in sequins, stones and beads—the house's signature technique. If a little light for wandering in the forest, it would be stunning on a cathedral aisle.
There are a couple of great reasons for planning a New Year's Eve wedding. For one, you'll always have an excuse to stay home and celebrate a deux. Second, you're expected to break the rules, whether that means walking down the aisle to a show tune or wearing a dress that's more Beyonce than bridal.
Rachel Leonard was the Fashion Director of Brides Magazine for 18 years—the first employee at Condé Nast to make the jump from advertising to editorial. Rachel is currently the Editorial Director for The Bridal Council, and can be followed on Instagram @_rachelleonard.
A marketing executive currently living in Arizona, Sally Kilbridge spent more than 20 years as an editor at Brides Magazine. She indulges her love of travel and romance on her website, destinationw.com, a definitive guide to destination weddings.