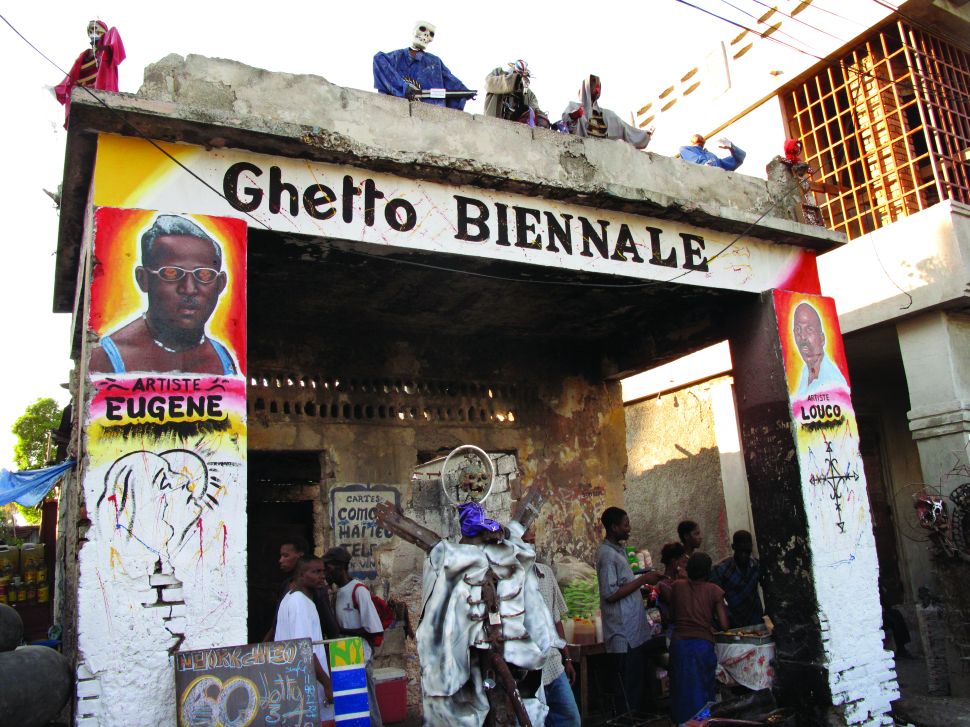 What do the far-flung cities of Venice, Italy; Gwangju, South Korea; Sharjah, United Arab Emirates; and Istanbul, Turkey have in common? They're all sites of long-running, influential art biennials that curators, dealers, collectors, artists, and critics alike flock to on a regular basis. Getting to all of these events, even if they are only every two years, ultimately relies on the assumption that one has the means to travel across the globe just to see and be seen.
In Port-au-Prince, Haiti, however, the Ghetto Biennial takes a cold, hard look at what it means to be unseen and excluded from the highly networked, globalized, financially fluid mainstream art circuit. Founded in 2009 by André Eugène and Leah Gordon along with members of the collective Atis Rezistans, the event was created to address the fact that artists living and working in Haiti are often not able to travel—even if their work is included in a major exhibition abroad—often from lack of resources or flat-out visa refusal due to severe restrictions on Haitian passports.
The fifth edition of the Ghetto Biennial launched on December 11, mere weeks after the news of a U.S. presidential mandate that ends the temporary protection for Haitians displaced by the devastating 2010 earthquake from which the country has struggled to recover, further cordoning off Haiti from international aid and eyes. This year's edition maps the city's varied centers of cultural production, street life, and multifarious heritage through an extensive program of exhibitions, curated workshops, screenings, and performances revealing a historically significant but often overlooked city in flux.
Of the more than 80 artists participating this year, roughly half of them are from, or have their roots in, the Caribbean. Observer spoke to Sabrina Greig, a Chicago-based Haitian-American independent curator and artist, about her experience working in Port-au-Prince to realize "Potre," a collaborative printmaking project she launched as part of the programming for this year's Ghetto Biennial.
The aim of the Ghetto Biennial is to stay off the beaten track in an effort to support local artists in areas that are not included in the typical international art world fair and exhibition circuit. So, naturally, it hasn't been as well-known or extensively profiled. How were you introduced to it and what made you want to participate in it this year?

I came across the biennial in 2015 when I was looking for residencies in the Caribbean. I thought it was absolutely magnificent idea, especially since there are a limited amount of art programs that exist in Haiti. Even as a Haitian-American curator and artist, a biennial in Haiti was not an opportunity that frequently presented itself to me.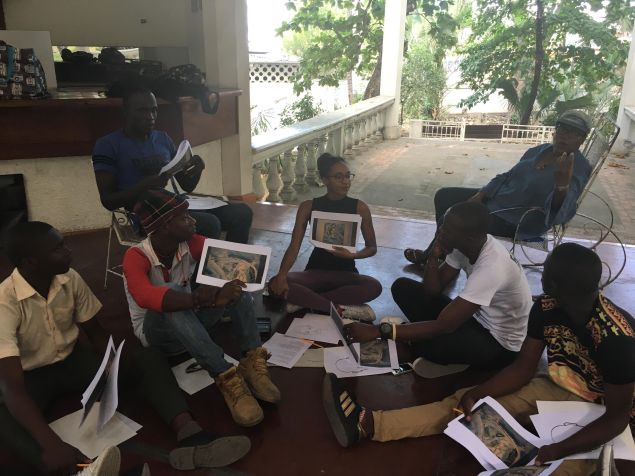 Having a Haitian background, were you familiar with the city and art scene in Port-au-Prince before this?

My mother and her siblings originate from Haiti, so my ancestral roots are grounded there. I grew up learning about the country through their personal stories and anecdotes. The artists I worked with for the Ghetto Biennial, who were part of the collective Ti Moun Rezistans, grew up in Grand Rue, which is one of the neighborhoods in which the biennial is located. So they were very familiar with the city—that's their home and where they started their collective practice. The artistic community of Grand Rue uses ready-made detritus from their surroundings for their art practice. It's been really beautiful to witness the level of resourcefulness and creativity in person.

What was it important for you to highlight in your curatorial project for this type of art event?

My curatorial project, "Potre," is a linocut workshop centered around self-portraiture that I developed and taught. Given the environment of Grand Rue, a makeshift car repair district, the materials the artists use are definitely influenced by their surroundings. When I did studio visits in the area, it was astounding to see the sculptural collages artists created out of these materials. This is one of the reasons why I thought printmaking would be complementary to the art practice of Ti Moun Rezistans because paper arts employ the same kind of multimedia collage technique. Because metalwork and painting is so prominent in the artistic culture of Haiti, I wanted to offer Ti Moun Rezistans a chance to exercise a similar but different skillset they may not have had the opportunity to use before. It was important for me to introduce a medium that they didn't often come across in Grand Rue.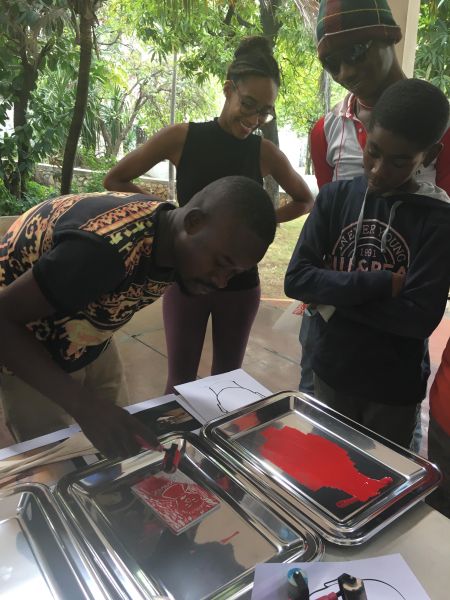 Did your participation in the Ghetto Biennial make you think about biennials and major international art events and fairs differently?

Absolutely. The Ghetto Biennial opened my eyes to the way international art fairs often overlook the artwork of people who may not have access to global elite spaces in the art world. By locating the biennial in downtown Port-au-Prince, I was able to meet artists—and witness the communities they create and work within—that you just wouldn't encounter in an international place like Venice, for example. I worked with an artist, Love Leonce, who does a lot with Ti Moun Rezistans. He told me that he meets with the artists every day in their studio to practice art. Every day! That's remarkable. It was clear that all of the artists that I worked with were highly adaptive to their environment and supportive of one another; it was amazing to witness such creativity.
Margaret Carrigan is a freelance writer and editor. She planned to go to law school but she did terribly on the LSAT, so she got a master's in art history instead. She lives in Brooklyn with her cat, who is named after Alyssa Milano's character from the early aughts CW smash hit series Charmed.