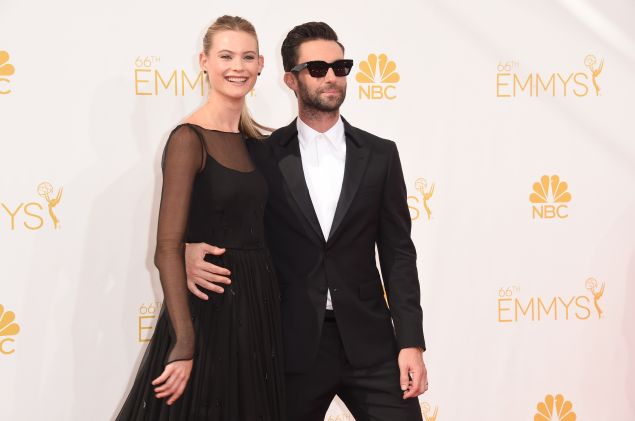 Adam Levine and Behati Prinsloo are already bidding adieu to their Holmby Hills home. The couple just bought the house a few months ago, doling out $18 million for the palatial spread in August, and it doesn't seem like they ever actually resided in the mansion.
The Maroon 5 frontman (and The Voice judge) and the Victoria's Secret Angel had originally planned on a gut renovation and remodel, but now that they're expecting their second child, the pair decided they just didn't have the time to take on such a project.
The couple, who married in 2014 and welcomed their first daughter, Dusty Rose, in September 2016, did at least begin the renovation. They took the place down "to the studs," before sticking an $18.9 million price tag on the house in late November. And after less than a month on the market, the five-bedroom, 5.5-bathroom abode already found a buyer.
Indeed, the listing for the gated 9,221-square-foot residence now shows that it has a pending offer, though it's not clear precisely how much Levine and Prinsloo stand to make in the sale.
Aside from the main house, which was built by architect Caspar Ehmcke in 1966, there's also a cabana by the pool and a two-story guest house on the 1.2-acre estate, according to the listing held by Westside Estate Agency broker Kurt Rappaport.
This means the Levine-Prinsloo clan has offloaded at least one of the West Coast homes they're trying to part with, as Levine is still attempting to locate a buyer for his longtime Benedict Canyon bachelor pad. It is now listed for a discounted $15.9 million, from the $17.5 million he was originally hoping to rake in from the sale of the 7,100-square-foot abode.
They're definitely not going to be downsizing, or at least it doesn't sound like it. Levine said he wants a very large family in the future—indeed, when Levine announced on Ellen that he and Prinsloo are expecting another girl, he said he wants "a lot" of kids, and "thrive[s] in chaos." Perhaps that means the family is in the market for an even larger property than the ones they're leaving behind?