Adam Levine and Behati Prinsloo are trying again with this Benedict Canyon home. Click through to see inside the newly relisted home.
Westside Estate Agency
Levine bought the mansion back in 2012.
Westside Estate Agency
He rebuilt the entire space.
Westside Estate Agency
He transformed the interiors by removing nearly all the walls.
Westside Estate Agency
The price is newly reduced to $15.9 million.
Westside Estate Agency
There's a movie theater inside.
Westside Estate Agency
Levine created a custom speakeasy card table inside.
Westside Estate Agency
The home is hidden behind a long driveway.
Westside Estate Agency
The property spans 3.6 acres.
Westside Estate Agency
Levine and Prinsloo are also listing their newly purchased house in Holmby Hills.
Westside Estate Agency
Now that Adam Levine and Behati Prinsloo are expecting their second child, the couple is changing up their living situation.
Levine and Prinsloo first purchased a massive, perhaps outdated Holmby Hills house just four months ago, and started a gut renovation before changing their minds and deciding it was too much to take on, now that Prinsloo is pregnant. They hoisted that home back on the market this week, with an $18.9 million price tag attached, which leaves them with one other Los Angeles abode to deal with.
The house in question is Levine's Beverly Crest bachelor pad; a secluded mansion perched on 3.6 acres above Benedict Canyon. Levine bought the home for $4.83 million in 2012 and hired Mark Haddawy to help him complete an extensive renovation.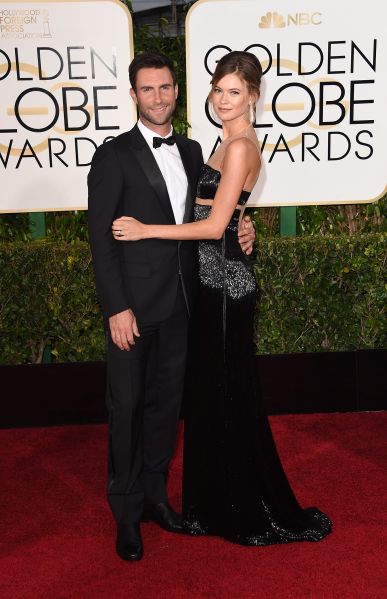 The Maroon 5 frontman completely rebuilt the house, transforming it into a glassy, modern space, and tore down many of the internal walls in order to create a single bedroom, as Levine told Architectural Digest in March 2012. The 7,100-square-foot mansion, however, is now listed as a five-bedroom, seven-bathroom home, so perhaps there have been some changes.
Levine first listed the single-story home on the sales market in June 2016 for $17.25 million, and reduced the price to $15.95 million three months later, before removing the listing altogether in March this year. But now, shortly after listing the aforementioned Holmby Hills residence, Levine is once again trying to find a buyer for this sleek abode, and he's made another minor price cut down to $15.9 million.
The single-story home features concrete floors and rosewood paneling throughout, with walls of glass that overlook the canyon. It's not exactly a baby-friendly space, so it's not too surprising Levine and Prinsloo want to part with it. There's a gourmet kitchen as well as a screening room, per the listing held by Kurt Rappaport of Westside Estate Agency. A pool and outdoor lounge area overlook the canyon, and there's a tennis court elsewhere on the property.
Levine also created a two-story "car collector's garage," complete with an elevated lift, and added a speakeasy card room to the home. Perhaps now, Levine and Prinsloo are on the hunt for something that will need a bit less baby-proofing.