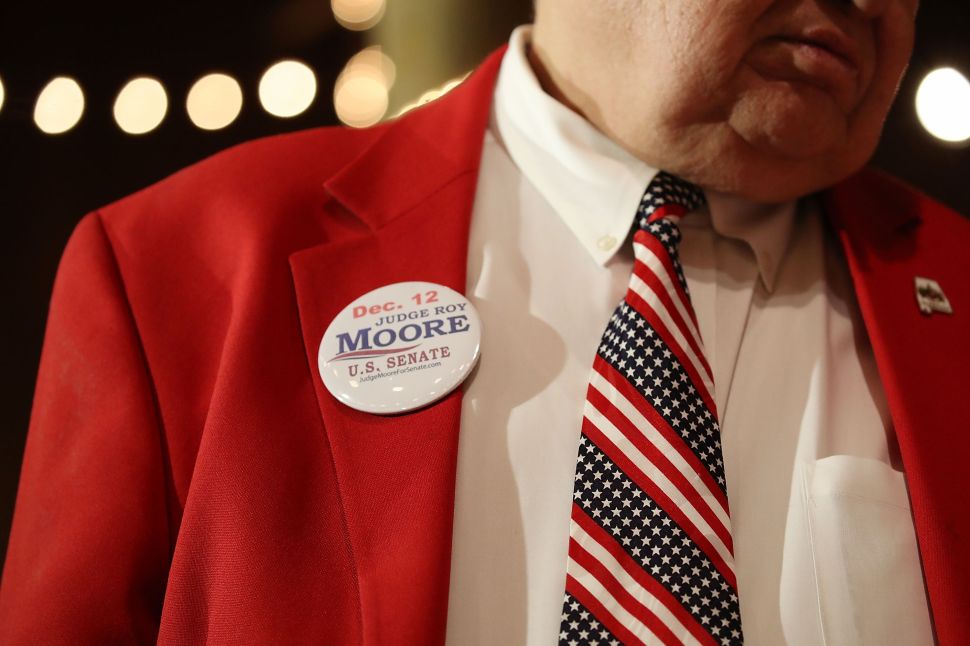 No state election in modern political history has been as contentious or ugly as Alabama's race to fill Attorney General Jeff Session's Senate seat. When British politician Nigel Farage endorsed then-GOP primary candidate Roy Moore alongside the cast of Duck Dynasty at a September rally in Fairhope, AL, conservative populism's scope was reinforced: A local election had global significance.
After Moore bested Senate Majority Leader Mitch McConnell's preferred candidate in the primary, an all-out war erupted between conservative populists and establishment Republicans. Coming in the wake of the Republican Party's failure to repeal Obamacare, Moore's primary win cemented Trumpian-style populism as the dominant strand in GOP politics. To McConnell and incumbent Republicans the message was clear: Submit or perish.
The Washington Post reported in early November credible sexual assault accusations against Moore—some of which allegedly occurred while the women were minors. This should have been a death knell to the candidate's campaign, but as women came out against Moore, Bannon re-wrote the narrative by casting doubt on the allegations, dispatching reporters to discredit Moore's accusers. In the following weeks, he crusaded to disparage the women, disseminating doubt against the media and the political establishment through Breitbart and his revived SiriusXM radio show. Like President Donald Trump's Access Hollywood moment, Bannon understood that Moore's allegations were a litmus test and that Republicans were either with him or against him.
This narrative was hammered through conservative media's echo-chamber.
"I lived in Alabama," Sean Hannity said on-air, reversing his initial attacks after a reported exchange with Bannon. "I know these people. They're smart, they're great Americans—God, family, faith, country. I am very confident that when everything comes out, they will make the best decision for their state."
Though the president avoided explicitly endorsing Moore after his daughter Ivanka Trump claimed, "There's a special place in hell for people who prey on children," he castigated Jones as "soft on crime." A pro-Moore super PAC capitalized off this veiled endorsement as an opportunity to fundraise, touting Trump's semantics as support for the candidate. By the time the Washington Post exposed James O' Keefe and Project Veritas' ill-fated sting to discredit the outlet's reporting, in which an operative falsely told reporters that Moore had impregnated her as a teenager, Bannon had mobilized enough fringe support to insulate his candidate.
It was irrelevant to Moore's supporters that he may have molested minors and that Project Veritas was a shady PR scheme funded by GOP megadonor Robert Mercer, the Koch network, and even the president himself. So long as Moore received favorable coverage from Bannon and Hannity and could claim Trump's words as endorsements, then he could ride a multi-million dollar campaign against the D.C. establishment. Bombshell spectacles helmed by public figures like Gloria Allred, where the Manhattan attorney held a press conference introducing another Moore accuser, further reinforced Bannon's narrative that the Southern firebrand was fighting against coastal elite.
Allegations against Moore were also buffered by numerous complaints against Democratic lawmakers Al Franken and John Conyers, which prompted the resignation of both men from the Senate and the House. Whenever Moore's past behavior was raised, political operatives employed "Whataboutism" rhetoric as a way to downplay the accusations and alleviate responsibility. This tribalism culminated in a televised debate between White House advisor Kellyanne Conway and CNN's Chris Cuomo, in which the two argued whether it was worse to molest minors or sexually assault army veterans.
Despite his daughter's condemnation of the candidate, Trump reportedly compared the accusations against Moore to his Access Hollywood scandal. Last weekend, he officially endorsed Moore at a rally in Pensacola, FL, breaking with Republican leadership, which had urged the candidate to withdrawal from the race. The RNC has since returned Moore's funding as Republicans make a final push to elect an accused pedophile in order to maintain dominance in the Senate.
This special election has become a microcosm for media manipulation, dark money, and the massive cultural and political upheavals occurring in American society. If Roy Moore is elected to the U.S. Senate, Steve Bannon's assault against the political establishment will continue, giving Democrats another foil for 2020's election. If Doug Jones is elected, then the resistance claims its first significant win in a Trump stronghold while furthering the #MeToo movement. In either case, tribalism bests morality.
Follow Davis Richardson on Twitter