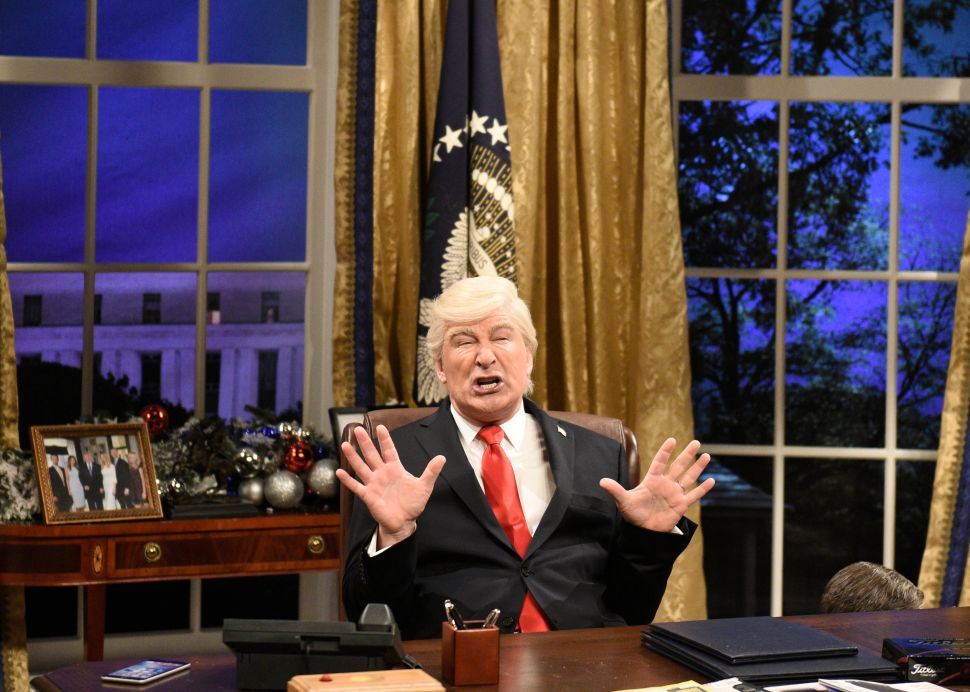 Are you tired of Alec Baldwin's Donald Trump impression on Saturday Night Live yet? Well, you may be in the minority as season 43 of the sketch comedy show is still going strong in the ratings despite a slight dip from its record-breaking year last season. While the actor has expressed concern about staying with the bit for too long, it does sound as if we may see even more of Baldwin's Trump than ever before, just not on Saturday Night Live.
During an interview on SiriusXM's The Howard Stern Show on Monday, Baldwin said, "We may take the book and make it into a one-man show on Broadway, like Will Ferrell did the Bush thing."
Baldwin is referring to his book You Can't Spell America Without Me, co-written with Kurt Anderson. Ferrell famously starred in You're Welcome America as President George W. Bush following several popular appearances as the former Commander in Chief during his time on SNL. That show ran for a little more than a month at the Cort Theatre, but it sounds as if Baldwin has a bit more in mind. You can listen to his full comments below:
[soundcloud url="https://api.soundcloud.com/tracks/367992392″ params="color=#ff5500&auto_play=false&hide_related=false&show_comments=true&show_user=true&show_reposts=false&show_teaser=true&visual=true" width="100%" height="300″ iframe="true" /]
As he tells it, Saturday Night Live godfather Lorne Michaels would produce the Broadway show which is a great first step to getting it made. If only we could get Ferrell to cameo as Bush, then we'd have a Hall of Fame winner on our hands.
Baldwin has taken the comedy world by storm with his well-received Trump impression on Saturday Night Live, even winning an Emmy award for his work. He first began tackling the president in September 2016. In that team, season 43 of SNL posted its best ratings in 23 years while this season's premiere boasted the most total viewers since 2008.