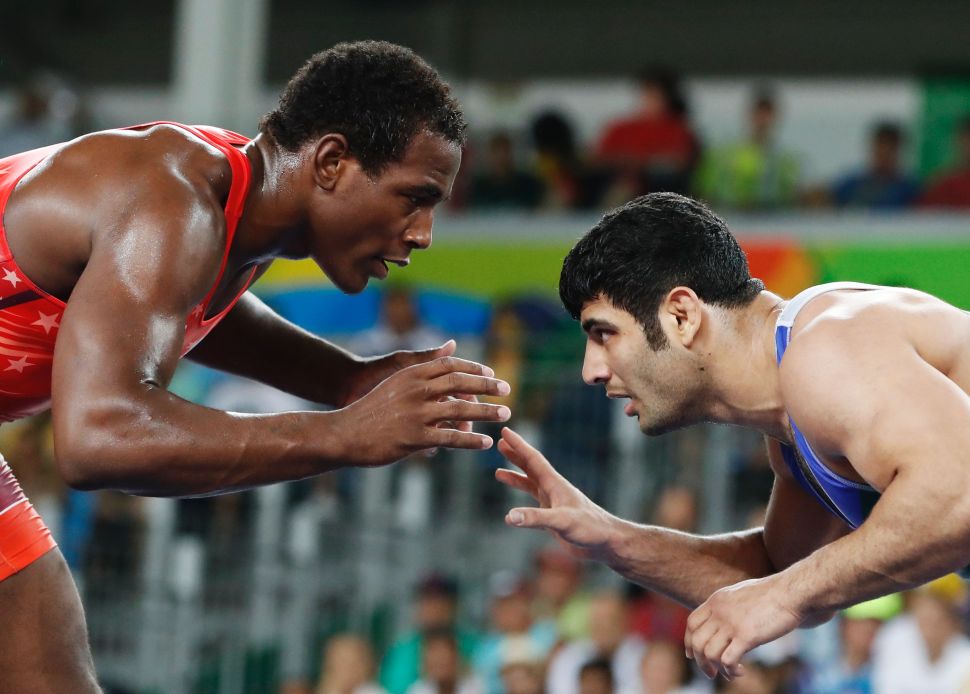 The U-23 World Wrestling Championships just wrapped up in Poland. During the event, an Iranian wrestler, Alireza Karimi-Machiani, threw his match so he wouldn't have to compete against an Israeli in the next round.
In the end, the Israeli athlete, Uri Kalsihnakov, won a bronze medal in the 86Kg freestyle division.
The Iranian was winning 3-2 in the fourth minute of his match against Russian Alikhan Zhabrailov—who went on to win the gold—but ultimately lost 14-3.
Before the match was tossed, the Iranian coach shouted in Farsi, "Lose, Alireza, lose!" He then called a medical timeout and spoke to his wrestler. After that, the Iranian wrestler barely attempted an offensive move.
He did this to avoid competing against an Israeli.
Alireza said, "I was told that the Israeli wrestler defeated his American rival, and that I must lose to avoid facing an Israeli opponent."
Twitter lit up with thousands of people sounding off about the match. Some tweeted that it was a shame and that Alireza could have won the gold, which would have proven Iran's greatness. Others tweeted that the Iranian wrestler was simply a pawn in a political game and should be ashamed of himself.
There were thousands of tweets, which used the hashtags, in Farsi, #lose_alireza, #I_am_telling_you_to_lose, and #you_must_lose.
Alireza posted an Instagram video of him strolling outside at night. He appeared pensive and was listening to a song by Iranian singer Dariush Eqbali, the lyrics to which were, "Silence is the last stronghold; you cannot take away our right."
Alireza won bronze in the world championship in 2015 and had a very good chance this year, but politics got in the way. He spoke about how devastating the match was for him: "In a moment, my whole world seemed to come to an end… I tried hard for months to get the world gold medal… Achieving a world medal is the only happiness for any of us."
The Iranian Ministry of Sport announced they were proud of their wrestler. The official statement read, "Your noble and heroic action in the world competition in Poland, abandoning the medal and the podium in support of the highest human values, is a source of pride and praise."
Sports, if left alone, could be a bridge toward international diplomacy. Instead, some nations use it to separate rather than to unite.
In August, Iran cut two of its star soccer players from the national team because the two dared to play against an Israeli squad at their Greek club. And later, two Iranian chess players—a girl and her younger brother—were kicked off the national chess team for playing Israelis.
There was also international clamor over the Israeli Judo team not being able to wear their flag, show the symbol of their country, or play their national anthem after winning a gold medal in a competition held in the United Arab Emirates. And during the Olympics in Rio, the Lebanese team refused to share a bus with Israel. And an Egyptian Judoka refused to shake hands with an Israeli.
Israel lives in a tough neighborhood, but the Jewish state is trying to be a normal country. However, some countries don't want that to happen and refuse to recognize that Israel has the right to exist.
These countries hurt themselves by not competing against Israel. They show the world that hatred will direct their future.
Micah Halpern is a political and foreign affairs commentator, author the "The Micah Report," and host of the weekly TV show "Thinking Out Loud w Micah Halpern." Follow him on twitter: @MicahHalpern