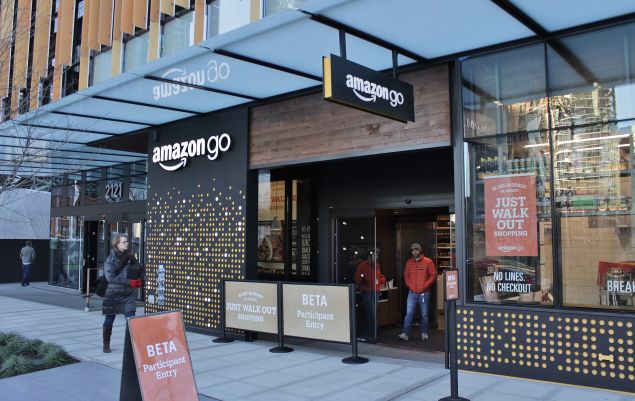 Does Amazon (AMZN) have Georgia on its mind?
Former energy policy lobbyist Jacob Oster, who now works with Jeff Bezos' behemoth, recently registered with the state's ethics commission. Atlanta is one of 238 cities in the running for Amazon's second headquarters. So naturally a few talking heads thought Amazon had decided on a "peachy keen" spot for its HQ2.
The e-commerce giant insists that's not the case, however. In a statement last night, Amazon said Oster's presence in the state had nothing to do with the competition for its headquarters.
"Amazon's public policy team works on a variety of issues on behalf of our customers in cities and states across the country," a spokesperson said. "This work is ongoing and not related to our search for HQ2."
But Georgia is still considered a leading candidate for the competition, because Amazon already has a presence there. The corporate office for Amazon Web Services is located in Atlanta, and the company has several distribution centers in the state.
The Atlanta metro area in particular fits many of the parameters Amazon set out for its host city. It has a diverse population of young workers, many of whom attended Georgia Tech and have e-commerce acumen. Over 130,000 people in Atlanta work in the tech sector.
Concrete details about Atlanta's Amazon proposal haven't been made public, though many speculate that a 120 acre downtown area called "The Gulch" is the most likely spot.  Mayor Kasim Reed said Atlanta offered "the most aggressive economic attraction package that the state of Georgia has ever put forward." He also compared the Amazon competition to Atlanta's successful bid to host the 1996 Summer Olympics.
Amazon promised that the $5 billion HQ2 project will bring 50,000 jobs to the chosen city. As such, many mayors wooed the tech giant with slick videos in which they used Alexa to tout their city's benefits.
Even if the presence of lobbyists in Atlanta turns out to be a fluke, Georgia does have another city in the race. Stonecrest is considerably smaller than Atlanta and has no access to mass transit, but it does have one big benefit: if it's chosen for HQ2, the city will rename itself Amazon and appoint Bezos as permanent mayor.
Will Atlanta, Stonecrest or another city entirely become Amazon's new home? We'll find out in early 2018.