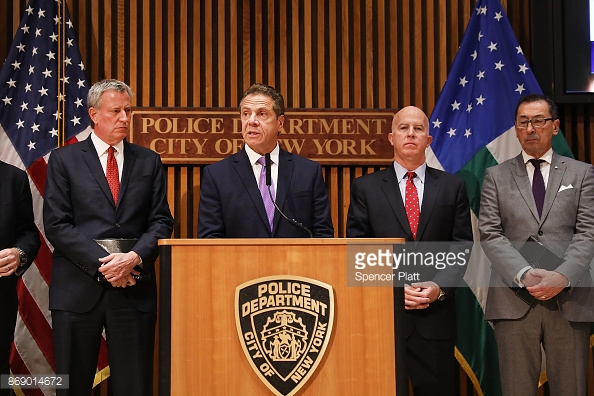 Gov. Andrew Cuomo launched a new counterterrorism advisory panel that includes the former homeland security advisors for ex-Presidents George W. Bush and Barack Obama and former NYPD Commissioner Ray Kelly.
The panel, which Cuomo announced on Tuesday, will strengthen coordination of the state's counterterrorism capabilities and defenses against terrorism threats. The panel's initial high-level security recommendations will shape policy and decision-making leading up to the governor's State of the State and budget addresses in 2018.
Kenneth Wainstein, partner at global law firm Davis Polk & Wardwell and former Homeland Security Advisory to Bush, will be the panel's chairman. Kelly, who served under former Mayors David Dinkins and Michael Bloomberg, and Lisa Monaco, who was Homeland Security Advisor to Obama, will be on the team as well.
"New York is an internationally known symbol of freedom and equality, and with this rich heritage comes the reality that we are also a target for those who oppose these values," Cuomo said. "We are fortunate to have three of the world's leading counterterrorism experts assist us in our efforts to remain vigilant as we work to adapt our security measures to the evolving tactics of those who seek to do us harm."
After agreeing to head the committee, Wainstein kicked off a comprehensive review of the state's counterterrorism assets, authorities and overall success, which will shape the panel's recommendations. The group will look at ways to reinforce security at airports, bridges, tunnels and other key assets across the state.
Wainstein will formulate the recommendations in conjunction with Kelly and Monaco. They will subsequently deliver them to Cuomo in time to support his 2018 addresses.
In 2017 alone, hundreds of lives were lost in a number of "different cowardly acts," the  governor said. He pointed to incidents in which individuals were run down by vehicles, including a April tragedy in which a stolen truck plowed into pedestrians in Stockholm, killing four people; a terror attack on London Bridge and near Borough Market in London that killed eight people and wounded dozens of other individuals; and a deadly terror attack in Barcelona in August that claimed 14 lives and injured at least 100 people.
In October, when a "lone wolf" attacker in a rented pickup truck struck and killed eight people in Lower Manhattan and injured 11 others in the city's worst terror attack since the September 11, 2001 attacks. The governor also mentioned bombs that were detonated in London, Manchester and St. Petersburg and recalled mass shootings that took lives in Las Vegas, Texas and Paris.
After the group submits its initial recommendations, it will continue to come up with execution plans. It will additionally examine the state's preparedness to deal with modern-day terrorist threats and develop other potential proposals to make the state's counterterrorism program more effective.
Relevant state agencies and authorities have made reports available for the team to review.
The panel will work closely with agency leadership, including Metropolitan Transportation Authority Chairman Joseph Lhota; Rick Cotton, executive director of the Port Authority of New York and New Jersey; Paul Karas, commissioner of the New York State Department of Transportation; and Roger Parrino, commissioner of the New York State Division of Homeland Security and Emergency Services.
They will consult with other local, state and federal officials and outside homeland security experts. And it will have full access to security assessments and other policies and materials that regulate the state's homeland security operations.
In November, the governor announced that the State Division of Homeland Security and Emergency Services' Office of Counterterrorism carried out more than 900 Operation Safeguard exercises in 2017 at businesses and organizations across the state to test suspicious activity reporting programs and counterterrorism plans—a 31 percent increase in the number of locations tested in 2016. Operations are now being implemented in every county statewide.
Earlier this year, Cuomo unveiled more than $220 million in federal grants for counterterrorism and emergency preparedness activities at the county level, and another $39 million for counterterrorism protections at ports and on transportation systems. The state's Citizen Preparedness Corps program, which trains the public on how to react in disasters or emergency situations, has trained more than 190,000 New Yorkers.