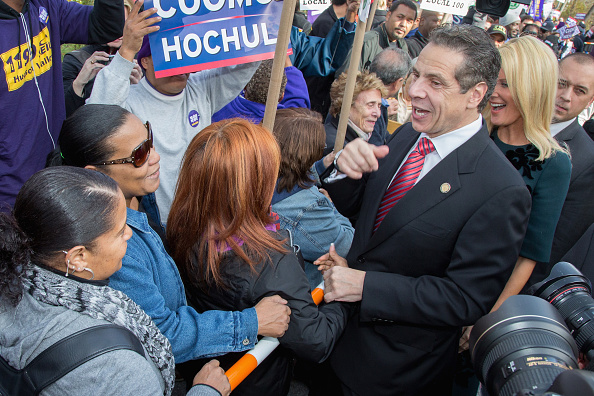 Gov. Andrew Cuomo is planning to unveil a "Democracy Agenda" to safeguard the integrity of New York elections and require transparency for digital political ads as part of his 2018 State of the State address in January.
The agenda calls for transparency in political ads, requiring online platforms to keep an archive of political ads, and protecting New York elections from outside influence. It also seeks to update the state's outdated voting system to make it easier for people to vote.
The governor also plans to push for the enactment of the Advancing the Democracy Project, an initiative that seeks to streamline voter registration services, eliminate barriers that make it harder for people to vote and increase accuracy in the voting process.
"What we saw during the last election was a systematic effort to undermine and manipulate our very democracy," Cuomo said in a statement. "With these new safeguards, New York — in the strongest terms possible — will combat unscrupulous and shadowy threats to our electoral process, as well as break down fundamental barriers that for far too long have prevented New Yorkers from being heard and from exercising their right to vote."
Cuomo noted that in recent months, a bipartisan group of U.S. senators and House members have introduced legislation to manage online advertising for federal elections. He also said Facebook and Twitter came up with new policies to guarantee transparency and retention of political advertising.
His proposal, he said, would codify those policies into New York law and make sure that all social media platforms and other states create similar policies.
The governor proposed a three-pronged strategy that expands New York State's definition of political communication to include paid internet and digital ads and require digital platforms to have a public file of political ads bought by a person or group for publication on the platform. The last part of the strategy mandates that online platforms to make significant efforts to guarantee that foreign individuals and entities are not buying political ads to influence the electorate.
He referenced Russian meddling in the 2016 presidential election, and noted that there was a systematic effort by foreign actors to influence voters with online ads.
Cuomo said he told the New York State Cyber Security Advisory Board earlier this year to work with state agencies and the State and County Boards of Election to evaluate the threats to the cyber security of New York's elections infrastructure, come up with security priorities and propose any necessary additional security measures.
As a result of the review, Cuomo proposed a four-pronged approach to further reinforce cyber protections for New York's elections infrastructure. That strategy includes creating an election support center and developing an elections cyber security support toolkit. It also calls for providing cyber risk vulnerability assessments and support for local Boards of Elections as well as mandating that counties report data breaches to state authorities.
The Advancing Democracy Project would institute early voting in the state, requiring every county to offer residents access to at least one early voting poll site during the 12 days leading up to Election Day.
Voters would have at least eight hours on weekdays and five hours on weekends to cast early ballots. Counties would have to have one early voting poll site for every 50,000 residents and the bipartisan County Boards of Elections would decide on the specific location of early voting polling places.The governor also said he will propose automatic voter registration and same-day voter registration.
Cuomo introduced the three voting reforms in 2016 but they ended up not being passed.