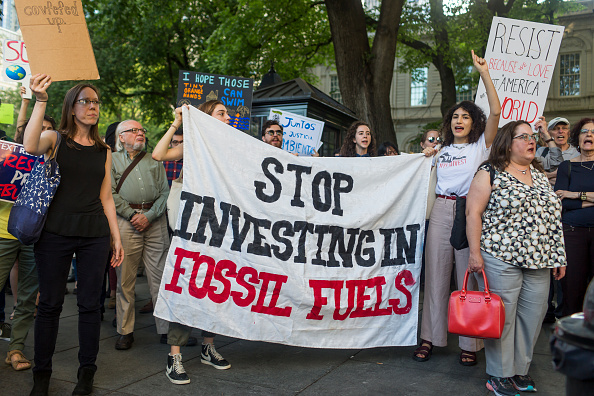 Gov. Andrew Cuomo unveiled a plan to divest the $200 billion New York State Common Retirement Fund — the third largest in the country — from fossil fuel investments and come up with a "de-carbonization" plan.
The plan, which calls on the Common Fund to end investments in entities with substantial fossil fuel-related activities, marks the ninth proposal of Cuomo's upcoming 2018 State of the State address in January.
The governor and State Comptroller Thomas DiNapoli will work together to establish an advisory committee of financial, scientific, business, economic and workforce representatives. The committee will help the Common Fund come up with a "de-carbonization" roadmap to invest in opportunities to fight climate change, support the clean tech economy, evaluate financial risks and protect the Common Fund.
Cuomo is also calling on the Common Fund to devote a significant portion of its portfolio to investments that directly advance clean energy.
"New York has made incredible strides in securing a clean energy future for this state with our nation-leading clean energy standard, off shore wind development, and aggressive investment in the clean tech economy, yet the Common Fund remains heavily invested in the energy economy of the past," he said in a statement. "Moving the Common Fund away from fossil fuel investments will protect the retirement savings of New Yorkers."
"This proposal lays out a roadmap for New York's $200 billion Common Fund to take responsible steps to divest from its fossil fuel holdings, leading to a more secure retirement fund for countless New Yorkers while also helping to achieve the state's clean energy goals," Cuomo continued.
The Common Fund manages about $200 billion in retirement assets for more than one million New Yorkers throughout the state, according to the governor's office. In 2017, the Common Fund listed holdings in more than 50 oil and gas companies that are among the 100 most carbon-intensive in the world — a figure that has gone up since 2016.
In a statement, DiNapoli said the Common Fund's $2 billion low-carbon index shifts investments from the worst emitters to companies that reduce their greenhouse gas emissions and that the effort will be expanded next year.
The Common Fund's current commitment to sustainable investments is $5 billion and growing, according to DiNapoli.
"While there are no immediate plans to divest our energy holdings, I welcome the opportunity to partner with Governor Cuomo and with the proposed advisory council to identify additional ways to continue our progress in achieving investment returns, while contributing to the emerging low-carbon economy," he said.