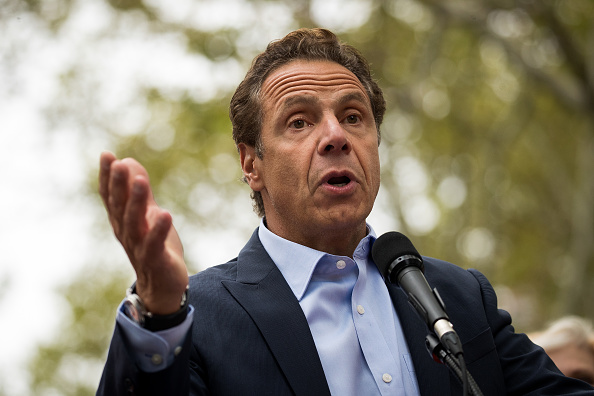 Gov. Andrew Cuomo's hiring practices are under FBI scrutiny, according to a report in the Albany Times Union.
The FBI is looking at the governor's practice of hiring individuals to work in his office but paying them via state agencies and public authorities, the Times Union first reported on Friday. Among the evidence the FBI is looking at are letters that agencies and authorities submitted to the governor's office about new hires, the Times Union reported.
Rich Azzopardi, senior deputy communications director for Cuomo, confirmed it got a "document subpoena" months ago.
"We have cooperated, providing necessary documents and personnel files," Azzopardi said in a statement.
In 2016, a Times Union investigation determined that 89 of 209 Executive Chamber employees were on the payroll of public authorities or agencies. Cuomo then announced 27 new hires or promotions in March 2016, according to the Times Union. With the exception of a few, all were hired to the Executive Chamber but the chamber was only paying five of them.
The FBI could not be reached for comment.
Azzopardi said the practice goes back to previous governors and that the U.S. Department of Justice engages in it as well.
"In this environment, anyone can ask about anything, but the fact is the longstanding practice of detailing staff from agencies to work in the Executive Chamber dates back over 50 years to at least the Rockefeller administration and extends to the White House and the federal Department of Justice," Azzopardi said in a statement. "Given that the Federal Department of Justice and the White House have a long history of utilizing this practice, perhaps the FBI can investigate them when this is charade is over."
The governor's office also dismissed what the FBI is examining as "absurd."
"The agencies are all part of the same executive branch, and this administration follows the exact same lawful hiring process we inherited from previous administrations stretching back decades," Azzopardi continued.
The governor's office sent Observer news reports outlining that, in December 2009, the chief of staff to Gov. David Paterson's (D) wife got a $25,000 raise and a $3,866 bonus despite the fact that she started working for the state the previous July. A report from 2003 described how Gov. George Pataki (R) protected personal appointees even though he instituted a hiring freeze.
The governor's office also pointed to Cuomo's father, the late Gov. Mario Cuomo, cutting his personal budget in 1984 by 10 percent — $600,000 — but not reducing the number of employees reporting to him, using the payrolls of state agencies to add extra workers for at least $1 million.