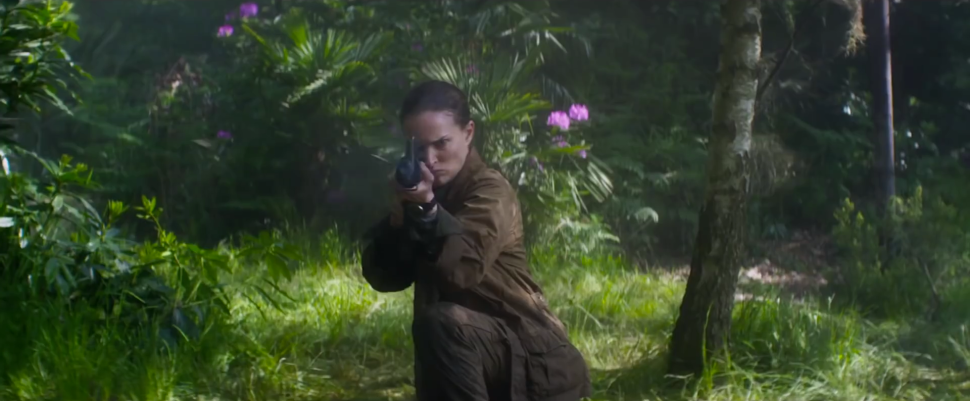 Annihilation is one our most anticipated movies of 2018 for several reasons. It is the second feature from writer/director Alex Garland, whose Ex Machina was one of the best films of 2015, and everyone in Hollywood is interested to see if he can live up to the hype. The film is based on the fantastic and swelling 2014 Jeff VanderMeer novel of the same name, the first in his three-book Southern Reach trilogy. The cast—which features Natalie Portman, Jennifer Jason Leigh, Gina Rodriguez, Tessa Thompson and Oscar Isaac—is phenomenal. All of this makes the recent behind-the-scenes drama all the more intriguing.
THR reports that just a few months out from the film's February 2018 release, Paramount (PARA) chairman Jim Gianopulos is partially selling off the film.
"The studio is finalizing a deal with Netflix (NFLX) to take over the international distribution of the film, which stars Natalie Portman. Paramount will still release the movie in the U.S. and Canada, as well as in China, while Netflix would begin streaming it 17 days later."
Why would a studio relinquish its grip on such an anticipated property? For starters, the entire film industry has been spooked on high-minded sci-fi ever since Blade Runner 2049 petered out at the box office. Alcon Entertainment bet big on the cerebral 30-years-in-the-making sequel to the tune of a $155 million budget and needed the film to gross at least $400 million worldwide to be considered a win. It currently sits at $256.6 million despite universally glowing reviews. Annihilation, which follows a team of women as they enter an unexplained ecological anomaly that has cordoned off a region of the world and who encounter mysterious living entities, doesn't fit the bill as your typical four-quadrant blockbuster. Fortunately, it sports a more mid-size budget of around $55 million.
But the bigger culprit behind Annihilation's unloading is the growing clash between the movie's heavyweight producers, Scott Rudin (Lady Bird, The Social Network) and Skydance Productions' David Ellison (Geostorm, Terminator Genysis). The film apparently tested poorly this summer, which prompted Ellison to label it "too intellectual" and "too complicated." Following the box office failure of Geostorm, he reportedly wanted to alter Annihilation to give it a wider appeal; that included tweaking Portman's character to be more likeable and adjusting the ending. But Rudin, who executive produced Ex Machina, stood behind Garland and since he has final cut, the movie remained as is.
As such, Paramount felt that the situation would be best solved by finding another distributor with an eye towards streamers. Netflix will now cover a big slice of the production budget—we all know they don't mind spending money—while Paramount gets to shield itself from any potential financial fallout (the movie found its way to the studio under a previous leadership regime).
This is a big win for Netflix, which is never going to be able to compete with IP titles such as Marvel and the Wizarding World of Harry Potter. As a movie studio, the company is better off seeking out undervalued niche properties and talents, like Amazon Studios has done to great success. The service should focus on building their reputation as a home for boundary pushing stories and a studio that empowers creatives. They need to continue to build critical buzz that trickles down to subscribers. That's what they did with Korean filmmaker Bong Joon-ho and this summer's Okja proved to be Netflix's first must-see movie. November's Mudbound, which Netflix bought at Sundance, is a potential Oscars contender. Annihilation is the type well thought out sci-fi story that may not be a massive hit due to its dense and ambiguous nature, but could develop into a cult classic. That's a perfect pairing for a streamer that doesn't have to worry about box office returns.
The move also sets a business precedent with potentially far reaching implications.
"Studios making a distribution deal with Netflix may be coming more commonplace and replacing old rivalries. Earlier this year, New Line made a deal with the streamer to co-finance and take certain rights to its reboot of Shaft which will star Jessie T. Usher and Samuel L. Jackson."
All in all, Netflix's influence as a film studio is slowly growing and Annihilation could be a boon to their cinematic business.