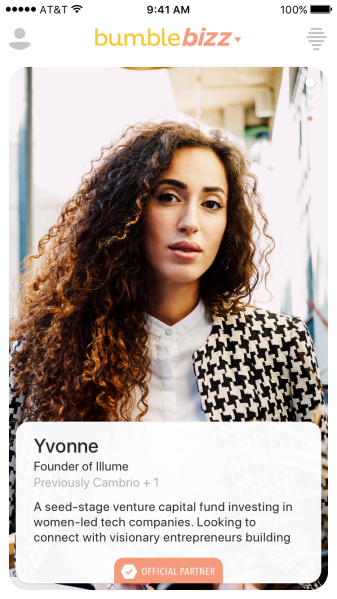 "What do you do?"
It's a question posed during every first meeting and one that elicits a varied response, based on wherever you are in the world. In New York, it's simply a veiled way of asking, "How do you make money?" It can be an awkward, even crass interaction, and it's one that Bumble Bizz, the newest venture from Bumble, is forcing out of the conversation.
Bumble founder and former Tinder VP of marketing, Whitney Wolfe Herd originally designed her app as a female-forward space in the digital dating world that required women to initiate contact with their matches. As the app accumulated users, the entrepreneur has sought to bring the company's female-first agenda to new frontiers. She started with Bumble BFF in 2016, for finding platonic friendships, and now Bumble Bizz, for professional networking. With a rumored valuation of $1 billion, this latest addition marks a second act for the company, in which their power to connect becomes all-encompassing.
"Our goal for Bumble is to become the ultimate social networking platform for people you don't know yet," Alex Williamson el-Effendi, the company's Head of Brand, told Observer via e-mail. "We believe all relationships are imperative to personal growth and success—that includes romantic, friendship and business. Much like dating, there has been an imbalance for so long in professional networking. Many women have become used to receiving unwanted personal messages on professional platforms, and also unwanted advances when networking face-to-face. We wanted to change that and bring the female-forward mindset to networking." Just like Bumble for dating, women have to make the first move in Bumble Bizz. In same-sex matches, either party can make the first move, but both parties have to respond within 24 hours, before the match expires.
However, we found that several users have a variety of hang-ups with Bizz, often tied to the app's reputation as a romantic connector, which it has held since its launch in December 2014. Upon first inspection of the app, toggling between your romantic, platonic, and professional profiles requires a simple swipe, making it easy to conceal your true intentions from the prying eyes of any significant others.
"If I'm in a relationship, I wouldn't be comfortable keeping my Bumble profile on my phone," one single 26-year-old female apparel designer told us. A handful of male users echoed the same sentiments. "Call me insecure, but if I'm dating someone that's on Bumble all of the time, I'd have my suspicions," a 23-year-old advertising sales assistant said. "If my girlfriend saw that on my phone, I'm not sure she would believe me when I say it's just for networking. We have LinkedIn for that."
One single 32-year-old web developer agreed. "Whenever I get into a relationship, I delete all dating apps from my phone, and expect my partner to do the same," he told us. "Being on a dating platform just to network raises red flags, especially since there are so many other professionally-focused networking platforms."
LinkedIn, which was acquired by Microsoft for a cool $26.2 billion in 2016, appeared to be the most cited potential competitor of Bumble Bizz thanks to its loyal trove of decision makers. According to Statista, 77 percent of LinkedIn users are 30 years or older, and, given their age, are presumably the ones making the hiring decisions.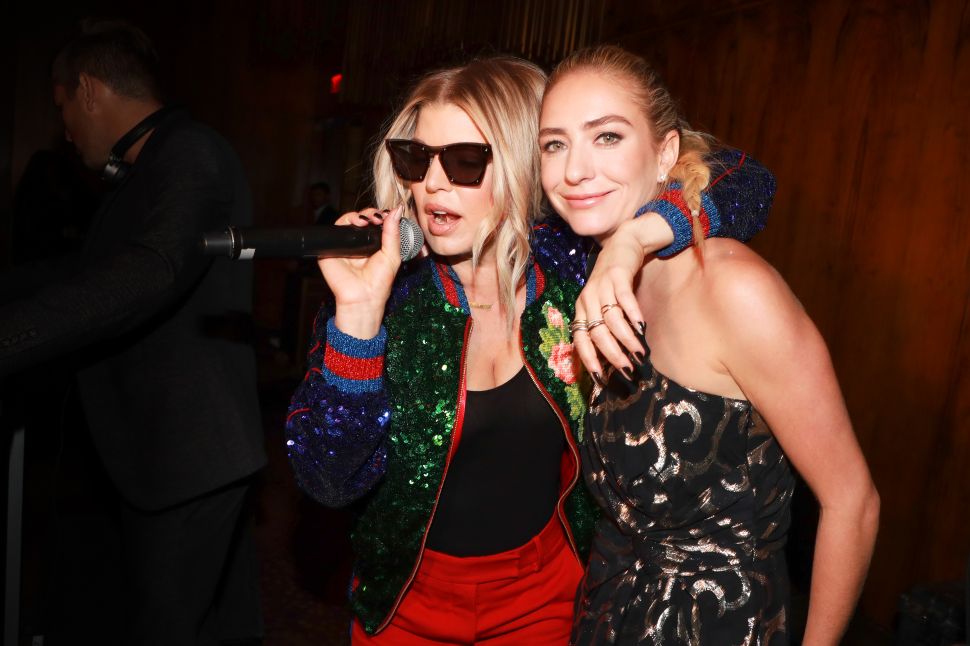 Others insisted there's an inevitable learning curve to any new platform that asks users to rethink the norm. "You don't become the number one dating app in the world if you're not good at facilitating relationships," said one 26-year-old single female who declined to give details of her profession. "So maybe they will change the way we network online."
Like Bumble, there are many more platforms looking to take a bite out of the LinkedIn behemoth, though they aren't muddying the waters with love. Take Mixer, co-founded by Anis Bennaceur in 2015 to facilitate connections among the all-too-frequently freelancing creatives in film, music, art, and fashion. For Bennaceur, he's never considered his app to be used for any other reason besides work. "You have to be a pure player in whatever you do in order to attract the most serious group of users," he told us. "It has to be either about a dating, social, or professional purpose. In our case, not only do we explicitly label ourselves as a professional network, and focused on creative professionals, but we also discourage our users to use it for any other reasons."
Whether professional, platonic, or romantic, there is an undeniable perk of knowing exactly what a person "does" from the get-go. Blame it on pure selfishness or ruthless efficiency, but it's the juncture in any relationship where all of these apps plan to capitalize. For better or worse, the question of "What do you do?" has fallen by the wayside.
"There's the awkward moment where you're trying to read someone's nametag, or maybe you don't feel comfortable approaching someone in a room full of people you don't know," el-Effendi, Bumble's Head of Brand, added. "The beauty of Bizz is that your name and company are listed on your profile, and you know that users who are on the platform mean business. Those uncomfortable feelings are taken out of the equation because everyone is there for the same reasons."