On Saturday morning, a heavy rain pounded Miami, cooling off the city from the parties, art fairs, installations and influx of art world money that bombarded it last week. Excitement peaked on Thursday night with Drake performing at the Edition Hotel, Cardi B at fashion brand Moschino's festivities at the Eden Roc and Ellie Goulding during Perrier-Jouët's Eden Ball at 1111 Lincoln Road parking garage. Sure, Art Week technically extended until Sunday evening, but anyone hoping for a celeb sighting or a million dollar art purchase was already fatigued by the weekend.
The main fair, Art Basel Miami Beach at the city's newly renovated convention center, featured plenty of delights in addition to a wandering, hooded Leonardo DiCaprio bargaining for a Basquiat. In town from Berlin, gallery Tanya Leighton blurred the lines between fashion boutique and art fair booth by selling men's shirts and jackets within bright orange walls. A collaboration between Sanya Kantarovsky and designer George McCracken, the clothes feature prints of dudes in awkward positions: nude and running through cactus or strangling themselves. A commentary on masculinity, indeed.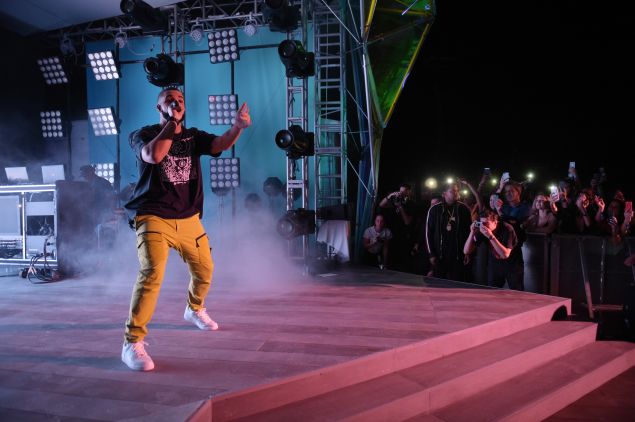 In other colorful booth news, São Paulo-based Ricardo Camargo's vivid mustard space showed work and artifacts (a coffee table, an easel, a desk topped with paints and brushes) from the studio of Wesley Duke Lee, a Brazilian artist who founded the Magical Realist movement in the 1960s. New York's Salon94 presented chairs by Max Lamb, made of Tonalite granite from an Italian riverbed. Exhibited in a circle, they offered the promise of a spiritual respite amid the fair madness. The booth assistant told Observer that visitors loved lounging in them a little too much—they had to place cards reading "Please do not sit" on the seats.
Over at Los Angeles-based Regen Projects' booth, a Jack Pierson metal, fiberglass and plastic sculpture reading "Sex & Money" more or less summed up the week's atmosphere. In contrast, New York's Tina Kim brought a bright red embroidery from Korean artist Kyungah Ham, who listed "middle man," "anxiety," "censorship" and "ideology," as compositional materials. Kim hosted a dinner at a dark downstairs room in the Betsy Hotel on Tuesday evening, before the Wednesday morning fair preview. "So many friends come from all over the world," she said. "It's nice to celebrate before the fair starts…It's rare in Miami to have this kind of intimate-sized private room."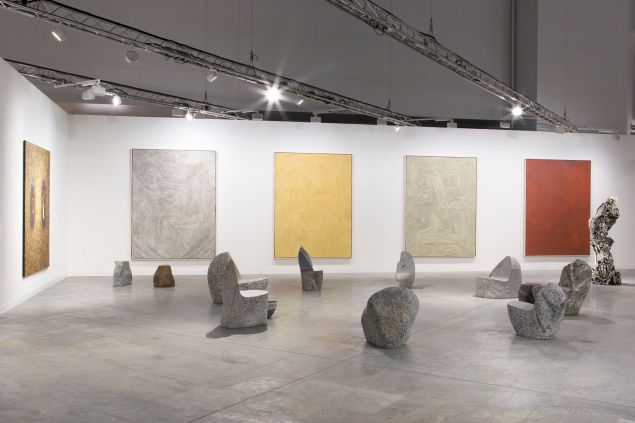 Sales reports suggested that painting is far from dead, to the market at least. An Ellsworth Kelly with an asking price of $4 to 5 million sold at the Lévy Gorvy booth. Pace Gallery reported selling a Yoshitomo Nara for $2.9 million, while David Zwirner reported sales in the million dollar range for paintings by Neo Rausch and Yayoi Kusama. As of Saturday afternoon, Paul Kasmin Gallery reported the single highest sale: $7 million for Lee Krasner's bright, dreamy Sun Woman. Though rumors are circulating that Galerie Gmurzynska sold Roy Lichtenstein's 1969 Study for "Peace Through Chemistry" sold for, $12 million.
On Friday night, after the fair had closed and the halls had emptied, Will Smith and a large coterie wandered the aisles, led by a New York publicist. Just outside, at the adjacent botanical garden, a just-arrived Adrien Grenier attended a dinner for 21c Hotels. He previously curated a suite for their Nashville location exploring—what else?—media and celebrity. Now, though, he's more interested in plastic straws. "In 25 years there'll be more plastic in the ocean than fish," he told Observer. His new initiative with the hotel aims to reduce waste.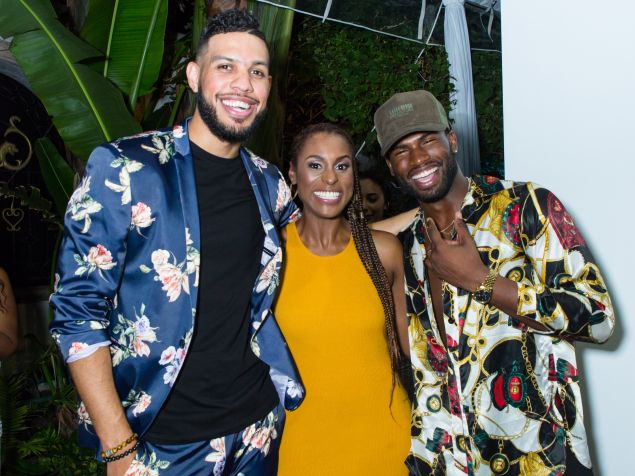 Cindy Crawford appeared in a bright orange dress at Bill Powers' dinner at the Edition Hotel on Wednesday night, just before the Thursday morning NADA Miami preview, in which his Half Gallery would participate. The dinner celebrated a newly published Rizzoli monograph of Genieve Figgis, an Irish artist known for brushy, thickly oozing acrylics. At the dinner herself, Figgis looked starstruck as Crawford sat down two seats away from her, separated only by designer Cynthia Rowley, Powers' wife. "I don't think it's really about dancing or doing shots but kind of creating a hub that people can get to know each other and catch up," Powers said, offering a rosy vision about what the week could be.
Two fairs in particular broke the conventional mold. "Fair.", inaugurated by Miami gallerist Anthony Spinello, featured work by women in the middle of a mall in the Bricknell City Center. In an unfinished, cavernous fourth floor room, a massive Guerilla Girls poster covered an entire wall. "Do women have to be naked to get into the Met?" it asked. Gallery Tally created posters detailing top galleries' representation of male vs. female artists. Nothing at the fair was for sale. At Satellite Art Show at the abandoned Ocean Terrace Hotel, performance and virtual reality were in. Commercial concerns were entirely beside the point as guests wandered into dilapidated bathrooms and old guest rooms, finding each one exuberantly decorated (pink balloons in a bathtub, filled with black lights, centered by a stripper pole, etc.).
Miami art institutions took full advantage of the swarm of collectors descending on the city. The Institute of Contemporary Art (ICA) inaugurated its new Design District building with a Tuesday evening cocktail party. Pérez Art Museum Miami (PAMM) hosted a Thursday evening soiree in its massive patio and garden area that featured enough cans of LaCroix to ameliorate the lingering hangovers of a small army. The Bass Museum offered a prime selfie destination in the form of a giant outdoor silver sculpture resembling a navel ring.
Nestled within hotels and hidden away in off-the-beaten-path locations, a variety of immersive installations offered more exclusive delights. Artist Carsten Höller partnered with Prada on a nightclub that served watermelon cocktails, sweaty youth and performances by Wyclef Jean, Redman and Method Man throughout the week. "Fuck you, Redman," the Thursday night crowd shouted at the stage when prompted, unleashing whatever pent-up feelings they'd stifled in stuffy art fair aisles. For a party at the Bath Club hosted by Gucci and auction platform Artsy, Samara Golden created a delightfully mind-bending bar cart. Affixing miniature furniture to its undersides and placing a mirror underneath, she offered her special brand of trippy, obsessive dollhouse for any partygoers un-liquored enough to enjoy it. A Shawn Kolodny installation, entitled Fake Fulfilment Center, opened at the Boulan Hotel. Wandering through immersive rooms filled with mirrors and screenprints, guests learned that cat memes, fashion, private jet services, and social media may, shockingly, not actually be very fulfilling. "The cure is you!" Kolodny said at the final stop, a giant orange pill bottle in which visitors could stand and get their picture taken.
With all the art and money floating around, the artists themselves were often beside the point. Nevertheless, sculptor, painter and jack-of-all-media Alexandre Arrechea hosted a cocktail at his Miami studio on Tuesday evening. "Today's art world is no longer defined by your presence in a gallery," he said, defending the week's raison d'être. "You have to keep constantly moving and in a way, art fairs are like that space that is moving…it gives you a presence for the community who follows your work." Artist Zoe Buckman, of neon-ovaries-with-boxing-gloves-sculpture repute, also made sure her voice was heard. She hosted daytime events with New York restaurant Eleven Madison Park, presented work at Winston Wächter Fine Art's booth at the Pulse fair, and spoke on a panel about feminism at Scope Art Show. "Thank you for coming and having a penis," she shouted out to the sole man in the audience.
A Thursday evening reception for Detroit gallery Reyes Projects, at a local collector's home, offered a refreshingly unpretentious environment with coleslaw, fried macarons and ceramics by art collective Hamtramck Ceramck adorning a large ping pong table in the center of the living area. Out on the patio, a real estate broker bummed a cigarette from a Detroit artist and poked fun at a journalist who asked about his "Basel." "How's your Basel? How's your Basel?" he mimicked. Any vestiges of the eponymous staid Swiss city evaporated into the humid evening.
Alina Cohen is a freelance writer based in Brooklyn.