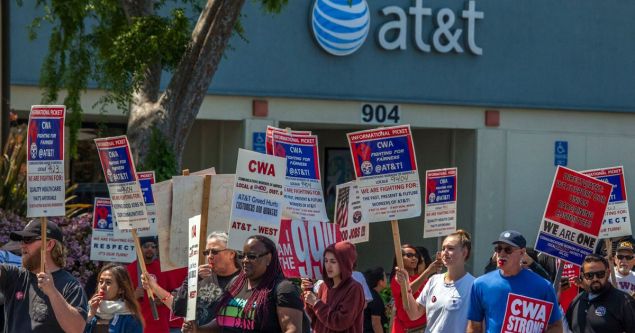 "Mobilizing your world" has a whole new meaning.
Last night AT&T reached a contract agreement with 21,000 employees who are members of the Communications Workers of America (CWA). The union deal ends an 11-month contract dispute with the wireless carrier, which included a three-day strike that shut down hundreds of stores.
"This is a real breakthrough for protecting jobs and working conditions in the wireless industry," Bob Master, director of legislative/political and mobilization activities for District One of CWA, which represents workers in New York, New Jersey and New England, told Observer. "This is a tribute to the unity and militancy of our workers."
The new four-year agreement impacts workers in 36 states and Washington, D.C. It includes a 10 percent wage increase, which means AT&T wireless retail workers will be paid an average of $19.20 per hour. That's about 74 percent more than the national average pay for retail workers—only eight percent of U.S. workers are paid $15 an hour or more.
AT&T store employees get an extra benefit: $2,500 in compensation that had been paid out in commissions will now be part of these workers' base pay. That means they will make more money no matter how many plans they sell.
Call center workers also get extra protections, including guaranteed jobs in America. AT&T further promised to increase the portion of customer service calls handled by CWA members by 80 percent. This bucks the trend of most wireless companies, which reroute phone queries to call centers outside the United States.
AT&T also committed to finding employees new jobs if the call center or retail store where they work closes.
The deal is now subject to a vote from union membership. The voting period lasts until January 12.
This new contract comes after renewed pressure from Capitol Hill. Last month 17 senators—including Bernie Sanders, Elizabeth Warren, Kirsten Gillibrand and Cory Booker—sent a letter to AT&T CEO Randall Stephenson, demanding that he give workers a "fair share." In all, over 300 elected officials wrote letters in support of the protesting workers.
CWA placated AT&T by offering to support the company as it pursues an $85 billion acquisition of Time Warner. The Trump administration opposes the merger.
"We believe the deal is good for American jobs, and we believe Trump's opposition to the deal is a vendetta against CNN, which we also represent," Master said.
CWA's deal with AT&T continues a trend of wireless workers embracing unionization to fight outsourcing. Last year almost 40,000 Verizon workers reached a deal to save U.S. call center jobs and increase pay after a 45-day strike.
"Employers are seeking every method they can of making work more contingent, and the only way employees can protect themselves is through a union," Master said."We want to send a message to corporate America that retail jobs do not have to be poverty jobs accompanied by bad working conditions."
There's recently been a broad union push in many areas of communications, including the news media. DNAinfo and Gothamist made headlines in October when they voted to unionize their newsrooms. But they didn't get the same happy ending as the AT&T workers—conservative owner Joe Ricketts shut the sites down a week later.