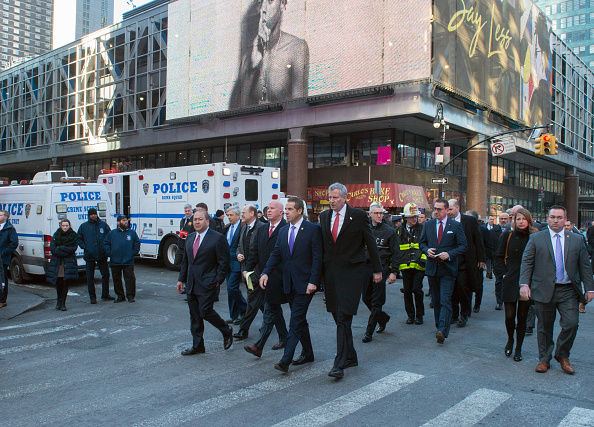 A 27-year-old man is in custody after he detonated a low-tech explosive device at the Port Authority Bus Terminal on Monday morning in what city officials called an "attempted terrorist attack."
Police at around 7:20 a.m. responded to a reported explosion in an underground walkway connecting the subway stations at Times Square and the Port Authority Bus Terminal on the West Side, according to NYPD Commissioner James O'Neill. Responding units found an injured male identified as Akayed Ullah, 27, who was burned and wounded.
Speaking from the scene, Mayor Bill de Blasio praised the first responders and said "this was an attempted terrorist attack."
"As New Yorkers, our lives revolve around the subways," he said. "When we hear of an attack in the subway, it's incredibly unsettling and let's be also clear this was an attempted terrorist attack. Thank God the perpetrator did not achieve his ultimate goals. Thank God our first responders were there so quickly to address the situation to make sure people were safe. Thank God the only injuries we know of at this point were minor."
A preliminary investigation at the scene indicated that Ullah was wearing an improvised, low-tech explosive device attached to his body, and intentionally detonated the device, O'Neill said. The police commissioner said that three other people in the immediate area sustained minor injuries and that Ullah was placed in custody and transported to Bellevue Hospital.
FDNY Commissioner Daniel Nigro said the three people in the proximity of the explosion took themselves to hospitals with minor injuries "consistent with being in the area of the explosion" — ringing in the ears and headaches.
"We are New Yorkers," O'Neill told reporters at a press briefing at the scene on Monday morning. "We don't live in fear. If you see something that doesn't look right, you have an obligation to come forward, call 911, flag down a cop and give us a chance to investigate it."
O'Neill noted that the incident was captured on video and that a further review, including interviews with witnesses, is underway. The NYPD's Joint Terrorism Task Force is conducting a background investigation into Ullah. O'Neill emphasized that he was relaying preliminary facts.
O'Neill said Ullah made a statement. But the commissioner did not provide further details, though he added that Ullah appeared to have acted alone.
Gov. Andrew Cuomo praised the NYPD, the Port Authority police, the MTA police, FBI Assistant Director Bill Sweeney and other agencies for responding quickly to the incident.
"The first news this morning was obviously very threatening and disturbing," Cuomo said. "When you hear about a bomb in the subway station, which is in many ways one of our worst nightmares, the reality turns out better than the initial expectation and fear. You had a number of law enforcement agencies that did a fantastic job."
The governor said that subway service is being restored now, except for 42nd Street, and that the Port Authority Bus Terminal has reopened. New York is a target by many "who want to make a statement against democracy, against freedom," he argued.
"With the Internet now, anyone can go on the Internet and download garbage and vileness on how to put together an amateur level explosive device and that is the reality that we live with," Cuomo continued. "The counter-reality is that this is New York and we all pitched together and we are a savvy people and we keep our eyes open and that's what's 'see something, say something' is all about and we have the best law enforcement on the globe and we're all working together extraordinarily well."
White House press secretary Sarah Sanders said President Trump "has been briefed on the explosion in New York City."
At the end of October, a "lone wolf" attacker in a rented pickup truck struck and killed eight people in Lower Manhattan and injured 11 others in a terror attack — the deadliest on record in the city since 9/11.