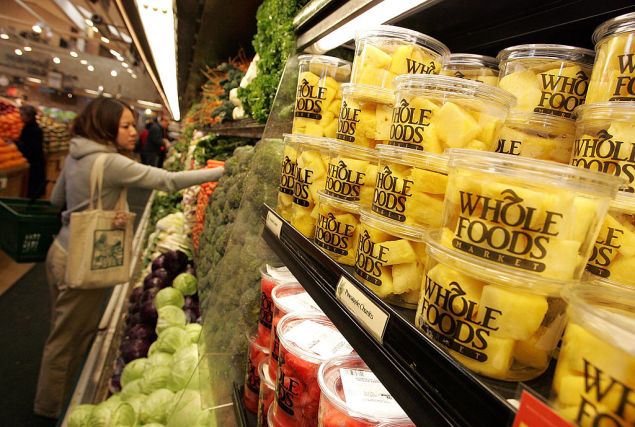 Amazon may have made a big profit from its $13.7 billion acquisition of Whole Foods, but those earnings may have come at the expense of customer satisfaction.
Shoppers on social media and retail analysts have noted a steep decline in the quality of Whole Foods' groceries since the company joined the Amazon family, according to Business Insider. Customers from coast to coast are complaining about bruised, discolored, tasteless and rotten produce. They also say the store is running out of stock more quickly and that they will stop shopping at Whole Foods.
Online comments include:
"If you can't sell me a decent apple in the height of apple season, I've lost all faith in your store."
"I used to think of Whole Foods as a great and socially conscious corporation. Not anymore. It has become just another version of Amazon, which I don't associate with quality."
"Inventory seems thin and they're regularly out of basic produce items."
"Produce Dept is a mess. Inventory disaster. Lights out. Garbage on the floor."
"At Whole Foods Market, we are passionate about the quality of the food we offer," Whole Foods president and chief operating officer A.C. Gallo said in a statement. "We have high standards and we only want to sell the highest quality, freshest produce possible. That will always remain at the core of our business."
But it's not just people on Twitter who are taking notice. Observer acquired an analysis of Whole Foods conducted by Barclays investment bank that noted many of the same issues. Barclays analysts visited several northeast Whole Foods on November 20 (the Monday before Thanksgiving) and made some troubling observations.
One of Barclays' main complaints was that there were boxes thrown around the store—some of them were blocking aisles, and one even blocked the seafood counter. According to Barclays, there are two possible reasons for this: The first is that seasonal sales were trending higher than planned, so deliveries were being coordinated at unusual hours.
The other explanation is that the company is reducing labor. Barclays notes that this is not a bad thing if Whole Foods is simply trying to eliminate redundancies. But given the analysts also observed long lines and understaffed service counters, it looks like the store's cuts—whether initiated by Amazon or not—are hurting the customer experience.
"In general, this one store was in complete disarray," the analysts write. "It could frustrate customers."
Another issue with the customer experience was that the scanners at self-checkout kiosks were not working. Barclays observed this both while weighing produce and checking out items like soup that used barcodes.
"While our observation and experience could be a 'one off,' we are surprised a protocol is not in place to make sure scanners are functioning," the analysts write. "This is an example of how increased technology in the store may have a learning curve."
There was also an increase in sales signage throughout the stores, including price reductions in just about every department. That's a normal sight in most grocery stores, but Barclays notes it is out of character with the Amazon ethos.
"The gimmicky approach seems a little at odds with Amazon's philosophy on prices in general (i.e. always offer the lowest price)," the report reads.
One type of food was noticeably absent three days before Thanksgiving: turkeys. There were few birds on display, and while one store offered Amazon Prime members savings on turkeys, this messaging was placed at checkout and not near the meat itself.
Many stores also had Christmas toy displays, but they were oddly placed. One was tucked in a corner and partially obscured by those ever-present boxes, while another was in the middle of an aisle, impeding traffic and making it difficult to browse.
Amazon Echo and Fire devices were available for shoppers to purchase in stores, but they were located near the apparel department—one of the least trafficked areas.
Barclays noted that Christina Minardi, Whole Foods' new executive vice president of operations, could reverse this trend. Minardi was promoted to her new position in November after serving as the president of Whole Foods' Northeast region. The promotion represents "a substantial increase in responsibility," Barclays said.
While Barclays visited only a small portion of Whole Foods' 473 stores, their report laid out many issues the retailer faces. If Minardi can't fix the problems plaguing Whole Foods, the store's bottom line will likely suffer.
Barclays ended its report on a positive note, writing, "We are sure there are more changes to come." For the sake of Whole Foods' remaining customers, let's hope so.