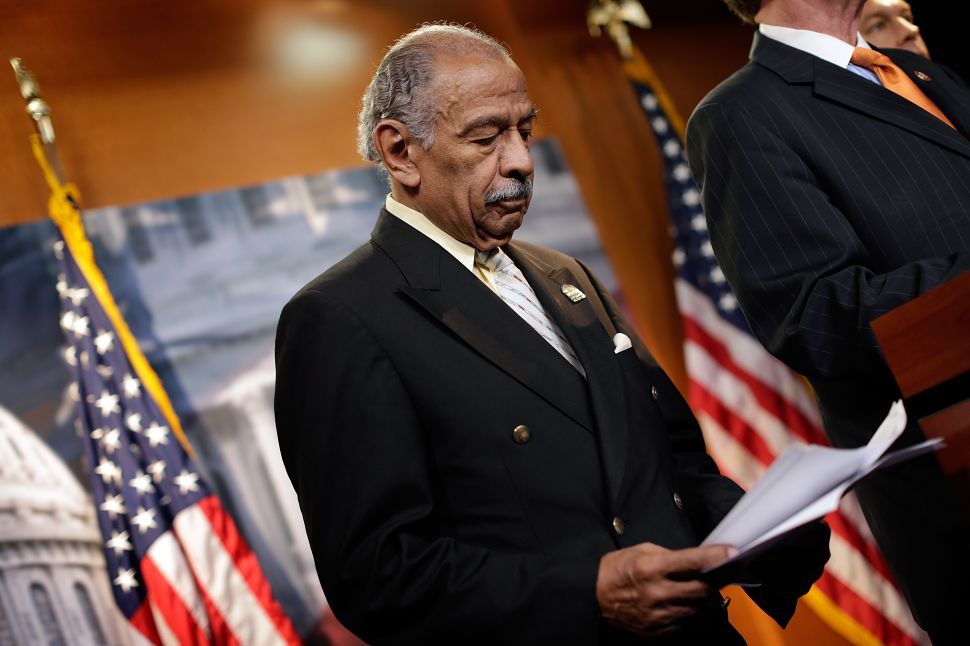 Another male figure has been ousted from power, this time in Congress. Michigan Representative John Conyers announced on Tuesday his immediate retirement following an avalanche of sexual harassment allegations from former staffers.
"I am retiring today," Conyers said during an interview on Praise 102.7's The Mildred Gaddis Show. "I want everyone to know how much I appreciate people's support."
Questions about Conyers' treatment of women were first raised in a Buzzfeed News report involving a $27,000 settlement the congressman reached with a former staffer. Since the article's publication, more women have come forward, forcing Conyers, the top Democrat on the House Judiciary Committee, to resign. After stepping down from his position on the Committee, the 88-year-old congressman was hospitalized for a stress-related illness.
Caving to mounting pressure from Democrats, House Minority Leader Nancy Pelosi demanded the congressman's resignation, walking back previous statements in which she called Conyers "an icon" on Meet the Press.
"Congressman Conyers should resign," Pelosi said on Thursday. "He has served our Congress and shaped consequential legislation (but) zero tolerance means consequences for everyone—no matter the great legacy."
Rather than resign, Conyers claimed "retirement" before endorsing his son, John Conyers III, to fill his seat. Conyers III will run against Conyers' nephew, state senator Ian Conyers, in a battle to establish a family legacy.
"I stand with my uncle in terms of his belief of no specific wrongdoing," Ian Conyers told The New York Times. "However, those things need to have their day in court."
Though allegations are hovering over Rep. Joe Barton (R-Texas), Rep. Blake Farenthold (R-Texas), and Sen. Al Franken (D-Minn.), Conyers is the first sitting politician ousted from office in the wake of the #MeToo movement. As dozens of male celebrities, media figures, and executives are ejected from positions of power following sexual misconduct allegations, elected officials continue to serve, even as taxpayers finance House Ethics Committee investigations into their alleged behavior. Conyers' "retirement" sets a new precedent in the American political system, one in which politicians may finally be held accountable for their actions.