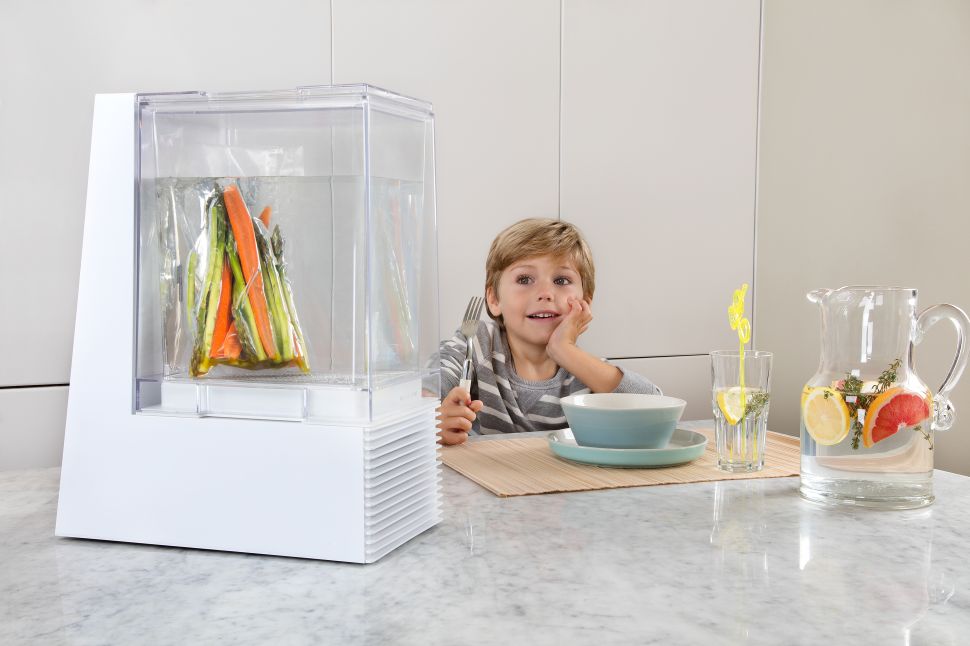 If you're a health-conscious consumer, taking control of the food you eat and what chemicals make their way into your home are probably prime concerns. It seems like not a day goes by where we aren't confronted with another warning about toxins present in processed foods and cleaning products we should avoid.
But doing all your own cooking (and the ensuing clean-up) may seem like a daunting task. With the advent of affordable smart-home technology, however, there are plenty of gadgets to make your life easier and smarter. These smart tech devices will not only save you time, but give you some peace of mind.
Smart Sous Vide Machine: Mellow
Mellow is the smartest sous vide machine to date, with its built-in refrigeration controlled by an app. Through the app, you can control the temperature and cooking time. You can throw vegetables or fish in the Mellow, leave them there all day and program dinner to be ready by 7 p.m.
When your meal is finished cooking, you will get a text that says, "Voila! Your food is ready to serve." Getting these texts from Mellow never gets old. It's like having your own sous chef downstairs. My other favorite part about Mellow is the family sharing feature, allowing users to sync Mellow with family members to share recipes, cooking history and even control their machine from your house. This is the smartest feature of all.
After you get used to the sous vide method of cooking with Mellow, you begin to wonder how you ever did without it. The Mellow gave me a newfound sense of confidence that I never had before in the kitchen. Plus, the meals I made came out pretty Instagram-worthy. When I shared photos with family members, they thought the meals were from a restaurant. If you have champagne tastes but don't have the time to cook, you can get restaurant-quality results with Mellow.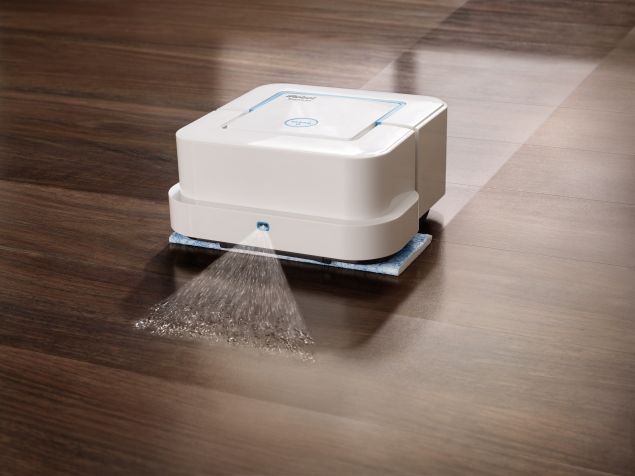 This little machine mops your floors with the touch of a button. All you have to do is charge the battery, fill the water reservoir, select which cleaning pad you'd like to use, then press the "clean" button and the robot will get to work. The Braava jet has three cleaning modes: wet mopping, damp sweeping and dry sweeping.
The robot mop also has Bluetooth connectivity and is compatible with the iRobot app, making it easy to start or stop mop cycles and adjust the cleaning settings. I was impressed with what a great job it did.
To test it out, I went upstairs and came down the next morning to find a completely clean kitchen floor. Braava jet can also sweep or mop while you're doing other things in the kitchen, like cooking or washing the dishes. If you want to maintain a sparkling kitchen by doing virtually no work, this is a must-have.
At the end of the cleaning cycle, Braava jet returns to where it started and turns off. You can eject the cleaning pad by lifting the Braava jet handle and pulling back on the pad-eject button (without having to get your hands dirty). This smart device is a must-have for anyone who wants sparkling floors and doesn't want to pull out an old-school mop.
Another perk of this machine is that it is perfect for hardwood floors. Other smart cleaning machines primarily focus on carpets, so if you want a smart mop, this is ideal.
Best Kitchen Assistant: JBL Link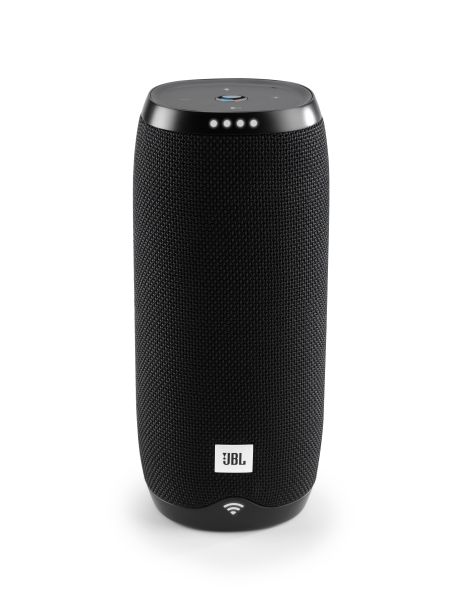 JBL Link by Harman is the first portable Bluetooth-enabled speaker to merge its signature sound with Google Assistant. The JBL Link is pretty incredible. Think of it as Google Home, but with amazing sound quality. It is a perfect addition to your kitchen if you want to get cooking instructions without swiping through your iPad. By saying, "OK, Google," you can ask the speaker for anything, from a step-by-step recipe to a substitute for butter in a cake.
For example, I asked, "Hey, Google, can you find me the most popular recipe for scallops?" The other feature I liked about the Link 10 and Link 20 is that they are both waterproof. When cooking sous vide using the Mellow, I accidentally drenched the JBL Link 10 in water, and after drying it off, it still played fine. I also loved that I could listen to music on these speakers while cooking, which was an added bonus.
Have you ever wished you could order a latte from your phone? Now you can, with the smart espresso machine from Philips. This machine is the smartest of all smart machines, it literally feels like you have Starbucks in your house.
The Saeco GranBaristo Avanti offers a variety of 18 on-demand drinks, and it is the first fully connected automatic espresso machine. Each drink can be customized to your taste directly from your smartphone, and you can also brew the latte directly via your smart device without ever touching the machine.
The best part of this machine is the personalization features it offers. Through the app, you can save your personal latte settings under each user profile for up to six people.
Simply pour milk into the carafe, plug it into the machine and select your preferred beverage. Whether it's a cappuccino or frothed milk, your drink will be served within seconds, with a splash-free flow at the ideal temperature.
While there are many espresso machines on the market, there are not many "smart" ones, let alone ones that have as many pre-prepared drinks that can be made with the touch of a button from your table or iPhone. Another plus of this device was that it was the easiest to pair with a Bluetooth out of all of the ones I tested.
As smart as the machine is, there are still some basic things you need to do if you plan on ordering coffee through the app, like make sure a coffee mug is ready to go next to the machine. My favorite part was that it was able to froth almond milk really well, which is a huge plus if you are dairy-free. The customization ability of the machine also blows competitors out of the water. You can change the aroma, milk content and strength of the coffee from the app on your iPhone. The machine requires daily cleaning for maintenance, which is something to keep in mind.
Smart Air Purifier: Molekule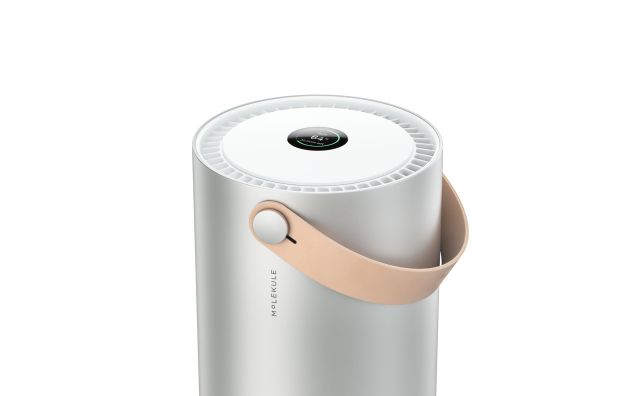 Mold toxicity in your kitchen can be potentially catastrophic, so having a solid air purifier is critical. Having a smart purifier controlled by an app is even more ideal.
Molekule is the world's first molecular air purifier. Using patented technology, Molekule captures and destroys the full spectrum of airborne pollutants, including dust, mold, allergens, e.coli and particles a thousand times smaller than what a traditional or HEPA (High Efficiency Particulate Arrestance) filter can catch.
Larger pollutants such as bacteria and mold can be caught in a HEPA filter, but continue to live on the filter surface (your kitchen counter!) where bacteria release harmful endotoxins back into the air when they die, and will feed on other trapped particles, grow on the filter surfaces and release new spores into the air.
Setting up Molekule is easy. Just connect it to your smartphone and start off with a "deep clean" in the kitchen. My favorite part about Molekule is that I can control the device remotely and turn the air filter on and off directly from the app, even when I am not home. Through the app, you can see what stage of the air purification process Molekule is at, and how many minutes remain in the cleaning cycle. You also have the option of boosting the cleaning cycle from the app. I noticed a difference in the air quality in my kitchen after only a few days of using it.
This smart wine opener is actually so high-tech it doesn't need an app. The Coravin Wine Preservation Opener is a unique smart kitchen gadget that uses patented technology to access and pour wine straight from a bottle without pulling the cork. It's easier to use than a standard corkscrew—simply insert, tilt and pour.  Additionally, it is also beautiful and looks like a piece of artwork in your kitchen. The rose gold chrome model is sure to spark conversation with wine aficionados.
Even a nondrinker like myself can appreciate the technology that goes into creating a machine like this. Other wine preservation systems require the cork to be pulled to allow oxygen to enter the bottle. The Coravin is a smart system that leaves the cork in place to continue protecting the wine, which will continue to evolve the same way that it would in an unopened bottle.
By inserting a thin surgical-grade hollow needle through the cork and pressurizing the bottle with argon gas, any amount of wine can be poured (a sip or full glass). Once the desired amount is poured, the needle is removed, allowing the cork to reseal itself. If you spend hundreds (or thousands) of dollars on expensive bottles of red wine, this smart wine opener is ideal.
Smart Mug: Ember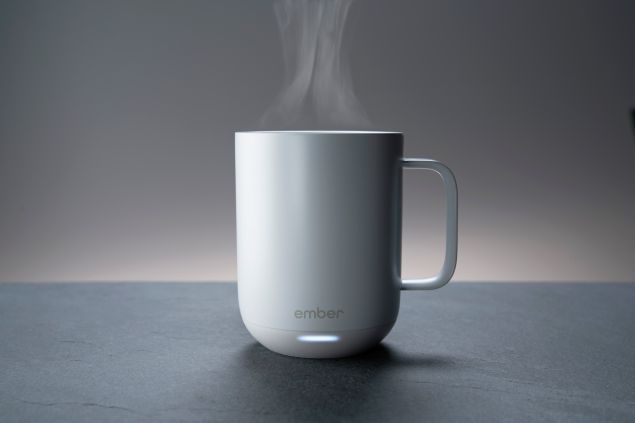 Ember is a temperature-controlled ceramic mug that maintains the perfect drinking temperature, straight from an app. The mug is embedded with multiple temperature sensors and a microprocessor-controlled, dual-band heating system. The Ember mug has intuitive technology, allowing it to "sleep" when not in use and "wake up" as soon as it is picked up.
The ceramic mug connects to the Ember mobile app, where you can change the LED color of the mug and control the drinking temperature with the swipe of a finger.
Another cool feature is that the app remembers your preferred drinking temperature and has several preset options for easy customization. Similar to Mellow, the app notifies you when your desired temperature has been reached.
The app also lets users identify their mug by selecting a personalization color that's displayed on a small LED light at the base of the mug (I chose hot pink). This is a great feature if you have multiple mugs in your house or office and want to differentiate them. I love how you can be simultaneously swiping matches on a dating app while also swiping temperature changes for your morning tea. I was impressed that my tea stayed hot 40 minutes after I made it. Just remember that it has to be hand-washed and cannot go in the dishwasher.
Smart Induction Burner: Hestan Cue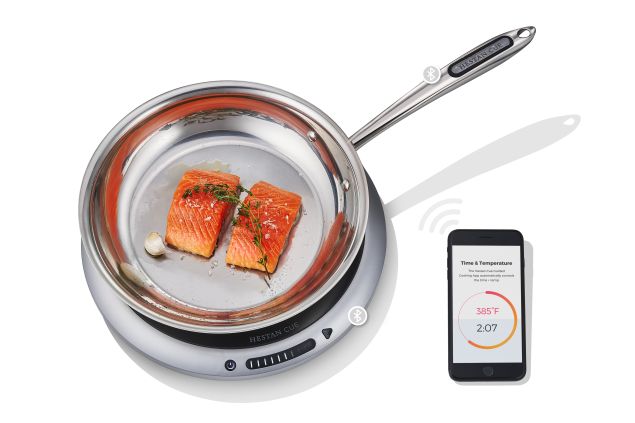 If you like cooking with the help of an app, the Hestan Cue is ideal. This induction burner with Bluetooth technology automatically controls cooking time and temperature for recipes through the app.
The Hestan Cue is perfect for someone who needs more guidance in the kitchen. You can choose from hundreds of video-guided recipes with techniques from Michelin-star chefs. It is like GPS for the kitchen: You still do the work, but it guides you on the next step to take.
When trying out the Hestan Cue, I liked the culinary educational component of it with the dynamic video cookbook. If you are a new chef like myself, these techniques can be super-helpful to advance your cooking skills.
If you like the idea of smart kitchen devices that are "set it and forget it," Hestan Cue is ideal. However, if you want to take an interactive role in cooking your dinner, this is a great place to start.
Simply select a recipe through the app (I chose pancakes), and the app will tell you what to do while also simultaneously telling the burner what temperature it should be. Just remember that the smart pan is embedded with temperature sensors and Bluetooth and is designed only for use with the induction burner. It is not dishwasher or oven-safe, so if you don't like the idea of washing dishes by hand, this is something to keep in mind.
Smart Robot Vacuums: Roomba 980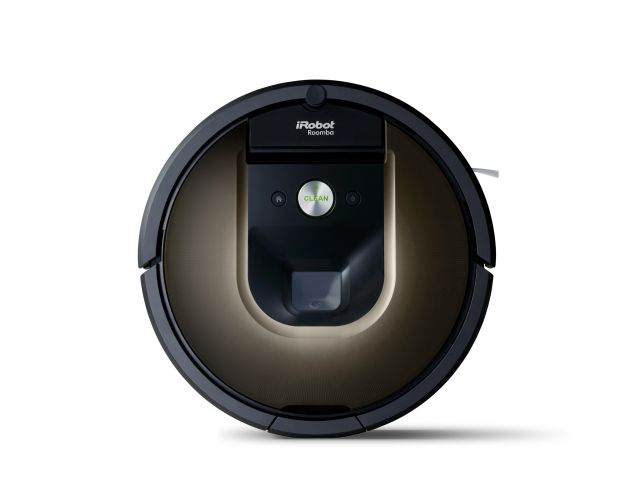 Roomba has a cult following in many of the mom groups on Facebook, and now I understand why. The new iRobot Wi-Fi-connected Roomba 980 is capable of cleaning and navigating an entire level of your home (up to 2,000 square fee).
The great part about this smart vacuum is that you can map out areas to clean through the iRobot HOME App. The app also enables voice commands through Amazon Alexa and Google Assistant devices to start, stop or dock the Roomba. IFTTT integration connects Roomba to other smart devices and services for seamless communication. With the app, I was able to schedule cleanings automatically, which was a great feature. I could also customize cleaning features and choose which areas I wanted to focus on for deep cleaning. I was also able to see updates on the cleaning status.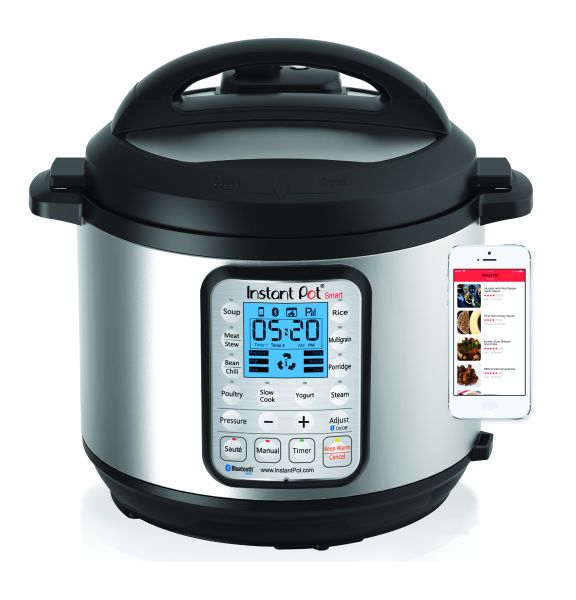 The Instant Pot has a cult following. In fact, when I crowdsourced for smart kitchen device recommendations, the answer was a resounding "Instant Pot!" People are obsessed with this nifty gadget, and for good reason.
Now there is a smart version of the Instant Pot, with Bluetooth compatibility and an iOS app. With the app, you can monitor your cooking progress, browse through recipes or customize your meal. You can even start and stop a cooking cycle from the comfort of your couch.
I really liked the recipe database, where I could select my preferred recipe and it would automatically send the settings to my Instant Pot. There is definitely a learning curve with the Instant Pot if you have never used one before, both for the device and for the app that controls it. If you can put in the time to learn both, you will be happy with the results.
Kris Ruby is the CEO of Ruby Media Group, a Public Relations and Social Media Agency. Kris Ruby is a frequent on air TV contributor and speaks on social media, tech trends and crisis communications. For more information, visit www.rubymediagroup.com or www.krisruby.com.