Legs Diamond promo poster.

Feinstein's/54 Below
They just dangle there, tantalizingly, like icicles on a Christmas tree—all these end-of-the-year, one-night-only entertainments that vie so vigorously for the dregs of your shopping dollar. But, good as they are, there's a major drawback to most of these theatrical extracurriculars: they tend to come at you in bunches, like bananas—all at once, in the same time zone—and wind up dueling for your time and attention.
Look no further than (this) Sunday Bloody Sunday, December 3. Squaring off at 7 sharp (or, given cabaret tradition, not-so-sharp) is Legs Diamond vs. The Happiest Millionaire.
The first, at Feinstein's/54 Below, is a stage musical based on a nonmusical film. The second, at Joe's Pub, is a film musical based on a nonmusical stage play. Neither was overly successful in either incarnation, making their startling returns rarefied fun.
Peter Allen was 16 years old and still living in rural Australia answering to Peter Richard Woolnough when he first saw The Rise and Fall of Legs Diamond, a tawdry, tardy (1960) addition to Warners' pile of gangland corpses. Swaggering out the title role was a piece of plywood with a steel-plated ego named Ray Danton, who once foresaw an Oscar for himself before he turned 30. (Dead at 60, he didn't make it.)
Rise and Fall mostly fell with critics—"cheap and violent," growled Crowther of The Times—but Allen saw in all that super-saturated black-and-white bloodshed a real rat-a-tap-tap excuse for him to sing, dance and write songs. It became an obsession, seeing him "from the moon to New York City" and finally fruition in 1988 the night after Christmas. It ran more previews (72) than performances (64) on Broadway.
Allen outlived the show by four years, succumbing eventually to the AIDS-related illnesses that had claimed his longtime partner, Gregory Connell. Joe Silver, the gruff, gravel-voiced comedian who played Arnold Rothstein in the show, died of a heart attack eight days after the show closed. When Legs left, the Mark Hellinger Theater (where My Fair Lady once majestically resided) turned into the Times Square Church.
What Legs lacked in "legs" (number of performances), it has made up for in number of original cast members who'll be performing both of the show's 30th anniversary reunion concerts. (There is a 9:30 encore.) Returning to the scene of their musical-comedy crimes are Adrian Bailey, Brenda Braxton, Randall Edwards, Jim Fyfe, Ruth Gottschall, Norman Kauahi, Jennifer Paulson Lee, Mark Manley, Shaelynn Park and Kevin Weldon—and belatedly surfacing in the show are Christine Andreas and Bob Stillman, whose roles as Diamond's wife and brother never made it out of previews.
Meanwhile down at The Public, The Happiest Millionaire will celebrate its 50th year as a film with its own dual concert (also at 7 and 9:30), all to benefit Broadway Cares/Equity Fights AIDS. Kyle Crichton wrote the Broadway comedy it's based on 11 years earlier, and that was based on My Philadelphia Father, Cordelia Drexel Biddle's memoir about her dad, Anthony J. Drexel Biddle, the well-known eccentric millionaire of 1916 vintage who ran a boxing-and-Bible club and raised pet alligators.
Lesley Ann Warren and Joyce Bulifant, who made their film debuts as the Cordelia in question and her finishing-school roomie, Rosemary, will reprise those roles in a cast that includes Brooke Shields, Tonya Pinkins, Dana Ivey and Brad Oscar. In the part that introduced John Davidson to the movies, Angier Duke, is Nicholas Barasch.
The Happiest Millionaire was the last live-action film that Walt Disney personally supervised. He had hopes "The Boys" (The Brothers Sherman, Richard M. and Robert B.) would pull another Mary Poppins, but this one didn't fly. In fact, the uncut "roadshow" version is the longest film ever to carry Disney's name into the market place. It didn't last long: Radio City Music Hall, site of the New York premiere, insisted on—and got—cuts to accommodate its Disney-themed Christmas show. From 172 minutes, the picture was whittled down drastically for the 'burbs.
These "Boys" who gave you "Supercalifragilisticexpialidocious" came up with "Fortuosity" for Tommy Steele to prance about with jauntily like it was part of the English language—plus 11 other easy crowd-pleasers, like "Bye-Yum Pum Pum" and "It Won't Be Long 'Till Christmas." Some 80 minutes of their music will pass in review, connected by a lickety-split Evelyn Wood rewrite of the plodding plot.
Hit or miss, these shows return on the gossamer wings of their music—the chance to hear a score you'll never hear again or find a forgotten gem buried in the mire of mediocrity. This way they come at you painlessly cleared of congested narrative.
That's par for the course at Studio 54's basement bistro. There, the tab musical is a specialty of the house. As it has grown in popularity, name-brand players and even stars have piled on the bandwagon to participate, making it a free-for-all sing-along.
Last Wednesday, Woman of the Year was executed by no less than seven Tess Hardings, each diva handpicked to deliver numbers she's right for. Similarly, the 30th  anniversary concert of Douglas J. Cohen's No Way To Treat a Lady had a dazzling, if dizzy, mix of ladies, ladykillers and cops (Karen Ziemba, Jill Paice, Peter Marx, Kevin Chamberlin, Christiane Noll, Paul Schoeffler, Jack Noseworthy and Sandy Binion).
Feinstein's/54 Below often invites the original talents to do these Reader's Digest revisitings of their shows, and there have been quite a few happy acceptances.
Walter Willison, a scullery worker in the original Grand Hotel, called the shots for its concert edition May 24, 2015—one of the club's first tries at abbreviated Broadway. Martin Charnin, Annie's lyricist-director, directed Chip Zien and Christine Pedi in a dandy reprise of a Richard Rodgers show he wrote the words for, Two by Two.  Another lyricist, David Zippel, brought in a return of The Goodbye Girl with Kate Baldwin, Santino Fontana and, from the original cast, the awesome Carol Woods.
In anticipation of a glass-ceiling shattering that never happened, a musical fittingly titled Onward Victoria launched the club's popular Second Act Series. You probably never heard of the show or Victoria Woodhull. In 1871, she became the first woman to run for U.S. President. Jill Eikenberry played her for 23 previews and one performance at the Martin Beck—but showed up to narrate its club reprise.
Steven Carl McCasland, who founded Second Act Series with arranger James Horan, also brought back Henry, Sweet Henry, Shelter, Eating Raoul, The Fix and 70, Girls, 70. On June 11, he will produce and direct A Salute to Charles Strouse: A 90th Birthday Celebration there. The composer of Applause, Annie and Bye Bye Birdie is, by far, the most favored creative in the Second Act Series, which reprised his Nick and Nora, Charlie and Algernon, Bring Back Birdie and A Broadway Musical—a quartet whose collective runs on Broadway total a full month of 31 performances. Next up, on Jan. 24, is Strouse's first collaboration with lyricist Lee Adams, A Pound in Your Pocket.
So far, the high mark in these subterranean songfests has been the 25th anniversary reunion concert of the late Allan Sherman's Hello Muddah, Hello Fadduh! It was dispatched by the entire, giddily over-rehearsed original cast: Tovah Feldshuh, Mary Testa, Jason Graae, Paul Kreppel and Stephen Berger. A glorious time was had by all.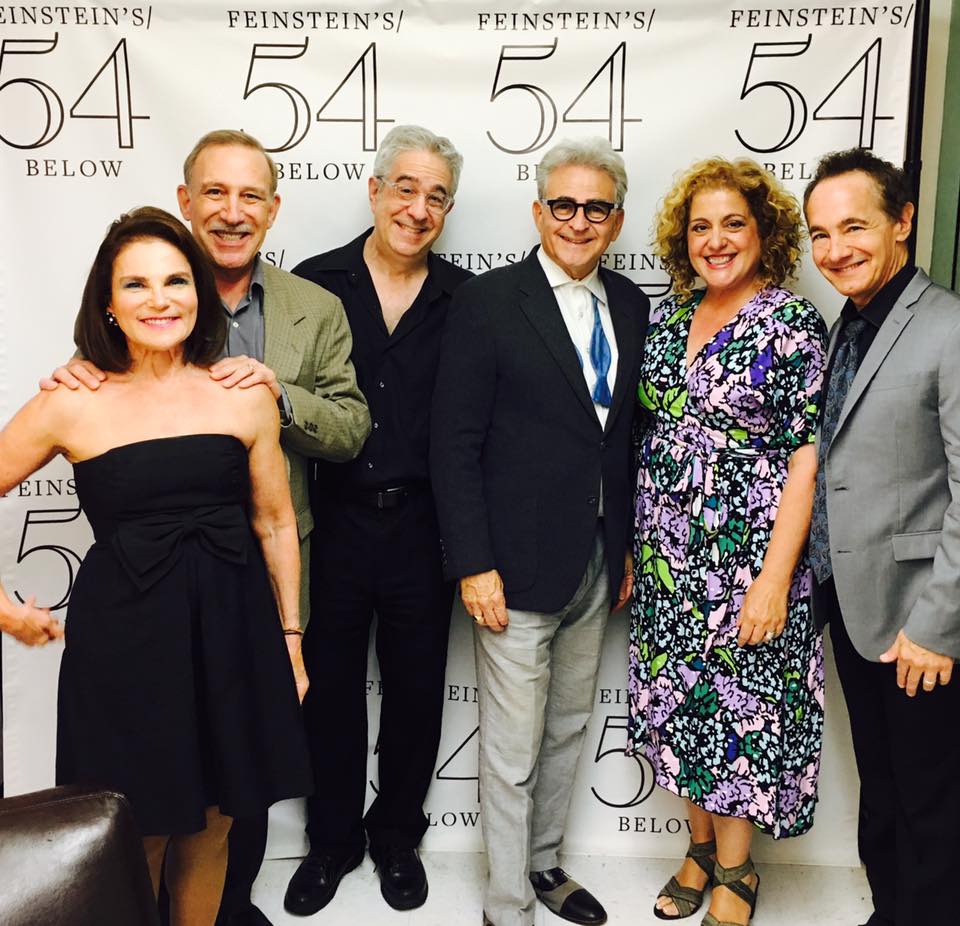 That was the exception. The rule is that these concerts are usually flung and swung together in just a few days of rehearsal. It rarely shows, which speaks volumes for the level of the do-or-die professionalism of the casts being shot out of the cannon.
Arguably, the best show to result within this frenetic time frame was Lynn Ahrens and Stephen Flaherty's My Favorite Year, which was designed as a minefield for character comedians. Evan Pappas, who originated the young Mel Brooks-like lead, was on hand to narrate, and the title tune even jerked a few tears at the end. Really.
West Side Story observed its 60th anniversary at Feinstein's/54 Below, and John Kander & Fred Ebb's The Happy Time will mark its 50th anniversary there April 19 with a concert starring Tony winner Michael Rupert, who started out as the teenager on Broadway, played the worldly wise uncle at Arlington's Signature Theater and may wind up as either the narrator or the grandfather in this edition.
The next reunion concert with the entire original cast in tow occurs December 10 when Will Chase and Malcolm Gets return, with original music director David Holcenberg, for a sixth performance of their intimate 2009 two-hander, The Story of My Life.
The Drowsy Chaperone, which is made to order for concert presentation, has indeed been dated Janurary 8 for two shows. Beth Leavel, who won the Tony for the title role, and Man-in-Chair Bob Martin, who won another one as book co-author, lead the original-cast contingent. Expected are Eddie Korbich, Kecia Lewis and Jason Kravits.
Come Sunday, whether you throw in with the mobster or the millionaire, your work is not done. The next day—Monday, December 4—brings a brand-new holiday dilemma.
On the one hand, York Theater Company will present the tunesmiths of the longest-running musical of all time, The Fantasticks—Harvey Schmidt and Tom Jones—with the 2017 Oscar Hammerstein Award for Lifetime Achievement in Musical Theatre. Scheduled to perform their songs at The Asia Society: Rita Gardner, Lee Roy Reams, Gretchen Cryer and Nancy Ford, Robert Cuccioli, Frances Ruffelle, Adam Kantor, Christopher Sieber, Norm Lewis, Randy Harrison, Randy Rainbow, among others.
While all that is going on, another star cluster is forming at Town Hall to perform the East Coast premiere of Right Before I Go, a play Chris Gethard has fashioned from the last words of those lost to suicide. Proceeds from the evening will benefit the American Foundation for Suicide Prevention and the JED Foundation. Michael Wilson will direct a cast that includes Ellen Burstyn, NFL's Rashad Jennings, Lois Smith, Amber Tamblyn, Vanessa Williams, Maggie Lacey, Elizabeth Ashley, et al.
The following Monday, December 11, likewise looms like a day that will live in indecision. Roundabout Theatre Company is staging at 7:30 p.m. at the Stephen Sondheim Theater a decidedly starry reading of Damn Yankees, a musical mix of soul-swapping and base-stealing. ("Who's on Faust?" it's been called.) The devil is a woman this time out: Whoopi Goldberg, who, you may recall, gender-switched replacing Nathan Lane in Forum. Maggie Gyllenhaal will vamp out some naughty deeds as Lola, most of them directed at Matthew Morriso, as the "long-ball hitter," Joe Hardy. Other worthies involved: Danny Burstein, Victoria Clark, Stephen Bogardus, Julie Halston, Annie Golden and Adrienne Warren. Kathleen Marshall is the designated director.
A more seasonal offering is being advanced by The Acting Company the same night at The Kaye Playhouse: Crispin Whittell's adaptation of Charles Dickens' A Christmas Carol, directed by Joe Dowling, former Artistic Director of the Guthrie Theater. David Hyde Pierce, now that he has Penny-Pinching Skinflint down pat after almost eight months of Hello, Dolly!, should transition nicely into Ebenezer Scrooge. He'll get excellent support from John Glover, Harriet Harris, Edward Hibbert and Julie White.
But enough brain-strain for now. I'm yellin' ya, holidays aren't easy on theater buffs!