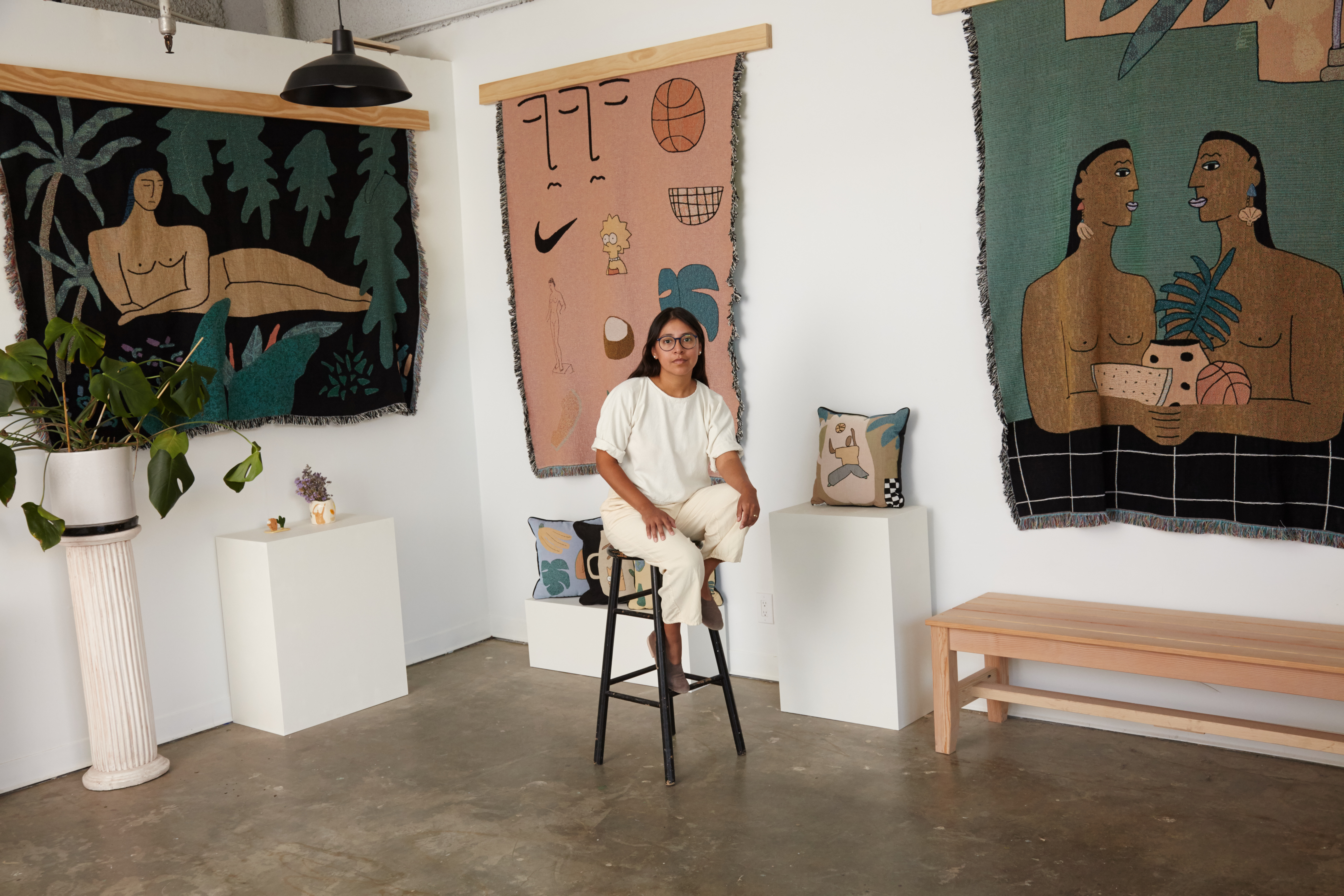 The digital detritus of 2017 is cultural motifs, commercial commodity and filtered imagery. Our Instagram feeds are flooded with overwhelmingly beautiful pictures, people, and places. Those who have notable followings are the artists, craftspeople, activists, and public figures that give the public a genuine viewpoint: a unique take on our chaotic world.
Lilian Martinez, who goes by the moniker BFGF, has become one of those social media mavens, using Instagram as a curatorial space for her fabrics, ceramics, and prints. But her art is intended to aggrandize the internet, pop stars, and brand identity. A penchant for the aesthetic of Southern California, she depicts desert flora smeared with pop culture iconography and often, her fabrics are centered around infamous motifs: the Nike logo, Drake, and characters from The Simpsons, each of which has been exuberantly dosed with California's naturally occurring icons.
Entering her Chinatown studio in Los Angeles or scrolling her feed, you find yourself living in a box of California-hued paints: dusty yellows, desert sands, sea greens, rosy pinks. "I really love California. The land is beautiful and inspiring to me," she explained.
Martinez loves those colors so much that she is in the process of setting up a studio in the Mojave Desert with her husband. It's an environment where she will be surrounded by colorful bare sandstone, towering red and white cliffs cut by rugged, narrow, twisting canyons lined with willow, ash, and hackberry trees. It's a place flowing with nature's inspiration. Although drawn to the isolation of the desert, Martinez carries a torch for Los Angeles. "I hope to always have a working relationship with L.A. It's amazing how facilitating Los Angeles can be."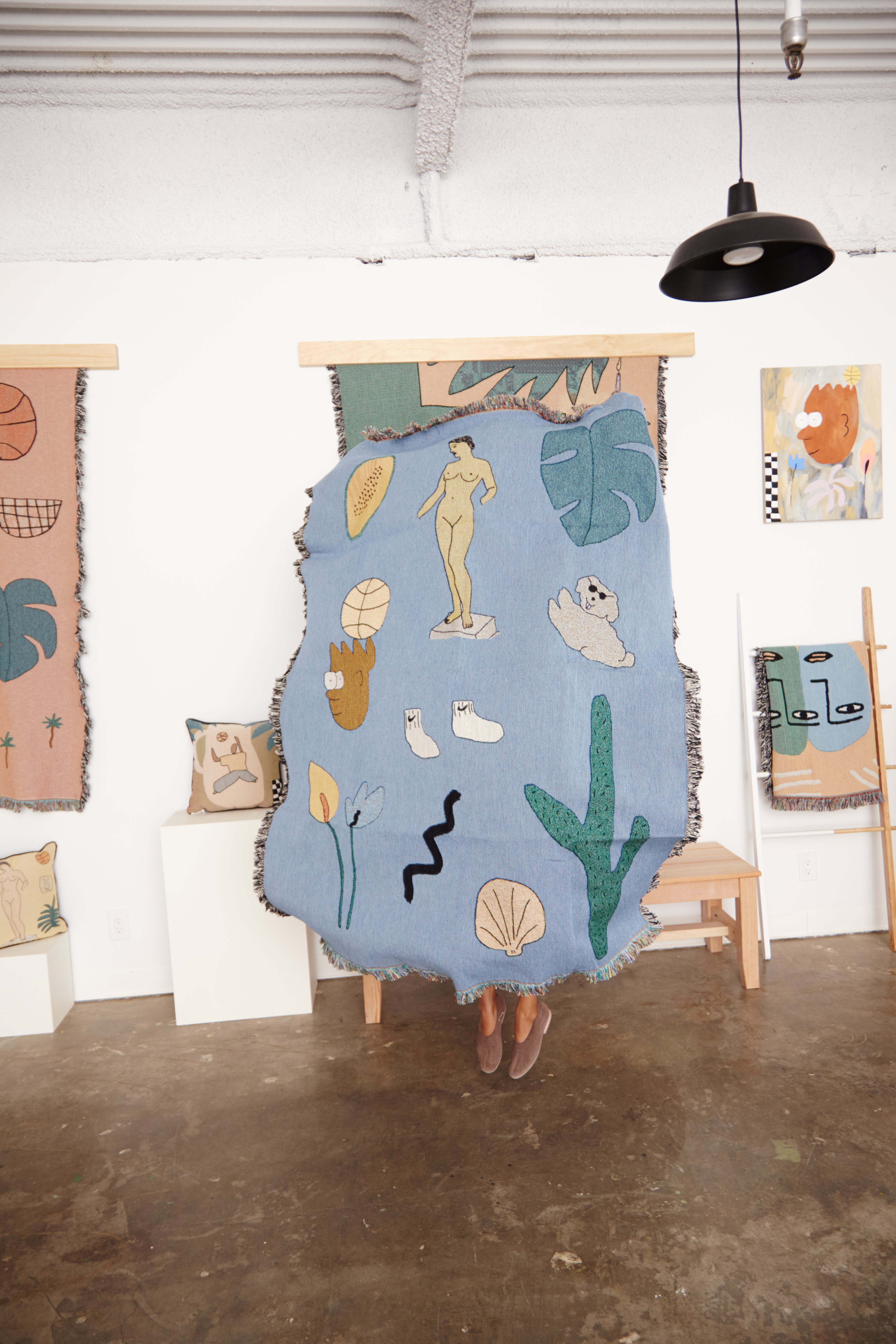 Born in Chicago, art wasn't very present in Martinez's childhood. As a curious teenager, she remembers "being interested in art and making work, but not knowing why or how to start." She found art to be a desire that she didn't necessarily understand, but persisted creatively because she had to. "I wouldn't be content or satisfied otherwise," Martinez admitted.
Martinez is headful of her own intuition. "If it feels right it's usually right. When I make work it is very intuitive. But when I have to make decisions outside of the creative process once the work is finished, as far as how to present the work or how to move forward with my business, there are many outer variables that make me question my instinct. When I'm having trouble relying on my intuition I try to take an informed risk."
The instinctive and gestural nature of Martinez's work alludes to Fauvist techniques. Her pieces evoke the works of Matisse and of Gauguin. Although simplistic, her designs are not cursory. Her fabrics are speckled with bewilderment: a free-flowing joyous energy you would find in Matisse's cut-outs or Henry Moore's landscape inspired nudes.
The specific Californian ecology found in the works of Martinez, also bring to mind contemporary artist, Jonas Wood and his work with domestic and natural shapes, such as giant leaves, layered shapes, architecture, functional objects. A beautiful functional object "makes life more fun," according to Martinez. Similarly to Wood, she draws objects and subjects that are beautiful in form and have a graphical, flat, simple qualities.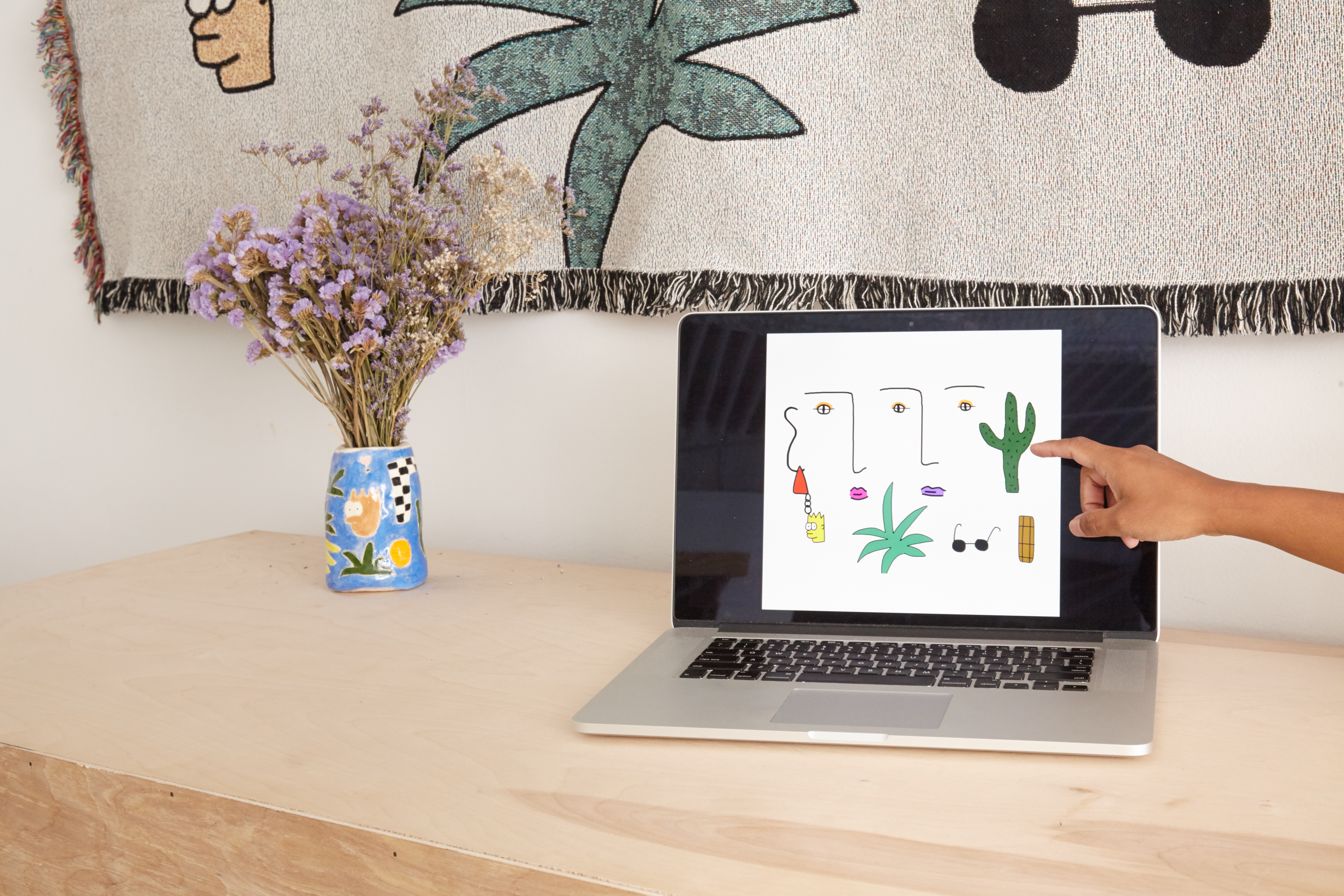 Her attraction to the still-life (a nod to Cézanne, perhaps?) is represented by her lack of conceptualization. "I focus on things that I find beautiful in form and/or function. I like basketballs and baskets. Or candles and fruit." Exploring the same themes and palettes makes sense to her visually. The accessibility of her subject matter intertwines with the way her art is consumed: pieces for the home and body.
What makes Martinez different than the likes of Matisse and Wood? Her approach. One would describe her as a digital artist, as most of her work is composed and created, appropriated and manipulated on the computer. She then sends her designs to a North Carolina mill where they are woven into her textile of choice. Martinez's work can be found in boutiques and galleries across the globe; her most recent show was with Commune Gallery in Tokyo. Look for her pieces at Ochi Projects and Art Los Angeles Contemporary in January 2018.
But the accessibility of BFGF is proven by the artist's Instagram feed. Her love for LA is beautifully woven into her Instagram account. One that profiles her patrons: people wearing, using, and decorating with her work. From a mother and child wrapped in a BFGF blanket at an outdoor movie in DTLA, to one of her towels used a picnic backdrop on the sand in Santa Monica, to framed textiles on the walls of coffee shops, Martinez appreciates, embraces, and shouts out the function of her work to her 85k followers.