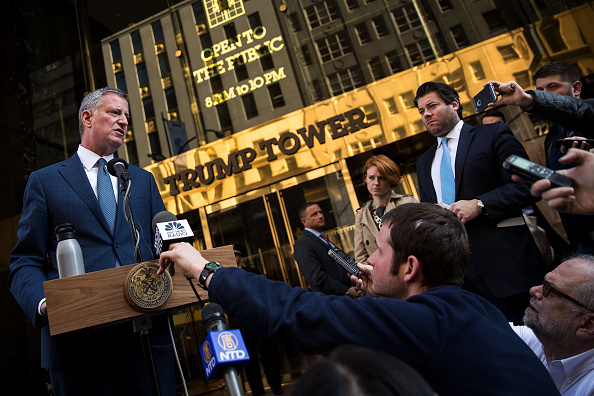 Mayor Bill de Blasio called for a "full investigation" of sexual misconduct allegations against President Trump — and said the president should resign if the allegations are found to be true.
On Monday, women who have publicly accused Trump of sexual harassment and assault spoke out at a press conferenced held by Brave New Films, a studio that made a film titled "16 Women and Donald Trump" that examines the allegations. Amid calls for a congressional probe into the allegations, the White House shot back that they "took place long before he was elected president.
"I think there should be a full investigation of those allegations," de Blasio told reporters at a news conference in the Bronx on Tuesday. "Obviously I fundamentally disagree with President Trump on essentially everything but I think the right thing to do is if he wants to come forward and tell us the whole truth — which I'm sure he hasn't — and lay on the table everything, that would be helpful. But the best way to handle something like this is an objective investigation."
He also believes it is "great" that former FBI Director Robert Mueller is serving as special counsel to probe the alleged efforts by Russia to influence the 2016 presidential election in conjunction with the Trump campaign.
"I think there should equally be an investigation into the charges against President Trump because they've been stated by many individuals and obviously with the elected officials or candidates in all these other cases recently and people in the media and Hollywood, the allegations have led to action," de Blasio continued. "Why is there only one person who the allegations have not led to any followup? And that's Donald Trump. Of course there should be a full investigation."
On Monday, Sen. Kirsten Gillibrand, one of the leading voices in the Senate tackling sexual assault, said Trump should resign — and that Congress should investigate if he does not "immediately resign." Sens. Jeff Merkley and Ron Wyden (both D-Ore.) as well as Sens. Cory Booker (D-N.J.) and Bernie Sanders (I-Vt.), also said Trump should step aside on Monday.