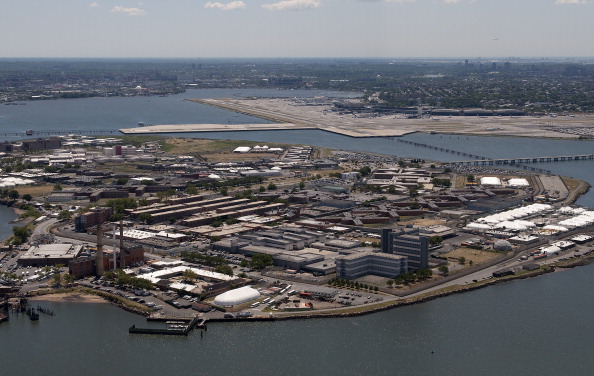 New York City's jail population is now below 9,000, and the city is on track to have a monthly jail population under 9,000 for the first time since 1982, according to city officials.
As the end of the year approaches, the average daily population for December is 8,980, and the current population is 8,783.
At the end of March, de Blasio announced a plan to close the Rikers Island detention complex in 10 years and replace it with a borough-based jail system. City Council Speaker Melissa Mark-Viverito had pushed him to do so, as well as activists such as JustLeadershipUSA and Akeem Browder, brother of the late Kalief Browder, the young man who killed himself in June 2015 after being jailed at Rikers for three years without trial and more than 400 days in solitary confinement.
The city anticipates that closing Rikers would require the census to be lowered to 5,000.
"Today, New York City has the lowest incarceration rate of all large U.S. cities and crime rates continue to fall, proving that a large city can have small jails and safe communities," de Blasio said in a statement. "We've been carrying out a multi-pronged effort over the course of my first term to shrink our jail population, and today we see the results: a jail population lower than it's been in 35 years."
The current jail population is down 58 percent from its peak of 21,674 in 1991 and has decreased more than 20 percent since de Blasio first took office, according to the de Blasio administration. The jail population has also dropped by roughly 5 percent — about 400 beds — compared to this time in 2016.
Mark-Viverito called the latest development a "milestone in our path to closing Rikers Island."
"This milestone will help advance our progress in closing Rikers even sooner than we anticipated," Mark-Viverito said in a statement. "From the lowest crime rate our city has seen in years to this momentous drop in the jail population to the Council's Criminal Justice Reform Act, our efforts to make our city more just and secure are delivering results."
The city attributed the reduction in the jail population to a number of factors, including reduced crime and more alternatives to incarceration.
One factor is crime continuing to drop. As of Dec. 24, there have been 284 homicides, 774 shootings and 11,827 burglaries citywide — a 14 percent decrease in homicides, a 28 percent drop in shootings and a 30 percent decline in burglaries compared to the same time period in 2013.
The city argued jail has been increasingly reserved for serious crime. Misdemeanor arrests have dropped 29 percent in the last four years, and the number of jail admissions for misdemeanor detainee has decreased by 25 percent since 2014.
And for the first time in the city's history, the administration said, there is supervised release, a citywide alternative to bail program, which has diverted more than 6,000 people from jail since it started in 2016.
The city has also brought 120 additional supportive housing beds online, which are nearly filled, and announced $30 million in new initiatives to speed up safe reductions of the number of people in jail.
And since the start of Justice Reboot, a partnership between the mayor's office and the state courts that unites all parts of the criminal justice system to settle issues causing case delay, there has been a 49 percent drop in the number of cases pending for at least three years — from 307 cases to 156 cases citywide, a reduction of 151 cases. There has additionally been a 22 percent decline in the the number of cases pending for a minimum of two years, from 923 cases to 717 cases citywide — a reduction of 206 cases.
The de Blasio administration added broad work is currently underway to ensure conditions on Rikers are humane.
In late 2015, the administration kicked off a series of comprehensive reforms, including programs for people in custody, increasing security camera footage, training officers in de-escalation techniques, new safety equipment and protective gear and coming up with a classification and housing strategy for people in custody.
The city said the reforms led to a decrease in its jail population as well as a 65 percent drop in assaults on staff with serious injury and a 53 percent decrease in uses of force with serious injury since 2014.
Tina Luongo, attorney-in-charge of the criminal defense practice at the Legal Sid Society, called the latest figures progress but wants to see Rikers closed promptly. Many activists and elected officials have urged the mayor to close it less than 10 years.
"Today's announcement signals that things are moving in the right direction but City Hall must continue to prioritize the explicit goal of shuttering Rikers Island as soon as possible," Luongo said in a statement. "The onus of making this a reality is not solely on the administration, however. Albany must also do its part to fast-track closing Rikers by passing comprehensive criminal discovery and speedy trial reforms this upcoming session."