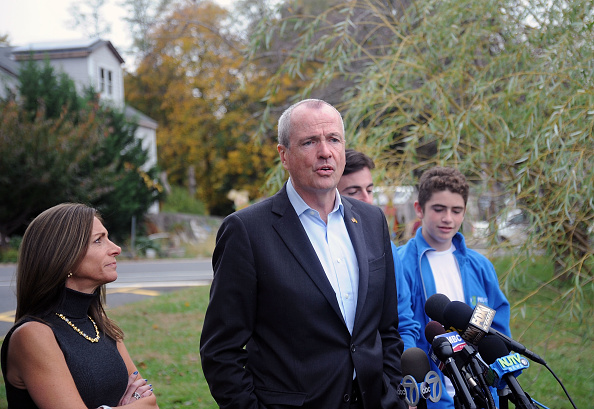 Mayor Bill de Blasio and New Jersey Governor-elect Phil Murphy, two Democrats who won their respective elections last month, met at Gracie Mansion on Wednesday afternoon to discuss a "shared vision" for New York City and New Jersey centered on supporting a "progressive" agenda.
The pair met for 65 minutes at the mayor's official place of residence, where they congratulated each other on their respective victories in the elections last month before discussing a host of issues "important to New York and New Jersey."
"The mayor and governor-elect outlined a shared vision for the region that includes an expansion of universal pre-K, upgraded transportation and infrastructure, and a focus on mental health investment and progressive taxation," according to a readout of the meeting released by the mayor's office on Wednesday evening. "The two pledged immediate cooperation in combating the Republican tax plan and in supporting progressive organizing locally and nationally."
Murphy's readout of the meeting was nearly identical but slightly shorter and did not mention universal pre-K as one of the topics that came up.
In September, Murphy said he wants to create new programs such as universal pre-K and free community college tuition but that it will  depend on the extent to which the economy grows under his leadership.
"They discussed a number of issues critical to New Jersey and New York City, including upgraded transportation infrastructure," Murphy's readout states. "They discussed the potential damage of the federal GOP tax plan and explored ways of combating it together."
New York City First Lady Chirlane McCray participated in "a portion of the meeting," according to both readouts. On Wednesday morning, the de Blasio administration announced that the mayor would meet with Murphy at City Hall — the meeting ended up taking place at Gracie Mansion — but the meeting was closed to press.
The mayor won re-election in November in a landslide victory, capturing more than 60 percent of the vote. He described his triumph as the beginning of an "era of progressive Democratic administrations." He is the first Democrat to win reelection since the late former Mayor Ed Koch in 1985.
Murphy, who made a fortune as a Goldman Sachs executive, won the gubernatorial election in New Jersey with roughly 55 percent of the vote, beating out his opponent Kim Guadagno, Chris Christie's lieutenant governor, who got about 42 percent of the vote.
Murphy's campaign platform includes working to provide free pre-K to all families in New Jersey and ending high-stakes testing. De Blasio himself does not believe high-stakes testing is the only way to evaluate students, teachers or schools and has called for less dependence on it.
When the mayor ran for office in 2013, he shared a proposal to enable undocumented immigrants to receive their driver's licenses and  launched a municipal identification program in January 2015—partially to help undocumented immigrants who need a government-verified proof of identification.
He shares those goals in common with Murphy, who aims to protect undocumented immigrants by giving them driver's licenses and statewide ID, extending in-state financial to DREAMers and increasing access to professional licenses for immigrants. He also said he would oppose any efforts to use state and local policing to aid mass deportations, similar to de Blasio's repeated assertions that the city will remain true to its so-called "sanctuary city" status for undocumented immigrants.
Murphy has also said he would work to raise the minimum wage, guarantee earned sick leave and strengthening workplace protections—similar to de Blasio and Cuomo's $15 minimum wage plans. And like de Blasio, he also supports a millionaires tax proposal.
Earlier this week, Murphy, Cuomo and California Gov. Jerry Brown blasted the GOP tax plan as a "scam" that will hurt high-tax sates such as New Jersey, New York and California by removing the state and local tax deduction—SALT—which has been in the tax code since the advent of the federal income tax in 1913.