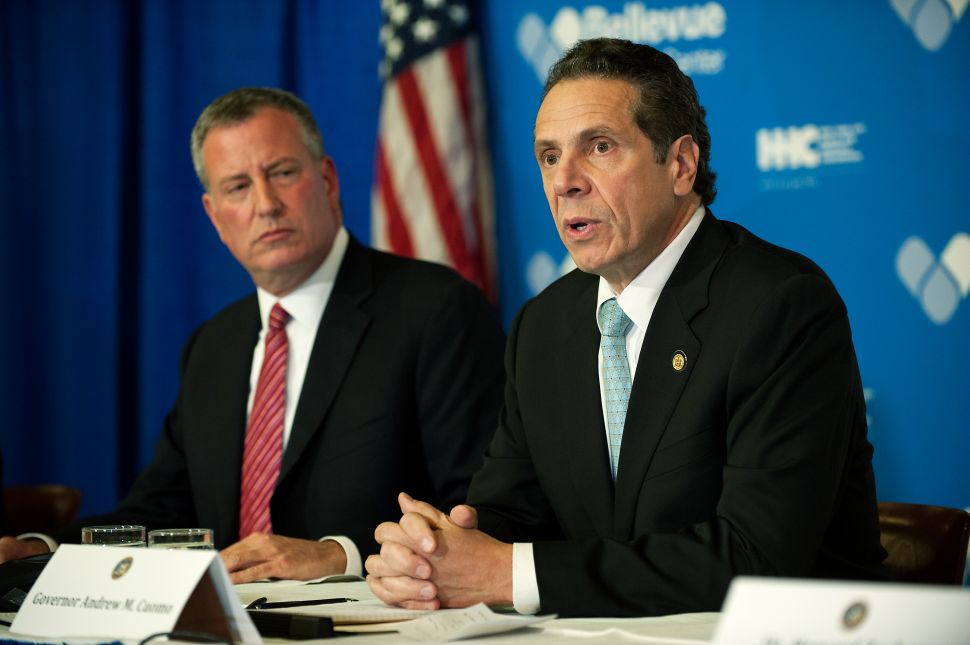 New York City Mayor Bill de Blasio is alleging the only reason that New York Gov. Andrew Cuomo is backing a deal to unite Democrats in the state Senate is because "he apparently is running for president." De Blasio claims Cuomo could have pushed for party unity a long time ago.
Since 2011, the Independent Democratic Conference, led by Bronx State Senator Jeff Klein, has been allied with Senate Republicans. Despite having fewer seats, the GOP controls the chamber because of its alliance with the IDC. Additionally, Brooklyn state Sen. Simcha Felder, a conservative Democrat who is not part of the IDC, has caucused with the GOP since being elected in 2012.
Earlier this week, four top state Democratic officials sent a letter to Senate Democratic Leader Andrea Stewart-Cousins and Klein. The letter recommends the two sides unite to win anticipated post-budget special elections and that Klein and Stewart-Cousins reunify as co-leaders once they win.
De Blasio, who is also rumored to be considering running for president in 2020, stated he is "very skeptical" of the deal because it is "getting to be a charade." He said Cuomo and the IDC "have enabled each other from the beginning" and that it has been a "de facto Republican governing arrangement."
He noted that in 2014, he and other Democrats felt that they had a commitment from the governor to create a Democratic state Senate but that they "saw that commitment broken."
"It's very convenient for him now as he apparently is running for president to be in good graces with the Democratic Party," de Blasio told reporters on Wednesday. "So now he's going to move heaven and earth to have a Democratic Senate and he wants to elect Democratic Congress members in these swing districts and not see them redistricted against the interests of Democratic candidates. Well, he's been in office since 2011. He could have done that from the very beginning. So I'll believe it when I see it."
Cuomo recently hosted two key fundraisers in California.
In 2014, de Blasio convinced the Working Families Party to back Cuomo after he promised to usher in a Democratic majority in the State Senate.
The mayor urged anyone who calls themselves a Democrat needs to "come home now" because constituents in their districts are "really angry." After the election of President Donald Trump, an anti-IDC grassroots movement formed. It includes groups such as No IDC New York, Rise and Resist and True Blue New York. Anti-IDC activists have rejected the deal.
De Blasio acknowledged that it is a "given" that there will be challenges to IDC members but would not say whether he supports them.
"I'm a respectful observer," he continued. "But the bottom line is the die's already cast here. The election of Donald Trump achieved what should have been achieved by the Democratic Party of this state a long time ago. We should have had a Democratic Party in this state. We really don't have a functioning Democratic Party in this state. We haven't for a long time."
He argued the full power of the party and the governor should have been used to stop the IDC from caucusing with Republicans in the first place. De Blasio has previously said he has found "common ground" with the IDC, crediting them for their role in bringing about his universal prekindergarten initiative.
"I can work with them and I can work with Jeff Klein, but there's no more hesitating," de Blasio added. "We're about to go—we're officially in that election, practically speaking. The people won't take it. Democrats will not accept anything short of Democrats coming home immediately."
When asked about the fact that the plan would take place after budget negotiations, which means that Senate Republicans would still be in power, de Blasio said people know what is really occurring.
"Fool me once, shame on you," the mayor said. "Fool me twice, shame on me. We won't be fooled again. That's what I say to that. I mean, come on. We're not all born yesterday. So if you want to be a Democrat, be a Democrat right now."
A spokeswoman for the IDC did not immediately respond to a request for comment.
De Blasio will be speaking at Progress Iowa's fifth annual holiday party on Dec. 19 in Des Moines. He has denied that he is planning to run for president, instead insisting the Iowa trip represents "who I am."
Cuomo Press Secretary Dani Lever cited the investigations by the Manhattan District attorney and U.S. Attorney's offices into de Blasio's failed 2014 fundraising effort for the state Senate Democrats and a potential pay-to-play scheme involving his now-defunct political nonprofit Campaign for One New York. They did not bring any charges against him or his aides. She also pointed out his frequent trips across the country.
"The only commitment in the 2014 election cycle that we did not fulfill was breaking campaign finance laws and the Mayor is right, we didn't participate with him in that," Lever said in a statement. "It's funny that the Mayor would say the Governor is running for President when the Governor is in New York doing his job and the Mayor is walking around Iowa."
As for the special elections, Rich Azzopardi, senior deputy communications director for Cuomo, clarified confusion that arose after Cuomo said they could wait until November or call a special election.
"The Governor was explaining the process of calling a special election," Azzopardi said in a statement. "To be clear, we will be calling special elections for these soon-to-be open Senate  and Assembly seats, the timing of which will be determined in January when the seats become vacant."
The mayor's office did not immediately respond to a request for comment. However, according to a tweet by NY1 State House reporter Zack Fink, de Blasio Press Secretary Eric Phillips referenced the imminent corruption trial of an ex-Cuomo aide and others.
"The Mayor didn't create the Republican state Senate and the Mayor has never had aides charged with corruption," Phillips shot back. "Whether the Governor is in New York or on the presidential campaign trial, Andrew Cuomo can't say the same thing."