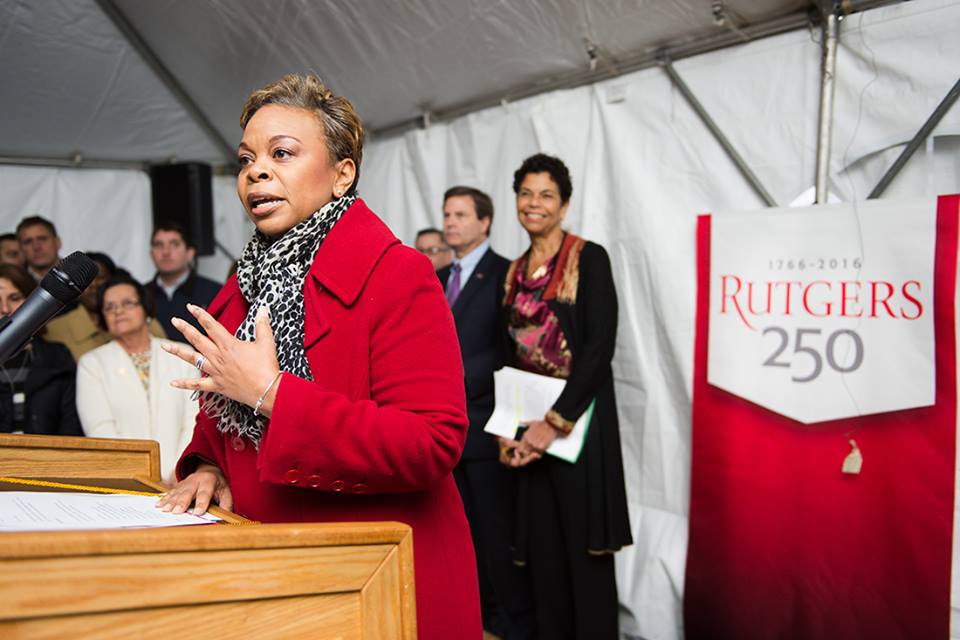 A bill that would give some politicians bigger pensions has been introduced quietly in New Jersey's lame-duck Legislature and is scheduled for a committee vote later today.
The bill (S3620) would allow certain elected officials, such as outgoing Camden Mayor Dana Redd, to re-enroll in the Public Employees' Retirement System (PERS) even if they were removed due to switching jobs. A similar bill introduced in 2014 also was drafted in a way that fixed Redd's pension problem, but the legislation never advanced.
At issue is a 2007 law that put new elected officials in a less generous retirement plan similar to a 401(k), called the "Defined Contribution Retirement Program." Elected officials already enrolled in PERS before July 1, 2007, however, were allowed to keep building up their heftier PERS pensions as long as they remained in the same elected office, with an exception for lawmakers who jump between the Assembly and Senate.
Redd, a Democrat allied with Gov. Chris Christie and South Jersey power broker George Norcross, became mayor in 2010. She had to resign the simultaneous offices she held in the city council and state Senate when she became mayor, and the PERS pension she had been accruing was frozen.
The new Senate bill would allow Redd and others who continuously served in elected office since July 1, 2007 — but later jumped to another elected office — to re-enroll in the pension system, so long as there was no break in time between holding different offices and the elected official has served continuously for at least 15 years. Those elected officials also would be able to make their pension enrollment retroactive to the date of taking an elected office.
It's not clear who else would benefit from the bill. A Democratic legislative source who spoke on the condition of anonymity said Wednesday that "several people were taken out of the PERS system" as a result of the 2007 pension overhaul, but the source only named Redd specifically.
Redd's office did not immediately respond to a request for comment Thursday.
The bill is sponsored by Sen. Sandra Cunningham and Assemblyman Raj Mukherji (both D-Hudson).
"This bill, which has practically no fiscal impact, remedies an oversight where a few individuals who devoted over 15 years to continuous public service would be unfairly screwed out of enrollment in PERS for seeking a different public office," Mukherji said in a statement. "My understanding is this was not the original intent."
A spokesperson for Senate Democrats did not respond to a request for comment Wednesday night.
The bill, which was introduced Monday, is on the Senate Budget and Appropriations Committee's agenda for its noon meeting in the State House.
Redd declined to run for re-election this year and will be succeeded by Democratic City Council President Francisco "Frank" Moran, who was elected mayor on Nov. 7.
In 2014, a similar bill that would have boosted Redd's pension was introduced by Assemblyman Craig Coughlin (D-Middlesex). But Coughlin, who is now set to become speaker in January, pulled the bill and took his name off of it when it sparked controversy.
New Jersey's pension system is one of the worst-funded in the nation, with nearly $90 billion in unfunded liabilities, according to a report released this month by a Christie-appointed commission. But state Democrats are known to look out for one another when pension issues arise. For example, the state Senate moved quickly last year to confirm a Democratic senator to a judgeship. The confirmation vote was one day before Peter Barnes's 60th birthday, which meant he got in just in time to get a full pension. State judges must retire at 70, and a full pension only comes after 10 years of service.