At this performance, the role of Harry Clarke will be played by Philip Brugglestein.
In fact, at every performance, the title role in Harry Clarke (now extended through December 23 at the Vineyard Theatre) is being played by Philip Brugglestein. David Cale's latest one-man show is, in reality, a two-man show—both played with separate-but-equal precision by the inestimable Billy Crudup (when not otherwise fielding a half-dozen or so other characters). As solo shows go, this one has a distinct, chilling echo.
Geographically, Philip Brugglestein of South Bend, Indiana, and Harry Clarke of Elstree, England, "where the film studios are," are worlds apart (3,891 miles, to be precise) but have curiously come to reside in the same Everyman schizophrenic—which is what happens when an imaginary friend turns into an imaginary persona.
Harry is the natural (or, if you must, unnatural) byproduct of consuming too many Brit flicks and PBS dramas at an early age. He starts asserting himself by slipping affected zingers into Philip's eight-year-old mouth, like "Don't get your knickers in a twist, darlin.'" This draws the back of the hand from his alcoholic, homophobic father and assures a bruised and bullied boyhood. Still, Harry hangs in there, and, when Philip lays both parents into early graves and cashes in the old homestead, the two of them head for NYC where pretension is not only encouraged but appreciated.
This is the promised land for posers. With astonishing ease and almost no regard for gender or age, Philip/Harry seduces himself into a well-heeled family of swells.
As the character makes his way in the world, his accent matures as well—from the polished King's English practiced by actors and announcers on the "telly" to a scruffier, more realistic way of speaking. "When he's a little kid, he settles in on a posh English accent," explained Cale, "then, when he's an adult and sorta softened and settled, Harry is much more of a Cockney guy and a different class—a much more uninhibited, go-by-any-rules person, completely the opposite to how Philip is naturally, but obviously he has that streak in him because he's doing all these things.
"In a funny way, he's liberated by Harry, and, in another way, he liberates people he comes in contact with." A stranger he starts stalking around the city at random succumbs to his charms, followed swiftly by the stranger's sister and mother. Whew!
The ensuing turbulence resembles a drama that Cale insisted he never saw: Peter Shaffer's Five Finger Exercise, in which a German tutor similarly and sexually upends a dysfunctional English family. But he did allow that Harry Clarke has telltale shades of Rene Clement's 1960 Purple Noon (i.e., French for Patricia Highsmith's The Talented Mr. Ripley, with Alain Delon in the role inherited 40 years later by Matt Damon).
"It wasn't quite in the script, but at one point, I was thinking of having Harry see The Talented Mr. Ripley, then I decided against it," Cale confessed. "I felt I was going too far into movie territory—where I sorta reside—and thought only buffs would get it."
There was one cinematic point that he didn't surrender, however. "It was very important to me—although this is a total geek thing—but I really wanted all the orchestral music to be by the same composer, Georges Delerue. He scored Jules and Jim and many pivotal French pictures from the '60s. I have a lot of recordings from his films, and I just put in what music I felt was emotionally right for the scenes."
Cale writes music as well as plays and even had a musical produced at Playwrights Horizons in 2007 called Floyd and Clea Under the Western Sky. "I've written lots of lyrics for different singers like Debbie Harry," he said. "Also, I've written for The Jazz Passengers, a jazz band that has performed with quite an array of singers from Elvis Costello and Jimmy Scott to performance people like John Kelly and Annie Ross."
Although he takes parts as an actor in other people's plays (The Total Bent, Mouth to Mouth), Cale is best-known for performing his own monodramas (Someone Else's House, Deep in a Dream of You). One of these—Lillian, where a middle-aged London bookstore clerk recounts her extramarital affair with a younger man—won him an Obie and is distantly echoed by the May-September encounter in Harry Clarke.
"I didn't see the parallels between Lillian and Harry Clarke at all until somebody at Audible.com mentioned it," the author admitted. The Vineyard is co-producing and co-recording both 80-minute monologues with Audible, the world's largest seller and producer of digital spoken-word entertainment, and releasing them on January 23.
Cale comes by his British accent quite honestly. He was born 40 miles northwest of London in Luton and attended school in that cinematic city of Elstree. In 1979 at age 20, he arrived on these shores. These days his Britishness is in a state of remission.
"That was the initial impulse for this play. Because I usually perform these shows myself, I thought, 'Maybe it'd be interesting—after all these years of living here—if I do a show where I played someone who suddenly says he actually isn't English. I wrote this a few years ago but put it to one side so I could work on other things."
Recently he dusted the play off, tried it out one night at Dixon Place and took it to the Andy Warhol Museum in Pittsburgh for three more performances. "It went well in Pittsburgh, but I just instinctively felt somebody else could go further with it."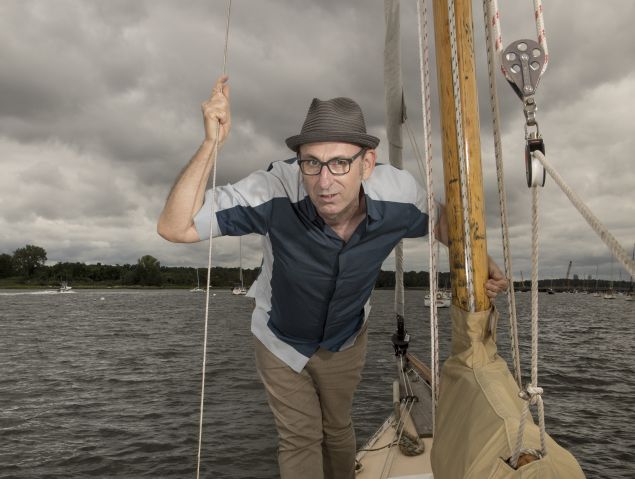 That was his thinking when the Vineyard called for a script that could be put into production. He had a star wish-list of one: "Billy. He was the first name that came up everywhere, but I thought it was unlikely that he would be available because his schedule is very complicated all the time. Also, there are lots of actors who wouldn't attempt a one-man show, just because they want to be around other people. And it is a tremendous amount to learn. It's a 43-page monologue. That's just pure labor-intensive to learn. It takes a long time, so it's not just rehearsing a show. There's an exaggerated amount to learn, if you're not the writer. But he wanted to do it."
Of course, there was that first chalk-white flush of terror at doing a one-man show that Crudup quickly overcame. "I'm sleepy most of the time, so the idea of doing that much work was pretty intimidating," the actor confessed, "but I slept on the idea of not doing it and woke up—panicked!—thinking, 'What the hell are you doing? How many times are you going to get offered a one-person show with writing this good?'"
There were other factors that pushed him over the edge into this artistic abyss. The Vineyard was a safe environment for him. He made his New York debut there in 1994 in Chiori Migyagawa's American Dreaming, and he returned in 2010 for Adam Rapp's The Metal Children. "It's a very comfortable environment for me," he said.
"Plus, I wanted to work with director Leigh Silverman. What you see on stage is a direct collaboration of Leigh, David and me. They're on that stage with me 100 percent."
Crudup has racked up 15 films in the past five years—including celluloid aces like Spotlight, Jackie and Twentieth Century Women—but theater is where he hangs his heart, and he's happy to be home again. "This is the longest time in my professional career I've ever been away from the theater," he said. "I think the reason I've always returned to it is because it's the place that I feel the most comfortable. This means that the process of it is much more comfortable than the process of making a film.
"When you're acting on stage, you're curating your performance in real-time. But, when you're doing a film and there is something that you might think is vital to the storytelling or is tied up in your characterization, all they have to do is put the camera on the other person and that moment is lost forever. A lack of control is an impediment to the creative process. You're not sure what it needs or doesn't need. When you do a play, you have time to work with one another and collaborate on any version of the story that you want to tell. That part of it makes much sense to me."
The actor's previous brushes with a British accent have come off well. He was Tony-nominated for Bernard Pomerance's The Elephant Man in 2002 and did two Broadway versions of Tom Stoppard's Arcadia, winning a Theatre World Award in 1995 as Septimus Hodge and a Tony nomination in 2011 as Bernard Nightingale.
Crudup admitted to mixed feelings about that Arcadia reprise: "I thought it would be so romantic to go back and revisit, but it wasn't. I was able to hear the ghost of my former self every night over the intercom. The play is divided in such a way that when the past is on stage the present is off stage, so you're back in your dressing room, listening to the show, reflecting on where you thought you'd be in 16 years."
The good news was a double exposure to Stoppard. "He is one of the most endearing and interesting people I've ever met, in addition to being the most extraordinary artist, so, if you get a chance to be in his company that many times, you're lucky."
He did Tony-winning work his third time out for Stoppard, as Vissarion Belinsky, the literary critic who lived only two-thirds of the way through Stoppard's epic trilogy, The Coast of Utopia. Everybody was Russian, but nobody bothered with an accent.
Harry Clarke gives him no such pass. Manipulating his own one-man multitude is a perpetual dime-spin of juggling accents, vocal levels and character eccentricities.
The trick for him has been to find joy in this exercise. "After you've learned the text and you've figured out the vocabulary for the storytelling and you've made choices about exactly who the characters really are, then you get to inhabit them," he said.
"First of all, I deal with one character, and that usually takes time to process. Why does that person believe the way he does? What is he in pursuit of? What is in his gut? What makes him feel whole, and what makes him feel unsafe? Now, I'm doing that with all the characters at once, and that's taking a bit of time because each one only gets a small amount of time on stage, but I have to explore that bit of their time.
"When you see me go through changes on stage, they're hopefully in the service of keeping the momentum of the story going for the audience—this play has the quality of a thriller and needs a certain pace—and, at the same time, they're giving me an opportunity to really live inside each of these characters when I get to them."