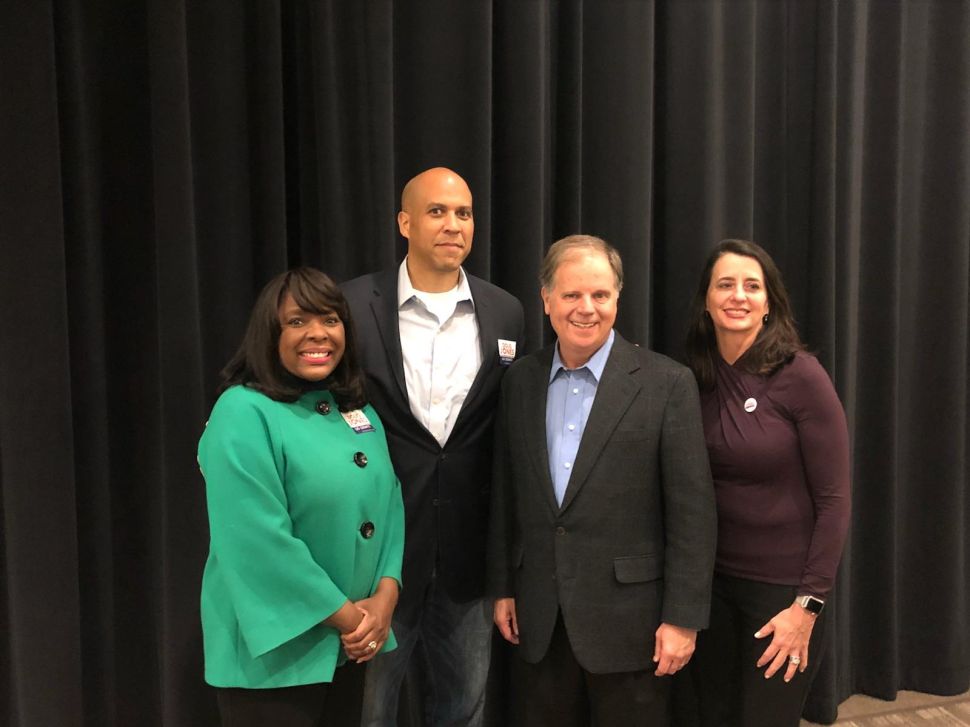 Sen. Cory Booker traveled to Alabama over the weekend to stump for Doug Jones, the Democrat running in the state's special Senate election against Roy Moore, the Republican candidate accused of sexual misconduct with underage girls.
"This has got to stop and we should not tolerate an environment where people continue to persist in positions of power even though women have come forward with compelling and true stories about how these individuals are harassers," Booker said in an unrelated news conference in Newark on Monday. Several women have come forward with claims that Moore, 70, acted inappropriately toward them when they were teens when he was in his 30s. Moore has denied improper conduct.
Moore, a conservative Republican and former state supreme court justice in Alabama, held a comfortable lead over Jones before the allegations surfaced. A Monmouth University Poll released on Monday shows a significantly narrowed race, with Moore leading Jones by 4 points by one estimate and Jones leading Moore by 3 points by another estimate. The poll says victory for either will hinge on turnout, adding that higher turnout would benefit Jones. Alabama is a traditionally Republican state.
"Bad people get elected when good people don't vote," Booker said in Alabama over the weekend, according to Politico.
Booker said that Moore's election would be particularly improper, especially considering the recent resignation of Sen. Al Franken (D-Minn.). Last week, Franken announced that he would be resigning after sexual misconduct allegations surfaced.
"You saw Al Franken … do the right thing in stepping down," Booker said, noting that Franken's resignation day was "heart-wrenching." Booker said that people like Moore should be held to the same standard.
Alabama voters will head to the polls on Tuesday. The Senate spot opened earlier this year when now-Attorney General Jeff Sessions vacated his seat.