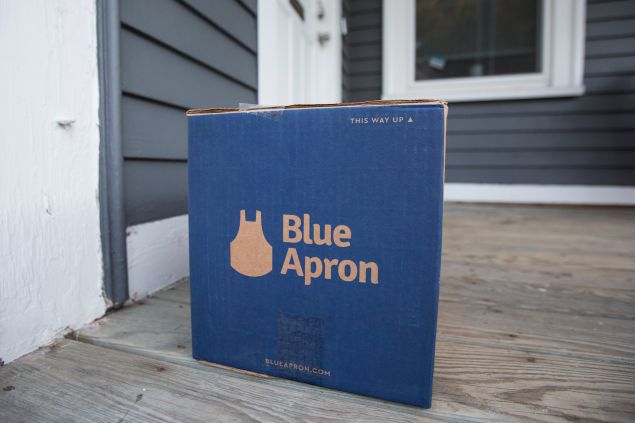 Will a new head chef calm the chaos in Blue Apron's kitchen?
Last night the subscription meal service's board of directors appointed chief financial officer Brad Dickerson president and CEO. He replaces Matt Salzberg, who co-founded Blue Apron in 2012 and will remain with the company as executive chairman and chairman of the board of directors.
"It has been a tremendous honor to serve as the CEO of Blue Apron since founding the company, and I am incredibly proud of everything our team has accomplished together," Salzberg (who still owns 29.2 percent of the company) said in a statement.
Dickerson, a former Under Armour executive, joined Blue Apron last year.
"We have an exceptionally talented team at Blue Apron that is focused on taking decisive actions to transform the business," he said.
That transformation better come quickly: Blue Apron has faced a buffet of challenges since going public in June. The company estimated a $1.9 billion market cap and $10 share price when the IPO launched, but in the last six months its cap has plummeted to $568 million and stocks have hovered around just $3 (though shares were up 10 percent following news of the leadership change).
Why the sudden drop? Just days before Blue Apron's IPO, Amazon announced that it had acquired Whole Foods, and soon after that Jeff Bezos' behemoth filed a meal kit trademark. Plated, one of Blue Apron's main rivals, was also acquired by national grocery chain Albertsons. Wall Street suddenly realized how steep the competition in food tech would be, and Blue Apron has been attempting to claw its way back ever since.
The company, which has yet to turn a profit, has also seen subscription levels drop six percent. As a result of this, Blue Apron laid off six percent of its staff (about 320 people) in October.
And the meal kit mainstay's plans to open a new fulfillment center in Linden, New Jersey hit a snag when the company realized it would have to train hundreds of new workers. The center could take months to be fully operational, though Salzberg said in his letter that on-time performance margins there had improved.
Here's hoping Blue Apron's new leadership doesn't burn its remaining customers.