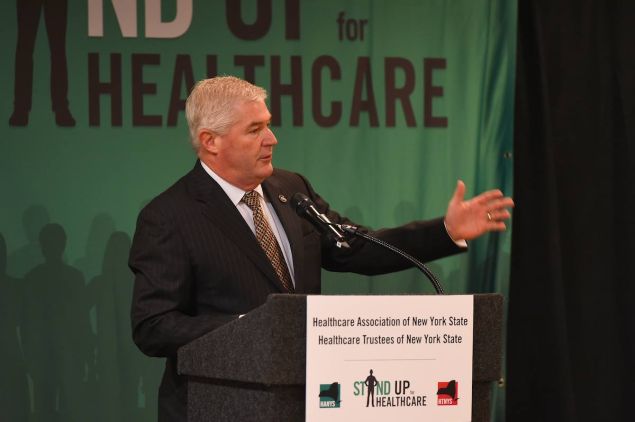 Republican Assembly Minority Leader Brian Kolb announced that he is challenging Gov. Andrew Cuomo, a Democrat seeking a third term, next year.
Kolb, 65, who resides in Canandaigua, Ontario County, was first elected to the state Assembly on 2000. In 2009, he became the Assembly's minority leader.
He announced his plans to run on the Bob Lonsberry Show in Rochester on Tuesday morning, and will be making a formal announcement.
Kolb is the first Republican to have declared his candidacy for governor. His district includes all of Ontario County and parts of Seneca County. The assemblyman could not be immediately reached for comment.
He previously served as president of Refractron Technologies from 1994 to 2000 and is the co-founder of North American Filter Corporation, also serving as vice president from 1984 to 1994.
Recently, the assemblyman criticized the governor's free public college tuition plan. He also said that while many New Yorkers are concerned about the removal of the state and local tax deduction — SALT — as part of President Donald Trump and the GOP's tax reform plan, Cuomo's "extreme rhetoric helps nobody."
And he blasted Cuomo's economic development programs, calling for "drastic change" that includes lowering taxes and reducing rules and regulations that will help the state's small businesses grow and create jobs.
Other Republicans thinking about running are State Senator John DeFrancisco, Dutchess County Executive Marc Molinaro and Manhattan businessman Harry Wilson, who served on former President Barack Obama's auto task force.
Brooklyn Councilman Jumaane Williams, who is also running for City Council speaker, and Syracuse Mayor Stephanie Miner — both Democrats — are also mulling bids.