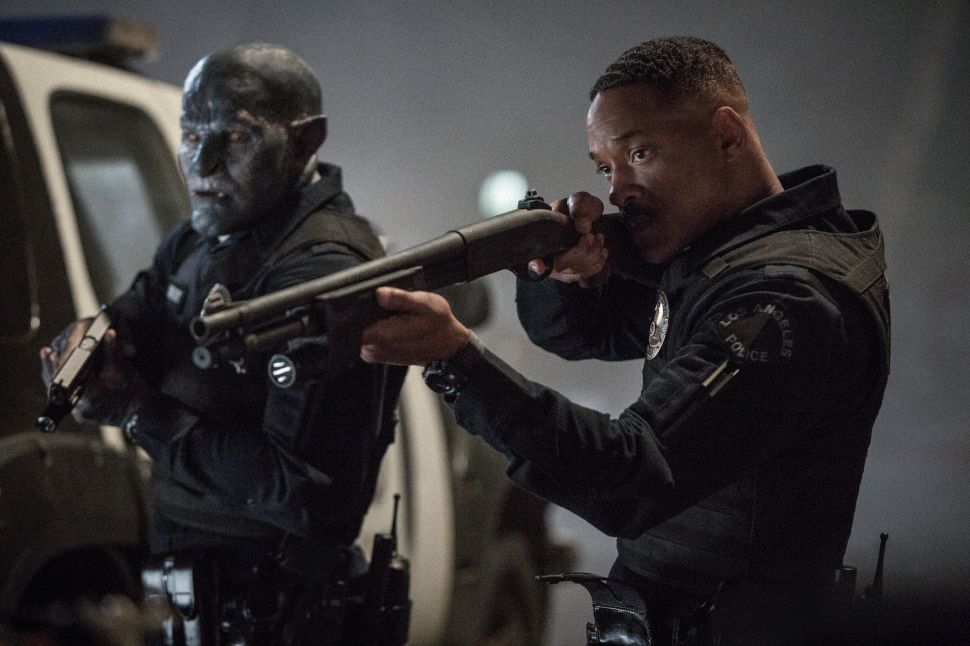 Netflix was hoping to show consumers that the film industry didn't have a monopoly on blockbusters when it shelled out  around $90 million on Will Smith's violent fantasy action drama Bright. While films like Okja, Beasts of No Nation and Mudbound have helped to shape the streaming service's reputation as a home for interesting films, the company has yet to score a big mainstream hit that would entice new subscribers. It doesn't sound as if Bright will change that.
The Hollywood Reporter's John DeFore described the film as "pretty embarrassing," writing: "Stars Will Smith and Joel Edgerton play it mostly straight here, doing their part to sell the dopey premise, but the screenplay offers viewers little reward for our own suspension of disbelief. The supernatural elements are so poorly explained and implemented they make us wish we were watching some generic reality-based policier instead."
IndieWire's David Ehrlich, meanwhile, gives Bright the undistinguished title of "the worst movie of 2017," writing: "From the director of Suicide Squad and the writer of Victor Frankenstein comes a fresh slice of hell that somehow represents new lows for them both — a dull and painfully derivative ordeal that that often feels like it was made just to put those earlier misfires into perspective. The only thing more predictable than this high-concept police story is the idea that a year as punishing as 2017 would save the worst for last."
Reviews across the board have been mixed to negative, with the film currently sporting a 32 percent on Rotten Tomatoes and a 28/100 on Metacritic. So why oh why would Netflix decide to double down on this expensive misfire with a sequel?
According to Bloomberg, Bright 2 is already in the works. Netflix guards its viewership data like Luke Skywalker guards his privacy in Star Wars: The Last Jedi, so we'll likely never know how many of the company's roughly 50 million domestic subscribers and 60 million international customers actually tun in once the film becomes available for streaming. But greenlighting a follow-up to a poorly-received blockbuster falls in line with Netflix's never-say-die volume approach.
It wasn't until recently that the company gave up on its "every original gets a second season" mandate with shows like Girl Boss getting the axe after one underwhelming run. Netflix has always approached content production like the lottery: the more tickets they have, the greater chance of winning. As such, the streamer is preparing to release 80 films in 2018 after accounting for around 50 this year. A fourth of their planned $8 billion content budget for 2018 is allotted for originals. While that strategy gives them a virtually unparalleled content library, it doesn't do much in the way of quality control.
Bright will hit Netflix on December 22.