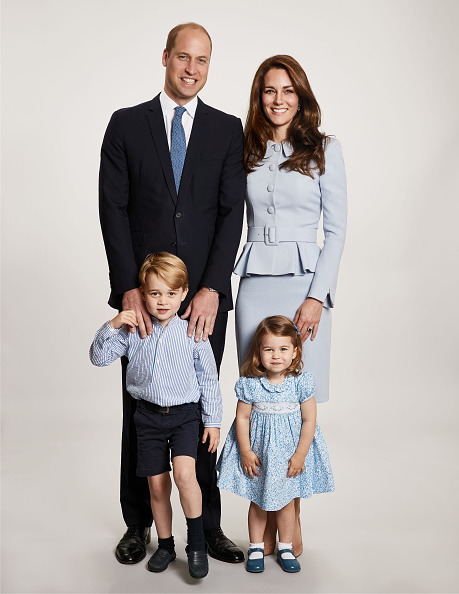 The royal family released their annual Christmas card today, and it did not disappoint. The Duke and Duchess of Cambridge were photographed with their two children, Prince George and Princess Charlotte. By this time next year, a new royal baby will be joining the family photo.
The picture was taken at Kensington Palace by Chris Jackson, the Getty Images official royal photographer, who also memorably captured Prince George's first day of school. It was taken earlier this year, before the Duchess of Cambridge was visibly pregnant.
To coincide with the newest family photo, the royal family announced that Princess Charlotte will attend the Willcocks Nursery School in London, starting in January 2018. "We are delighted that The Duke and Duchess of Cambridge have chosen the Willcocks Nursery School for Princess Charlotte. We look forward to welcoming Charlotte to our nursery in January," The Willcocks Nursery School said, according to Kensington Palace. Thus far, it's not a controversial choice, like Prince George's school switch.
And while all of this was happening, Prince Harry was equally busy, and not just with wedding preparations. The newly engaged redheaded royal teased his interview with President Obama on Instagram, looking just a little bit nervous.
The Radio 4 program will run on December 27, so prepare for the two to practice dudeplomacy on the radio. They're going to talk about how to uplift young leaders, and President Obama will share memories of his last day in office and his plans for his new life with the Obama Foundation.