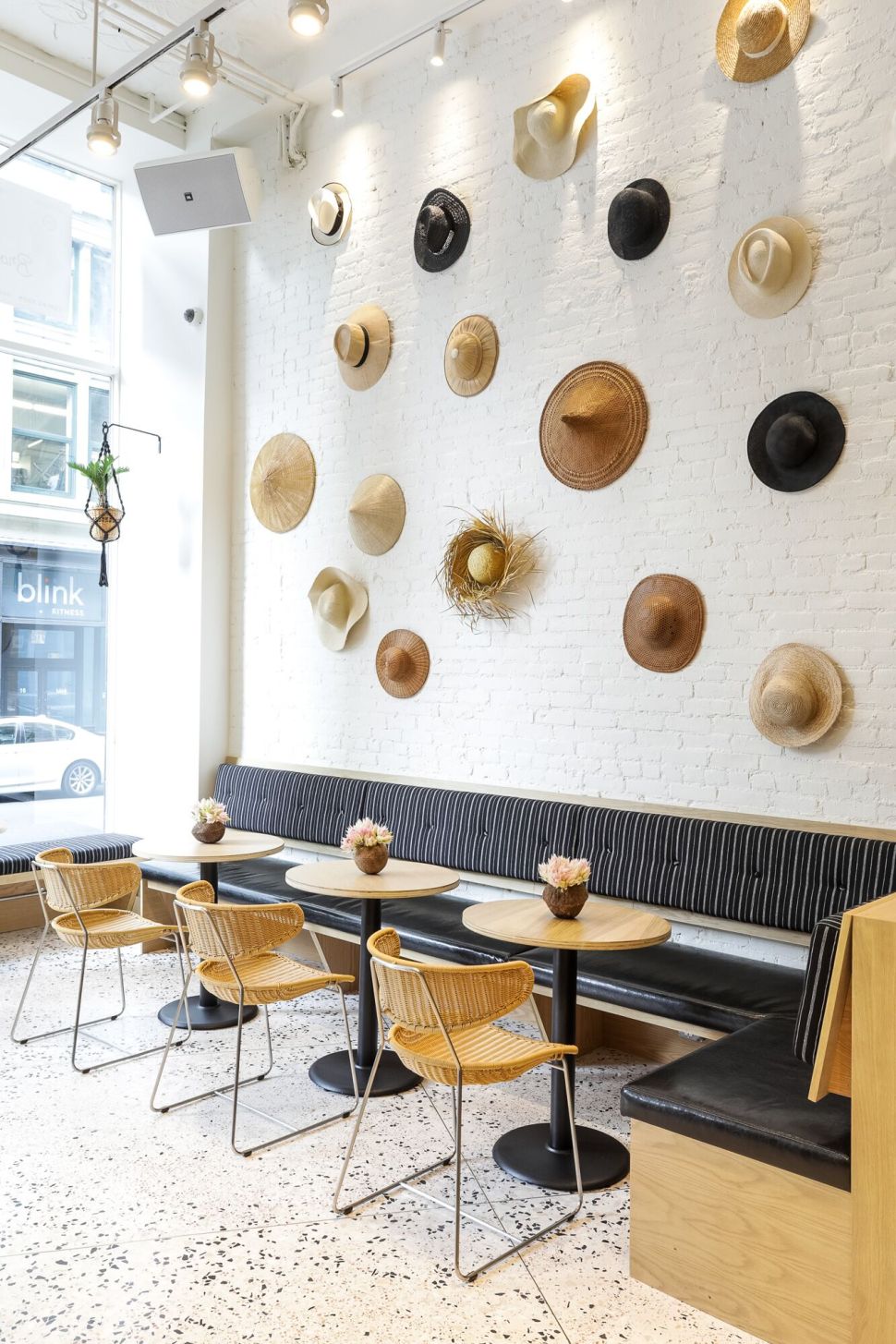 It's not enough to just be a supermodel today. Think about Gigi Hadid and Martha Hunt, who are not only expected to document their daily routines on their personal Instagram accounts (and make it look good), but also show how they are working to get those amazing bodies. Honestly, the Victoria's Secret models should be credited for making boutique boxing classes a thing—as well as where they go to fuel up in between workouts and shows.
Their go-to place these days is Broken Coconut, a restaurant conveniently located on Fitness Alley (15 East 4th St.) in the East Village. Rumble, SoulCycle, Barry's Bootcamp and Mile High Run Club are all within a few steps, although that's probably even less when you have the legs of a Hadid.
The fast-casual eatery is already a hot spot, despite only opening up a few months ago, as it taps into everyone's love of healthy, pretty food, including poke bowls and its signature coconut yogurt. It helps that Broken Coconut also has a made-for-Instagram interior design by Jessica Schuster, which is splashed with a slightly different shade of millennial pink. 
Broken Coconut's trio of founders includes Scott Sartiano (founder of 1OAK, The Butter Group), Cobi Levy (Black Seed Bagels, Babu Ji) and William Makris (Cipriani's Socialista). They clearly know how to create a coveted spot, even if it doesn't serve alcohol, closes by 8 p.m. and catches most of its clientele between super-sweaty workouts. In fact, they've already opened a Broken Coconut pop-up at Saks Fifth Avenue's flagship this month, with more locations on the way for 2018.
"Broken Coconut is a name that Cobi, Will and I thought was a fit for a lifestyle that embodied healthy, fresh, light and delicious food on a faraway beach," explained Sartiano. The Broken Coconut founders are cashing in on the fast-casual restaurant trend, which is currently being led by Dig Inn and by Chloe. They know what people want right now is healthy food you can take pictures of, showing exactly how healthy you are. The shop has even installed a huge neon-pink sign that says "Eat Pretty," which hangs over a large seat swing and beckons you through the window to come in and take a photo.

The menu, which was curated by nutritionist Molly Rieger, includes healthy options such as blended smoothie bowls, a variety of coconut-based beverages, soba noodles, kale salads and poke bowls.
"We get every type of person that is interested in a fresh, quick meal," Sartiano said. "Because of our easily Instagramable space, guests tend to notice the celebrities, models and fitness superstars more than usual." As it turns out, even Leonardo DiCaprio and Jonah Hill are fans of this café. Other frequent customers include models Hailey Baldwin, Josephine Skriver, Jasmine Tookes, Alina Baikova and Bella Hadid, the latter of whom loves the farm scramble.
Model Allie Rizzo, who also happens to be Sartiano's wife, is obviously a fan of the spot. "It's such a draw for people to go to places that have style and that they can post and share with friends," she said. She noted that she goes before and after workouts (usually for the avocado toast and the poke bowls with pineapple) and often bumps into her Rumble workout instructors there. 
Broken Coconut is still basking in its shiny, new status. But it is the perfect amalgamation of the fitness/health-obsessed culture in New York, blended with a desire to have every meal be an aesthetic experience and, of course, a higher-than-average group of attractive people, will help contribute to its staying power.