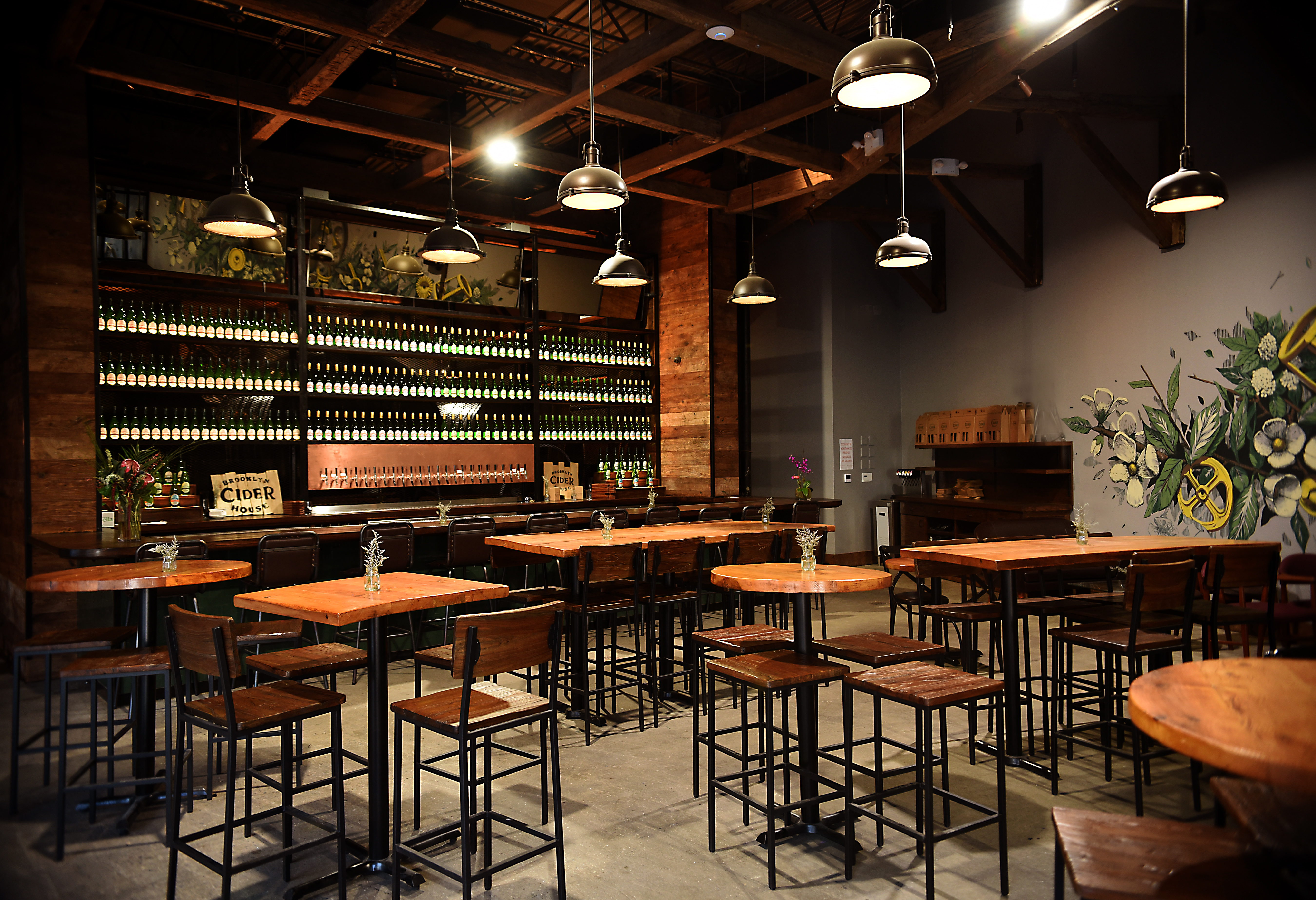 Cider seems to be having a bit of a moment in the booze-soaked spotlight. Once considered to be an on-draft afterthought, this classic libation has emerged on beverage menus across New York's five boroughs, with local purveyors and small-batch manufacturers replacing more mainstream brands, such as Angry Orchard and Woodchuck. But in spite of cider's recent popularity boost, New York City (and, in fact, the United States as a whole) has long lacked a cider taproom experience like the ones found in the Basque region of Spain, where visitors can sample natural and unfiltered ciders made on-site, paired with dishes that highlight the nuanced flavors of the cider.
Luckily, that's no longer the case. Now open in Bushwick, Brooklyn Cider House fills a former pork-processing factory in Bushwick with cider-laden barrels, a full dining room, offering cider-friendly prix-fixe menus, and a sleek bar pouring ciders made on-site. Brooklyn Cider House takes inspiration from the sagardotegi (a.k.a. cider tasting rooms) of Spain's Basque region, serving up draft and bottled ciders from New York State, traditional bites like chorizo and bacalao, and the opportunity to catch and drink raw cider, directly from the barrel.
This cider wonderland is the brainchild of Peter Yi, Brooklyn Cider House's Head Cider Maker, who left a lucrative career in the wine industry to pursue his dream of introducing Brooklynites to traditional cider culture. Observer caught up with Yi during Brooklyn Cider House's first week in business to discuss opening the first cider bar of its kind, why cider is so on-trend these days, and why winter is the prime time for cider appreciation.
What inspired you to open a cider house, especially one in Brooklyn?
What we make here is a traditional cider without any 'protections.' It doesn't have any sulfites, it doesn't have any ascorbic acids, it's not pasteurized…it's really just a raw cider. It's a very traditional beverage in the Basque region.
Several years ago, I was traveling in Spain to taste wines [for work] and pair them with the incredible Basque food. I'd had Basque cider, but I thought of it as 'just a beverage.' If a restaurant didn't have wine and only had cider, then yeah, I'd drink cider, but I didn't give it much thought beyond that. But on this particular occasion, I visited a cidery where cider was produced and served it alongside food. There was cider, there was entertainment and the food was spectacular, but not in a fancy way. Everything was really rustic and really casual; it was almost a primitive way of eating, and the cider came together beautifully with the food. It was an experience that moved and transformed me.
I was in the wine business for 25 years, but in a split second, I realized I was in the wrong business. I was super-passionate about wine, but after that experience, I knew I wanted to get into cider. Plus, I grew up in Brooklyn. Me, my brother, my sister…we feel at home here. We felt we wanted the cider house to be in Brooklyn [because] the energy was right. My sister [and collaborator] picked the Bushwick location.
Cider's very on-trend right now. What do you think accounts for the recent popularity of the drink?
I think cider is something that we, as a culture, have just forgotten about. [Cider-making is] a forgotten art, largely due to the aftermath of Prohibition. Prohibition wiped out the cider industry at the time, because the ancient apples that were used for cider were no longer useful. These fantastic bittersweet and bitter-sharp apples are fabulous for cider, but they're not palatable for eating. The trees were pulled up during Prohibition and replaced with sweet apples, which don't make a great cider. Before Prohibition, cider culture was here in a very pronounced way. It was among the most popular beverages; more popular than beer or wine and more popular than even water, because the water was not safe to drink. But because apple trees take so long to grow and mature, the post-Prohibition drinking scene centered around beverages that were easier to produce. Cider fell out of favor for a long time, but people are really rediscovering it now. New York City is known as The Big Apple and it's not by accident that cider was flowing in New York City prior to Prohibition; apples grow wonderfully here.
You offer two prix-fixe menus to enjoy alongside BCH's ciders. When pairing food with your ciders, what characteristics do you look for in the cider and in the food, to forge that perfect flavor marriage?
Traditional cider is a beverage that you want to have with food. If you drink cider, it makes your mouth salivate. It's a beverage that is very clean, very pure, and lower-ABV than wine, so you can drink more of it. But cider pairing is very similar to wine pairing; you look at the acidity, the tannic structure, and the sweetness. These three criteria help you to determine what type of food would work best. If the dish has a high-fat content, you'll want high acidity from the cider to balance it and cleanse your palate, so you're ready for another bite. If the food is spicy, you'll want a sweetness from the cider to counteract it.
When I was at the cideries in Spain, what really shocked me was the fact that this wildly-natural beverage paired equally well with fish, eggs, chorizo, steak and cheese. [Cider has] such a breadth and range of pairing options, beyond anything I've ever seen with wine.
Most traditional cider houses in Spain focus their menus around meat dishes, like chorizo and roast chicken. At Brooklyn Cider House, you're offering an entire vegetarian prix-fixe pairing. What prompted that decision?
Well, we're in Brooklyn, so I knew that we'd have to offer a vegetarian option. We've known all along that we'd be serving a traditional Basque-style menu with meat dishes, but when it came time to design the vegetarian menu, it was a challenge. We wanted the vegetarian menu to be as complete, seasonal, and cider-friendly as the traditional menu, and I think we succeeded.
Which item on your food menu are you most excited about?
Definitely our bacalao [dried and salted cod, served in an omelet]. It's a traditional way to preserve fish, and it's a beautiful pairing for our traditional beverages. I happen to really love bacalao, and over the past five years, we've managed to figure out where the best bacalao is coming from, the best way to de-salt the bacalao, the best way to store it, the best preparation techniques, the best olive oil content. If we're going to make it, we want to make it really well. We want to be the leaders in the country, at least where bacalao is concerned.
What makes cider a great beverage for winter?
Seasonality. You don't think about apples in the summer, you think of them in the winter. I don't start to think about apples until October and November, since that's apple season. I like seasonal things, I like natural, wild things, so our bacalao is wild-caught cod and our eggs are free-range, while our meat is hormone- and antibiotic-free. We try to incorporate as many seasonal vegetables into our menu as possible. Drinking cider in the winter, right after the peak apple-harvest time, fits right in [with our philosophy].