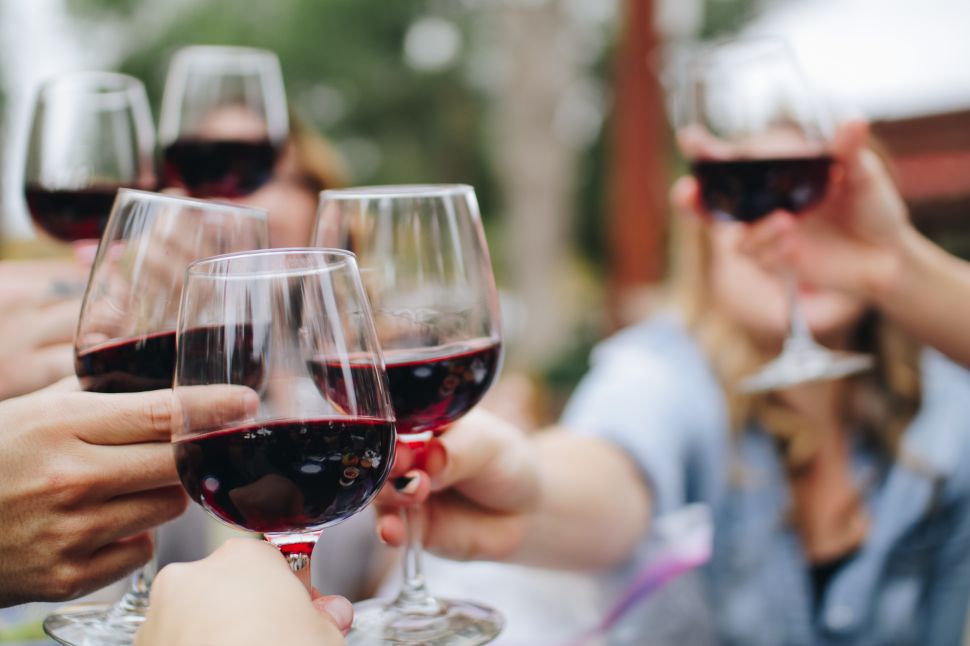 Drinking is synonymous with the British experience; if you've ever spent time across the pond, you're probably familiar with the cultural significance held by indulging in a few pints at the local pub. Some interesting news to keep in mind before you raise a glass this holiday season: a recent study published in the British Medical Journal found that the size of wine glasses sold in the United Kingdom has steadily increased over the past 700 years in tandem with the public's level of alcohol consumption, especially in the past 20 years. In other words, bigger glasses result in overconsumption, and the key to maintaining control through the endless string of holiday festivities on your calendar may be as simple as reaching for the right glassware.
Researchers at Cambridge University set out to examine the recent spike in Britain's level of alcohol consumption and its relationship with portion size and the ways in which alcohol is served. "As we approach the culturally legitimized deviancy of festive drinking, we suggest that size does matter: look at the wine glass in your hand," wrote study co-author Theresa Marteau, professor of behavior and health at Cambridge University, "We sought to measure the capacity of glasses used for unfortified wine (excluding sparkling wines) with a stem and foot that have been available or sold in England from 1700 to 2017."
According to the researchers, alcohol consumption boomed in the 1960s and 80s, then almost doubled between the years of 1989 and 2004 due to an influx of affordability, availability, and competition within the alcohol market. In a time when companies were constantly competing for customers, the size of drinking glasses began to grow as marketing initiatives put a greater spotlight on product presentation.
To analyze wine glass growth in a historical context, the team of researchers acquired 411 different types of glasses from The Department of Western Art at the Ashmolean Museum of Art and Archaeology at the University of Oxford, catalogue archives of British glassware manufacturers, British department stores, and even the glass collection in the Royal Household. They then calculated the capacity of each glass, the range of which increased steadily over time with a noticeably steeper increase occurring in the 1990s.
The team related such an increase to a variety of historical factors indicative of the time periods examined. "Increases in wine glass size over time may reflect changes in several factors including price, technology, societal wealth, and wine appreciation," reads the study. In the 20th century, a greater appreciation for wine in both British and American society resulted in different glass sizes tailored to different varieties of wine. It makes sense—Pinot Noir for a quiet night in, Sauvignon Blanc for a refreshing afternoon drink, Rosé for hot summer days; there's a wine for every occasion. Additionally, pub culture and a growing restaurant scene in the UK rewarded higher pours with higher sales, also leading to a jump in the size of most wine glasses.
The researchers concluded wine glass capacity in England has increased from a mean of 66 mL in 1700 to 449 mL in 2017, a relationship that illustrates the need for more public awareness when it comes to safe levels of consumption. (Check out the visual here.) Next time you're handed a giant wine "glass" with half the bottle of Cabernet, keep in mind how many servings you're truly drinking. Worst case scenario, you've got a new excuse to project post-holiday guilt after throwing back one too many.