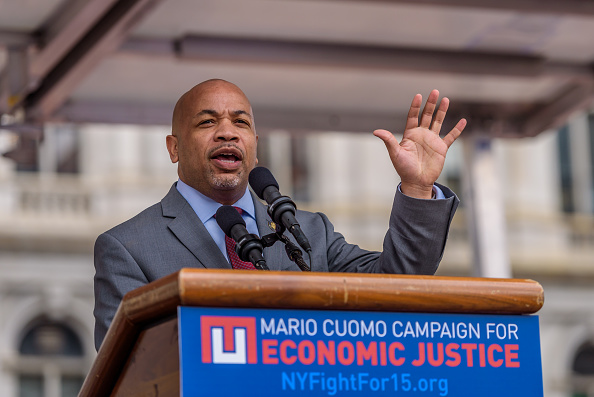 State Assembly Speaker Carl Heastie said he wants to see a Democratic state Senate "as soon as possible," arguing it would make it easier for Senate Democrats to pursue a "real Democratic agenda."
The Independent Democratic Conference, led by Bronx State Senator Jeff Klein, has had a power-sharing agreement with the Senate GOP since 2011. Senate Republicans has fewer seats but run the chamber because of their alliance with the IDC. Brooklyn state Sen. Simcha Felder, a conservative Democrat who is not part of the IDC, has been caucusing with Senate Republicans since he was elected in 2012.
At the end of November, Byron Brown, chairman of the New York State Democratic Party; former City Council Speaker Christine Quinn, vice chairwoman of the New York State Democratic Party; Rep. Joseph Crowley (D-Bronx/Queens), House Democratic Caucus chairman; and Hector Figueroa, president of the influential 32BJ SEIU and at-large member of the Democratic National Committee, sent a letter to Senate Democratic Leader Andrea Stewart-Cousins and Klein.
The letter recommends that the two sides vow to come together to win anticipated post-budget special elections for two vacant seats in the Bronx and Westchester County and that Klein and Stewart-Cousins become co-leaders after they win.
"I've always said as a Democrat, I look forward to the day of a Democratic Senate and I hope they get it together as soon as possible, particularly in light of what's happening in Washington," Heastie told reporters on Wednesday in Albany. "I think the sooner that we can put together a real Democratic agenda with all three, I'd say, phases or parts of it, the sooner, the better."
When asked whether he believes Gov. Andrew Cuomo should wait until after the budget to call special elections or do it in mid-March, he deferred to Cuomo on the matter. The governor's office has said the timing of the special elections will be determined in January once the seats become vacant.
"I guess that's a better question for him as to why he's calling [it] at that point," Heastie continued. "He contends he doesn't want it in the middle of the budget. He wants to get a budget done for the state, but that's a question better left for him."
The governor's office did not immediately respond to a request for comment.
Heastie insisted he is not concerned Senate Republicans will hurt budget discussions.
"I still think that there's a point for politics and there's a point of governing," he added. "I don't really see the Senate Republicans doing anything other than their job and the politics of who runs the house will take care of itself."
Stewart-Cousins said her conference has been urging all senators elected as Democrats to work together and that they are willing to enter a coalition consistent with what the four officials recommended. After initially saying the IDC was ready to move forward so long as any final agreement was based on a legislative agenda the IDC put forward in May, Klein indicated support for the deal.
An anti-IDC grassroots movement materialized after the election of President Donald Trump, including groups such as No IDC New York, Rise and Resist and True Blue New York. Anti-IDC activists have rejected the proposed agreement.