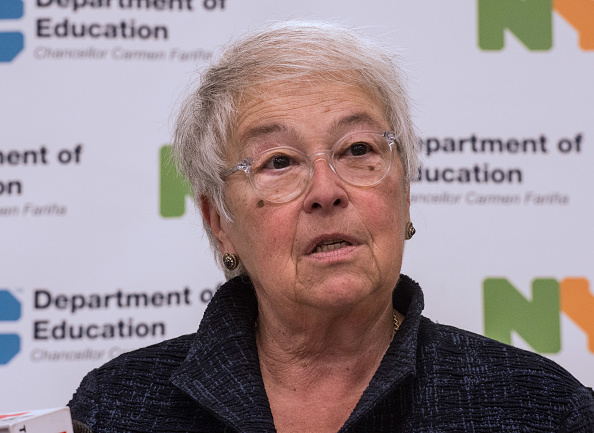 New York City Schools Chancellor Carmen Fariña is retiring after heading the city's Department of Education for four years.
Fariña, whom de Blasio appointed in November 2013, is stepping down next year, likely before the end of the school year in June, according to Politico, which first reported her upcoming departure. A national search has already commenced for her replacement.
On Monday, de Blasio and Fariña, 75, announced that the city will be closing or merging 19 schools, 14 of which are in the mayor's Renewal Schools program, which de Blasio announced in November 2014. The program invests $150 million to transform 94 struggling schools.
"To me, probably if I have a regret, it's that I said no so many times to the mayor when I should have started with yes from the very beginning because there is nothing that is more satisfying than being able to be a public servant and really mean it if you're a servant of the people," Fariña told reporters on Thursday.
She said she believes she accomplished a lot under de Blasio's first term.
"We have managed to break ground on so many things," Fariña continued. "The thing I'm proudest of is the fact that we have brought back dignity to teaching, joy to learning and trust to the system. When I come up with an idea, I have at least 150 people who can say to me, 'Carmen, we will do this, as strange as it may sound, 'cause we trust you to support us.'"
De Blasio spoke glowingly of Fariña's work.
"I have so many stories I could tell and so many warm moments and so many special moments along the way going back now 16, 17 years to when we first met and the work we did locally in District 15 in Brooklyn," the mayor said. "And from the very beginning, Carmen was someone I realized was an extraordinary talent but also extraordinarily wise and I learned a lot from her from the very beginning. I sought her counsel in all the years in between."
He said that when he reached out to Fariña about coming out of retirement to take the position of schools chancellor, he did not realize that she would take on the role "with a kind of energy you can only call superhuman."
"When someone's coming out of retirement to take on one of the toughest jobs in the country, you wouldn't blame them if they just worked like anyone else," de Blasio continued. "She proceeded to do something miraculous. I constantly called her, emailed her while she was in the middle of a school visit. I have no idea how she possibly managed to visit so many schools so often while answering emails from parents all over the city, while attending strategy meetings…just unbelievable energy and focus."
Fariña has 40 years of experience in New York City public schools. She started her career as a teacher a PS 29 in Cobble Hill. She then went on to become a principal at PS 6 and the superintendent of Brooklyn's District 15.
In 2004, she was appointed Deputy Chancellor for Teaching and later went on to become an advocate for comprehensive early education and a bigger role for parents in school policy. She had retired after her 40-year career but de Blasio was able to convince her to head the DOE.
Fariña played a role in the development of the city's universal prekindergarten initiative, which is widely viewed as the mayor's biggest first-term achievement. She also oversaw the Renewal Schools program, which ended up having mixed outcomes.
De Blasio also announced that Police Commissioner James O'Neill, FDNY Commissioner Daniel Nigro and Zachary Carter, the city's corporation counsel, will remain in their positions.
"Very good news for the city of New York and the people of New York City," the mayor said. "Three tremendous public servants will continue their service to this city going into the second term."