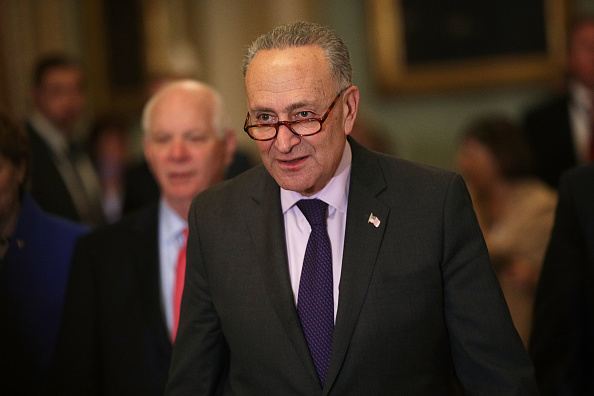 Senate Minority Leader Charles Schumer says he was the victim of false sexual harassment allegations after fake documents alleged accusations from a former staffer, according to a report on Wednesday morning.
A 2012 document that appeared to be a lawsuit filed in U.S. District Court for the District of Columbia names a woman who was a legislative staffer for Schumer from 2009 to 2012 and is currently a career federal government employee, according to Axios, which first broke the story.
A source close to Schumer told Axios that the document has a number of errors. The source noted that it claims that "inappropriate behavior" occurred on Sept. 16, 2011 in Washington, DC when Schumer was in fact in New York City that day. The source also pointed out that it alleges misconduct on Aug. 25, 2011 in Washington, DC but that he was in France at that time.
In a statement to Axios, the former staffer said she was not aware of the document before Axios sought comment from Schumer's office on Tuesday. She said the allegations are false and that her signature was forged.
Axios reported that she brought it to Washington, DC police on Tuesday but that the police told her they were not certain of their jurisdiction in the case and that she plans to take it to Capitol Police.
"The claims in this document are completely false, my signature is forged, and even basic facts about me are wrong," she said. "I have contacted law enforcement to determine who is responsible. I parted with Senator Schumer's office on good terms and have nothing but the fondest memories of my time there."
Schumer handed in the documents to the Capitol Police so that they can investigate the matter. Schumer's office confirmed the Axios report to Observer and said law enforcement has been asked to investigate the fraudulent documents.
When asked about the allegations at an unrelated press conference on Wednesday morning, Schumer blasted it as fake.
"It was a phony allegation, forged, false from start to finish and we are pursuing every legal path to those who might have broken the law [to] be prosecuted for it," he said.